ABS-CBN Ball 2019: The ABS-CBN Bosses Who Had Their Photos Taken At The Metro Photo Booth
See the notable personalities and distinguished guests who had fun at this quick photo shoot
More than a week has passed since the ABS-CBN Ball 2019. Still, we couldn't help but feel a little (or a lot!) hungover from this epic event.
The ABS-CBN Ball 2019 was held for the benefit of Bantay Bata's Bantay Edukasyon scholarship program and in celebration of the media company's 65th year of being in service to Filipinos worldwide.
In line with the "Modern Filipiniana" dress code for the evening, Metro and Metro.Style created two photo booths that were dressed up by sought-after event stylist Gideon Hermosa, to give guests more beautiful photographs to remember this occasion by. Guests couldn't resist but have their photos taken at the setups, now filed under his famous hashtag #Gideonized, which showcased Gideon's signature sophisticated more-is-more aesthetic and his talent in transforming venues.
After walking the red carpet at Shangri-La The Fort, guests made their way to the grand ballroom area of the hotel whose hallways welcomed lots of opportunities for all those Instagram-worthy snaps. The first booth was a tunnel filled with lush flowers styled to form an arch, luxurious mirrored floors, lavish chandeliers and, of course, traditional Filipino accents, like giant lighted capiz balls, all around. Guests' walk through the tunnel were documented in a motion editorial by director Frank Mamaril.
Beside this tunnel was a bright and sunny traditional Filipino home-inspired vignette, where everyone was welcome to have their photos taken by fashion photographer Rxandy Capinpin, with an option to use a special Metro fan by Monchet Olives, the Fan Man as an accessory.
Scroll through the gallery below to see the ABS-CBN bosses who dropped by our Metro photo booth with Rxandy: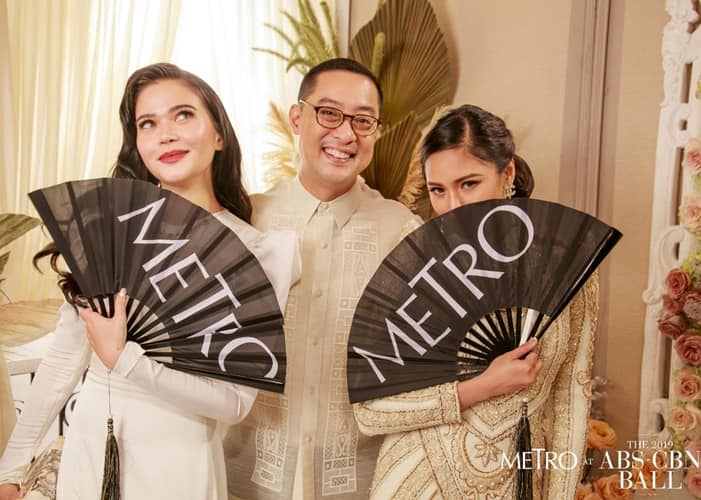 Photographs by Rxandy Capinpin