Chef Florabel Co-Yatco Threw A Grand Disney-Themed 7th Birthday Party For Her Daughter
Trust us, you've never seen an all-out, maximalist children's party like this before
It's a small world, after all...
You can't read those lyrics without singing them and remembering days of more carefree, worry-free days, and at this little girl's seventh birthday party, that was exactly what it was all about!
The birthday girl was none other than Adele Co-Yatco, daughter of famed Filipino chef Florabel Co-Yatco, who celebrated her special day with her father, baby brother, and special guests.
The Filinvest Tent in Alabang was completely transformed into an explosion of colors, lights, and elaborate setups featuring many of the world's most recognizable landmarks and prettiest cities to make the classic Disney song come to life. (We spotted Singapore's Merlion, Paris' Eiffel Tower and Arc de Triomphe, Egyptian hieroglyphics, New York's Statue of Liberty, Chinese dragons and dogs, and a European castle-inspired cake!).
As for the party's décor, it didn't disappoint, either.
Disney-esque elements made their way from tablescapes (did you see the glass-encased rose from Beauty and the Beast?) to ceilings (you can never have enough shimmery overheard décor done in Disney castle fashion), while Disney princesses (Ariel! Belle! Elsa! Jasmine! The little girls inside us were screaming) were also present, and Mickey, Minnie, Rafiki, Timon, Genie, were all ready to entertain with awesome performances.
Don't even get us started on the cake by Kitchen Craft that descended from the roof, Adele's grand entrance via a Cinderella-inspired pumpkin-turned-carousel, her outfit changes, and her very own singing number that had her mom in tears! One of the definite highlights, too, was the Disneyland-inspired train ride that brought guests to a mini "It's a Small World" adventure, complete with the attractions and accompanying music.
Face painting, lots and lots of eating, endless photo ops, and even more running around laughing with careless abandon made this day even more special for both Adele and her parents.
It's certainly something she'll remember come her 10th, 13th, 16th, 18th birthdays and beyond, the event now a wonderful memory of how much she means to her family!
There to pull of such a massive feat were Chef Florabel's team that was in charge of all the delicious dishes and treats at the party, Do Me a Favor (@parties_by_dmaf) who helmed the event from coordination to décor, Gideon Hermosa who took care of the styling for the ceiling and dining area, designers Inno Sotto and Michael Cinco who dressed up little Adele, Geraldine Uy and Clowning Around who made sure guests would be wowed by stage performances, and NicePrint Photo that was behind Adele's memories captured on photo and video.
Check out scenes from the biggest children's party we've seen this year in the gallery below!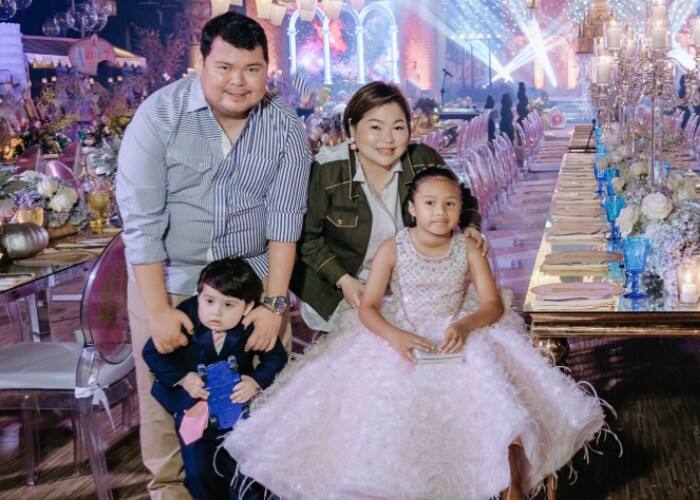 And it doesn't end there; there's a same-day edit, too!
Photos courtesy of NicePrint Photo