6 Quick Facts About Agatha Wong, Wushu Gold Medalist At The 2019 SEA Games
"Para ito sa bayan. Para ito sa akin, at para ito sa kapwa kong Pilipino," wrote the 21-year-old athlete after giving the Philippines its second gold medal on Sunday
Young athlete Agatha Wong has officially given the Philippines' its second gold medal with a score of 9.67 when she beat her contenders at the taolu taijiquan event held on Sunday, December 1. She came in at first with Brunei trailing in second place, and Vietnam at third.
Get to know the young champ and why she deserved that gold and more!
1. Agatha is the Philippines' defending champion at the sport.
Two years ago, Agatha bagged the gold for the same event at the 2017 SEA Games held in Kuala Lumpur, Malaysia. It was the biggest win of her career then, and her performance set the standard for all Filipino participants competing in wushu.
Her win at this year's SEA Games made her the defending champion, and ultimately, was a performance that gave the Philippines its second gold medal at the games. (Agatha joins John Leerams Chicano, the male triathlete who won the country's first gold).
2. Her strategy to win is to focus on herself and perfecting her routine, rather than study her opponents.
Unlike other athletes who might watch recordings of their opponents' performances to spot areas of weakness and techniques worth copying, Agatha prefers to concentrate on just her and her routine.
She's proud to say that she's never been the type to compare herself with other wushu competitors, even when the stakes are this high; what has always mattered to her is that she does her best, she maintains focus, and that she's satisfied with her own performance at the end of the day.
In the end, relieving herself of the pressure of consciously wanting to outdo her contenders has allowed her to come out on top, time and time again.
3. She lives and breathes the adage "no pain, no gain."
When other young women her age are out about enjoying traveling, shopping, dining out, and living colorful social lives, Agatha willingly stays indoors—or "in-gyms," specifically—to train, non-stop.
The 21-year-old has talked about giving up holidays and lots of opportunities to just take it easy in order to master her sport, sometimes for months at a time, all of which she's done willingly. It's a mark of a true sportsman; she knows that without putting in the time and dedication to be the best at what she does, her athletic dreams will remain dreams, rather than become reality.
Agatha Wong (PH) - 9.67
Lachkar Basma (Brunei) - 9.55
Tran Thi Minh Huyen (Vietnam) - 9.53

— Camille B. Naredo || SEAG 🥴 (@camillenaredo) December 1, 2019
4. She's proudly Filipino.
Agatha shares the same nationalism that her fellow Filipino athletes have displayed with pride during the first events of the SEA Games.
In her Instagram story that celebrated her big win, she dedicated the gold to her country.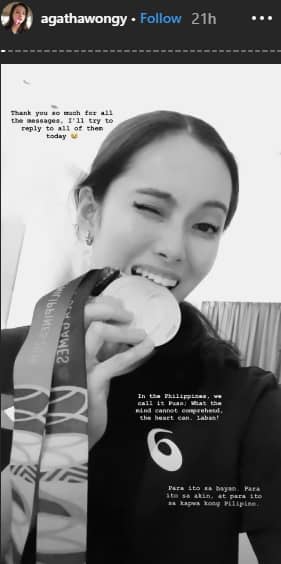 5. She was actually in physical pain before the competition.
Agatha surprised many when she revealed that she was in actual pain before making her way to the mat at the wushu venue in the World Trade Center in Pasay City. It wasn't because of the tension, either; she was legitimately tired and fatigued, having pushed her body to its limits in the weeks before and causing her feet to cramp right before her turn.
Seeing the grace she exuded and the impressive movement control she showed off in her four-minute routine, no one would have guessed that Agatha was almost at breaking point. Her willpower to keep going and execute all her moves the way she practiced them despite the condition she was in was further proof of how deserving she was of her win!
6. She has endured bullying for her chosen sport.
With passion, Agatha recalled the times that she was made fun of for choosing wushu—a lesser known sport in the Philippines—as her field of expertise. She's had to stand strong in the midst of taunting from those who don't understand or appreciate the discipline and effort that goes into what she does, and even then, she was never deterred from becoming mastering it.
With her most recent gold, it not only makes her a big winner, but a champ at the highest category of wushu!
Check out Agatha's full performance below:
Agatha's next SEA Games competition is today, December 3. She will be competing at the women's taijijian event.
Photos from @agathawongy