This Prenup Shoot Makes Us Want To Go On A Road Trip
For couple Alfonso Hortaleza and Angela Muhlach, love is an adventure—that was mirrored in their breathtaking prenup shoot in Mt. Pinatubo
After almost two years of being cooped up at home and living with restrictions in the middle of a pandemic, many will agree that going on a road trip now is a great idea.
More than the adventure itself, it's a way of reconnecting with nature and celebrating life. Engaged couple Alfonso Hortaleza and Angela Muhlach sure think and feel the same. This is why for their prenup shoot, these thrill seekers went for a quick escape in the breathtaking Mt. Pinatubo.
Their venue of choice is in a way a representation of the beauty and reality of life and love. Life and relationships may not always be smooth sailing but they can both be fun, marvelous, and worth trekking.
Alfonso and Angela started this year with a milestone in their relationship: he proposed to her on January 31, she said yes and couldn't wait to spend forever with her first and last boyfriend.
On Instagram, Angela wrote a heartwarming message for Alfonso: "To my love, good things come to those who strive. Thank you for fighting for a place in my life and for giving me a voice in our relationship. Thank you for waiting for the right time to ask me. I never felt that you rushed things and I also didn't feel like I needed to wait long. It was just perfect. I felt so lucky when you knelt down and told me that for the first time, you understood what love really is and felt how it should be—sacrifice being at the core of it."
Now, they're about to end the year with another milestone: after shooting their prenup, they will be celebrating Christmas as an engaged couple. They are all set to start on a new adventure together, too, as they will officially become Mr. and Mrs. on January 21, 2022.
Alfonso and Angela's prenup shoot was truly one for the books, and it makes us want to leave our worries behind, go on a road trip, and explore uncharted territories with the most special people in our lives.
Check out the gallery below, featuring Alfonso and Angela's prenup shoot photo album: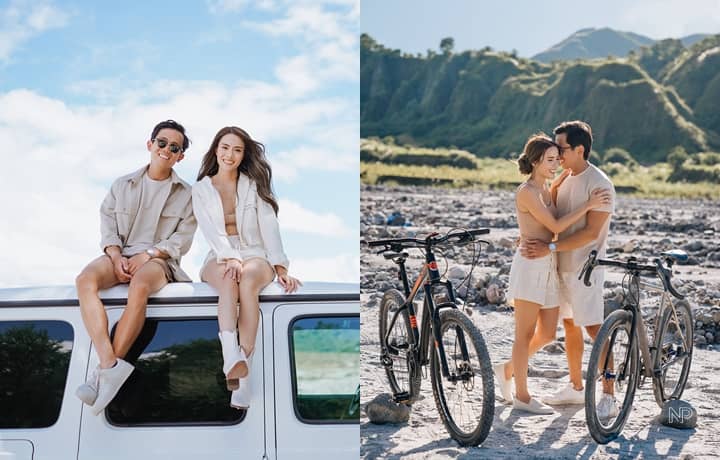 Photo Gallery
Photo Gallery
Suppliers
Photo and video: NicePrint Photo
Coordinator: Teena Barretto
Makeup: Carissa Medved
Hairstyling: Florenz
Fashion styling: Cath Sobrevega
Set design: Rabbithole Creatives