In Photos: The Top 13 Binibining Pilipinas 2021 Candidates In Swimsuits And Long Gowns
See them take on the stage in fiery swimsuits and glamorous long gowns
The Binibining Pilipinas 2021 queens have been named at the 57th Grand Coronation Night held on the evening of July 11.
After experiencing delays in mounting Binibining Pilipinas 2021 due to the pandemic, the much-awaited event finally took place, training the spotlight on four stunning Pinays who will represent the country in upcoming international pageants.
34 candidates participated in this year's pageant. The coronation night began with an opening number that featured all these aspiring beauty queens. From there, they were trimmed down to Top 12, and each delivered a short speech or message about her pandemic experience. After which, host Catriona Gray revealed a surprise: in a poll via the Binibining Pilipinas app, fans were invited to vote for the candidate they feel deserved a spot in the final roster of those in the running to win a crown and a title, and the candidiate who topped the poll automatically made it to that list.
Those who were in the Top 13 were:
Binibini 19 Gabrielle Basiano of Borongan City, Eastern Samar
Binibini 3 Patrizia Garcia of Manila
Binibini 15 Karen Laurrie Mendoza of Iloilo
Binibini 27 Graciella Lehmann of Oriental Mindoro
Binibini 24 Ma. Francesca Taruc of Angeles, Pampanga
Binibini 7 Meiji Cruz of Valenzuela
Binibini 23 Jashmin Dimaculangan of Albay
Binibini 1 Samantha Panlilio of Cavite
Binibini 8 Patricia Babista of Quezon Province
Binibini 25 Honey Grace Cartasano of Rizal
Binibini 17 Hannah Arnold of Masbate
Binibini 10 Maureen Montagne of Batangas
Binibini 12 Cinderella Faye Obeñita of Cagayan De Oro - Misamis Oriental (Wildcard - Fan Favorite)
For the swimwear segment, the candidates wore orange creations by DR SWIM, the official swimwear designer of Bb. Pilipinas.

In the end, those who emerged victorious were: Masbate's Hannah Arnold as Binibining Pilipinas International 2021, Cavite's Samantha Panlilio as Binibining Grand International 2021, Cagayan de Oro - Misamis Oriental's Cinderella Obeñita as Binibining Pilipinas Intercontinental 2021, and Batangas' Maureen Montagne as Binibining Pilipinas Globe 2021. Taking the First Runner-Up and Second Runner-Up spots are Borongan, Eastern Samar's Gabrielle Basiano and Valenzuela's Meiji Cruz, respectively.
Check the gallery below to see the Top 13 candidates in swimwear (both during the coronation and the swimsuit presentation) and evening gowns: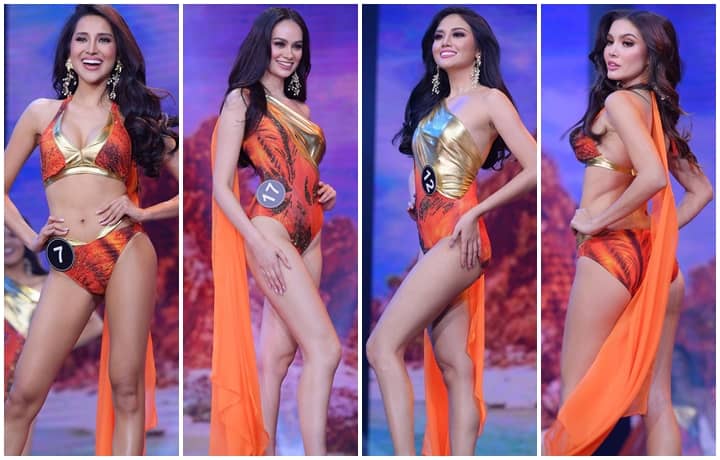 Binibining Pilipinas 2021 - Swimsuit And Long Gown
Binibining Pilipinas 2021 - Swimsuit And Long Gown
Congrats to all the winners!
Photos from @bbpilipinasofficial