Look! Stylist Boop Yap Celebrates Her Daughter's First Birthday With A Chic, Megan Hess-Inspired Photo Shoot!
It's one of the most stylish celebrations and photo shoots you'll see this year!
There's nothing a mother wouldn't do for her children—including finding all the ways and means to make a first birthday the most beautiful it could ever be despite an ongoing global health crisis.
Celebrity stylist and super mom Boop Yap wouldn't take no for an answer when it came to celebrating a milestone for their family! Working with event stylist Gideon Hermosa to breathe life into one of the prettiest birthday photo shoots we've ever seen, she made sure that her daughter, Kassie, would have only good memories from this time to look back to.
With Boop's glowing resume as a stylist for Manila's who's who, it comes to no surprise that what she had planned for her daughter was nothing short of magazine-worthy. She and Gideon drew inspiration from Parisian corner cafés, taking extra care to capture all the details down to the flower stands, friendly poodles, pastries on display, romantic street lamps, parked bicycles, big French windows, and even faux cobblestone streets!
The concept is actually inspired by Megan Hess' illustrations, particularly those from her children's book Claris: The Chicest Mouse in Paris. "[It's] a unique concept for a milestone shoot. Complete with fabricated 3D details to achieve the illusion of 'inside the sketch world,'" reveals Gideon.
We're especially in love with how Gideon creatively mixed fresh flowers with pretty 3D paper blooms in different shades of blush, powder blue and lilac, giving the stunning photos by Pram and Cradle Studio the effect of being stills taken from an animated film. It's definitely an idea worth copping (even for birthday parties for adults) and a fresh take on IG- and Pinterest-worthy set designs!
For their family photo shoot, Boop donned three different outfits, each with their own luxe details, to match the theme and Kassie's adorable little dresses, too. The mom and daughter even wore matching Dolce & Gabbana floral outfits. Joining the two of them, of course, were dad
Kevin Tañedo
and Kassie's big brother
Kenzo
.
Though the setup was certainly something that would've blown guests away, Boop and Kevin played it safe and kept the special occasion as a family-only event, likely keeping their fingers crossed that Kassie's second birthday next year will finally have a guest list!
Topping off the special day was a tiered birthday cake by Chef Castillo Fuentes. It was certainly a day to remember, and a lovely success for this mom who managed to surround her daughter with nothing but beautiful things in times like these.
Check out the gallery below for more snaps of Kassie's first birthday photo shoot!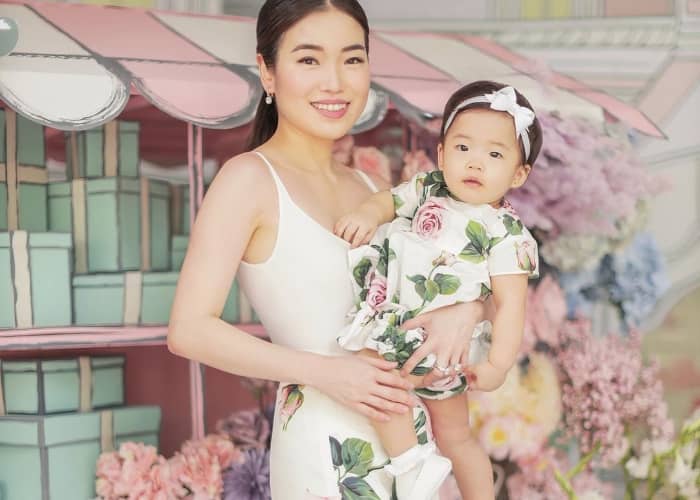 Kassie's Chic Birthday Photo Shoot
Kassie's Chic Birthday Photo Shoot
Photos from @boopyap and @gideonhermosa