Meet Isabelle Lee, A Budding Filipino Journalist Representing A Bright, Powerful Future For Philippine Press
Of all the social, political, cultural, economic, and environmental issues that a journalist can focus on, she wishes to delve into the complex landscape of gender inequality and women-centric issues, problems that not only affect Filipinas, but women all over the world, too
What do you want to be when you grow up?
A doctor! A baker! A teacher! An astronaut! A princess! Anything, as long as it's just like your mom/dad!
Given by rosy-cheeked children whose naïveté have not been blemished by the world, these answers and similar ones are guaranteed to make asking adults smile with amusement. Grown-ups know not to take them too seriously, because, how many of us have actually stuck to our childhood ambitions of one day becoming a dragon-slayer or the best LEGO-builder who ever lived?
It's fun and games for the most part for parents to ask their children about their future careers—unless they say they want to become a journalist.
And that they're sure of it.
And that they wish to go to university and then to graduate school to be able to make deep layers of substance, knowledge, and experience the unshakable foundations for their passion.
And finally, as a young professional, to declare that their biggest dream is to usher in a radical, all-around change in their country.
A young Isabelle Lee's parents knew to take her dreams to heart. Never mind that she was then too young—nine years old, at that—to have the exact vocabulary to describe the first time she felt the call of journalism tugging at her sleeves. It was the feeling that mattered, the undeniable sensation that her soul and her mind came to agree that this was what she was born to do.
Besides, she found her words eventually. And when she did, she soared on their wings, reaching admirable heights of early successes.
Isabelle graduated cum laude from the Ateneo de Manila University with a Bachelor's degree in Communication Arts, and just this May, finished graduate school in Columbia University in New York with a double degree—a Master of Science in Journalism and Master of International Affairs.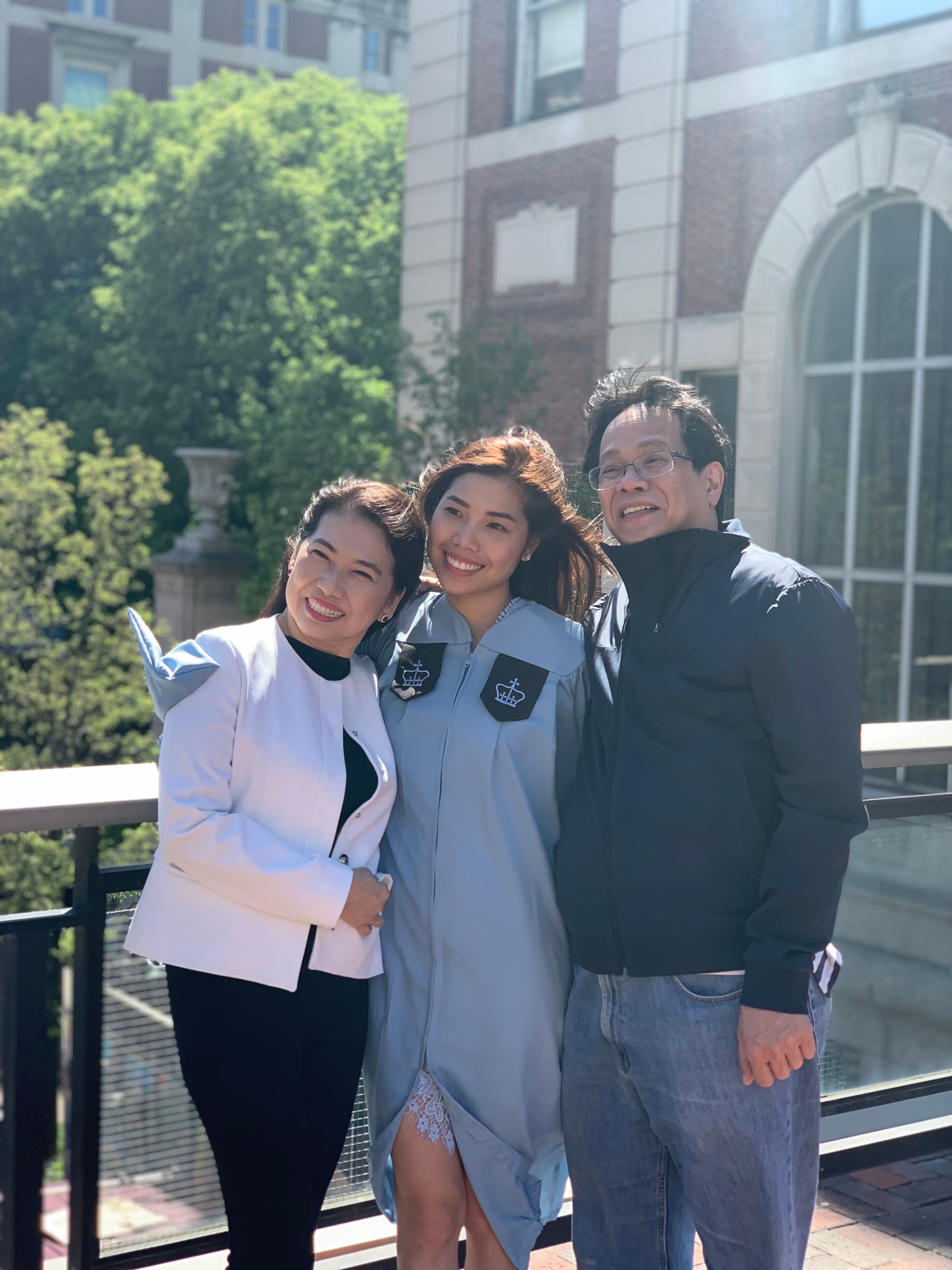 Isabelle Lee with her mom and dad
As for work experience, Isabelle can look back on her beginnings as a producer and reporter at ABS-CBN, as well as the time she spent in the United Nations Population Fund and in CNN New York's Cuomo Prime Time and News Bureau. She currently hopes to gain more work experience abroad.
Isabelle has gathered a lot of experience at her age, but even so, the future has even longer, and likely never-ending, to-do list for this burgeoning multimedia journalist.
She's ready to take on the monumental task of becoming a driver of positive change in the country by being a citizen who actively tells stories and does things that must be done to shape a nation for the better.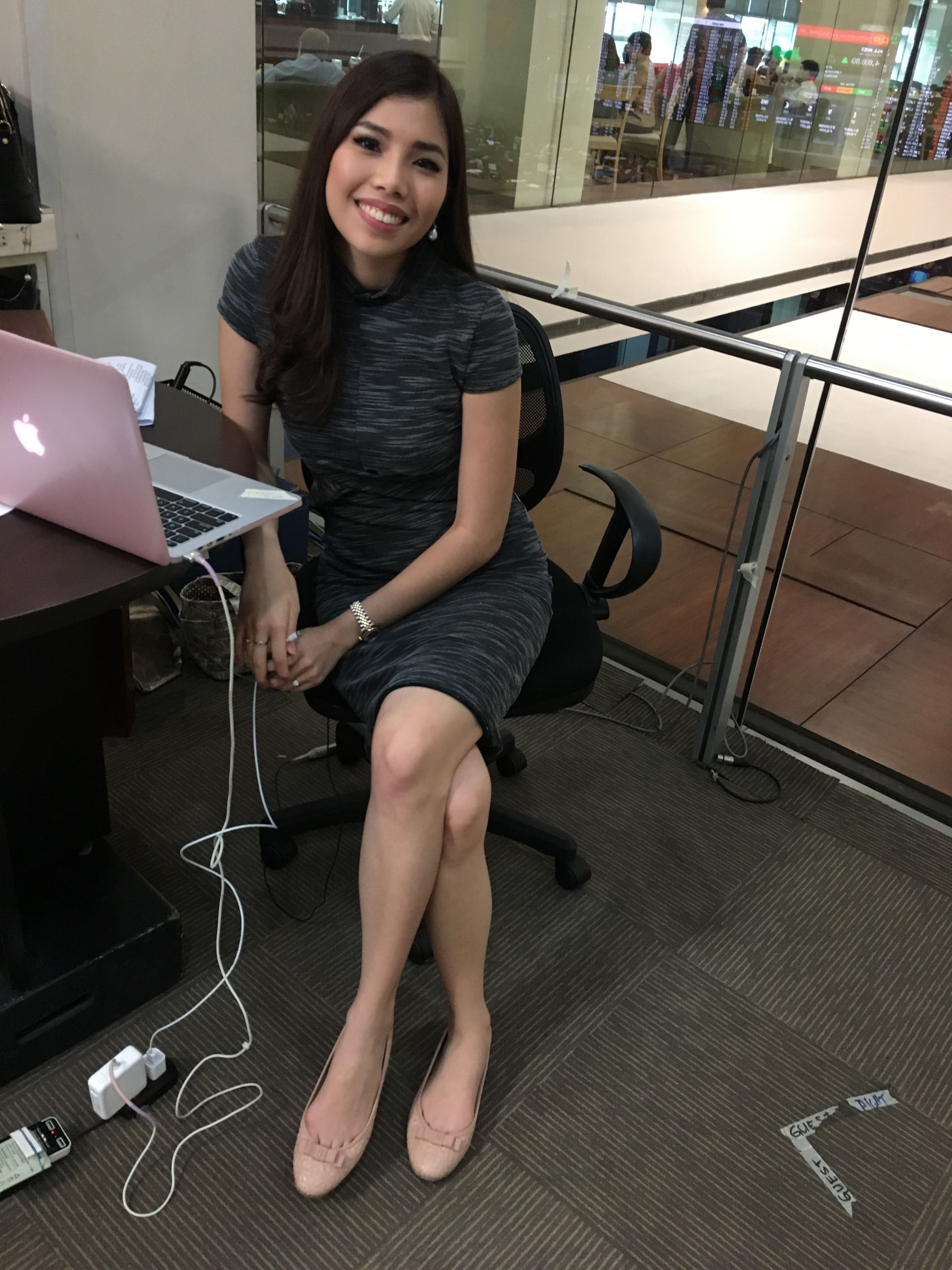 Isabelle as a PSE reporter
Isabelle begins, "I pursued journalism because I was able to witness how powerful of a public service tool journalism can be, further strengthening my resolve to harness this profession in confronting injustices in the Philippines and across the world."
"I want to be at the frontlines of democracy at this crucial point in our lives, especially when the freedom of the press is challenged," she continues.
More so, Isabelle has already chosen her soon-to-be field of expertise.
Of all the social, political, cultural, economic, and environmental issues that a journalist can focus on, she wishes to delve into the complex landscape of gender inequality and women-centric issues, problems that not only affect Filipinas, but women all over the world, too—herself included. Fighting to uphold human rights and those of oppressed women is her mission.
Remember that Isabelle was just a nine-year-old girl when she set her life's course in stone—that didn't come from a whim. The decision came after a visit with her mother to Manila's Laura Vicuña Foundation, a halfway home for abused girls and women. It was there where she had her first brush with difficult-to-discuss problems involving women, including rape, incest, unwanted pregnancies, sex slavery, gender-based harassment and abuse, and the exploitation of minors.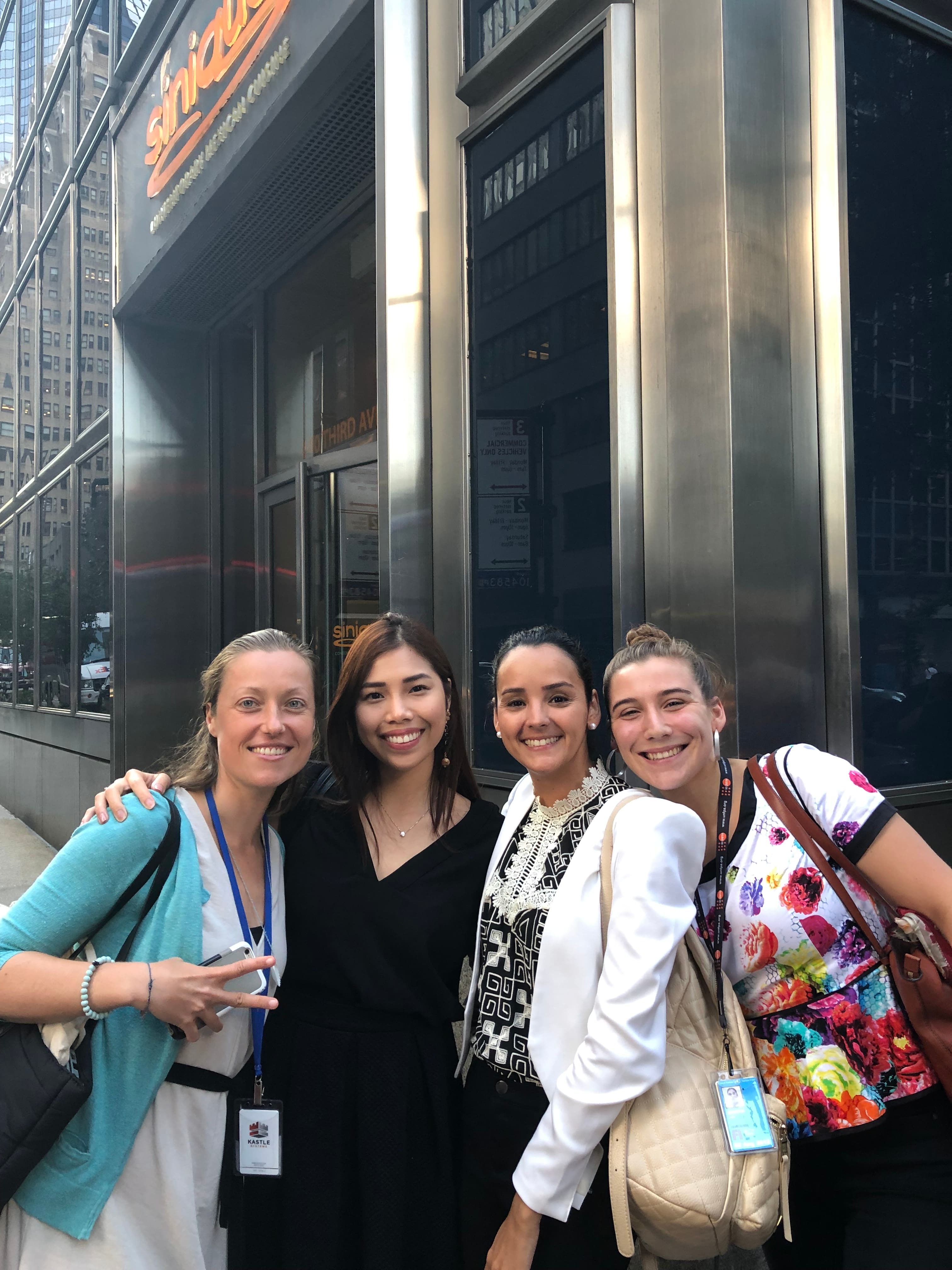 Isabelle with her co-interns at the United Nations Population Fund!
It was hardly your typical mother-daughter day off to the movies or the nail salon, but the pivotal experience certainly planted something beautiful in Isabelle's heart, something certainly much more long-lasting than a manicure or fuzzy memories of a long-forgotten film.
"Through the years, I found myself visiting more often, yearning to know more about them," she recalls.
"Then, as I continued to discover the complexities of sexual abuse, I realized how eradicating it is not only crucial but also attainable—especially if talked about more openly. Knowing about these girls firsthand reinforced my desire to utilize journalism as a public service tool. I could not believe that on this day when women are still violated, stripped of their inherent rights to safety, security, and even life itself," she reflects.
Isabelle hopes to work with some of the United States' most well-known publications, but given the many, many problems unfolding in America this year, she knows she's going to have to be extra patient in waiting for that to happen.
One has only to browse through international headlines to know that 2020 hasn't been a good year for journalists and the independent press; there are economic concerns to contend with too, including retrenchments, layoffs, and freeze hiring as consequences of the COVID-19 crisis.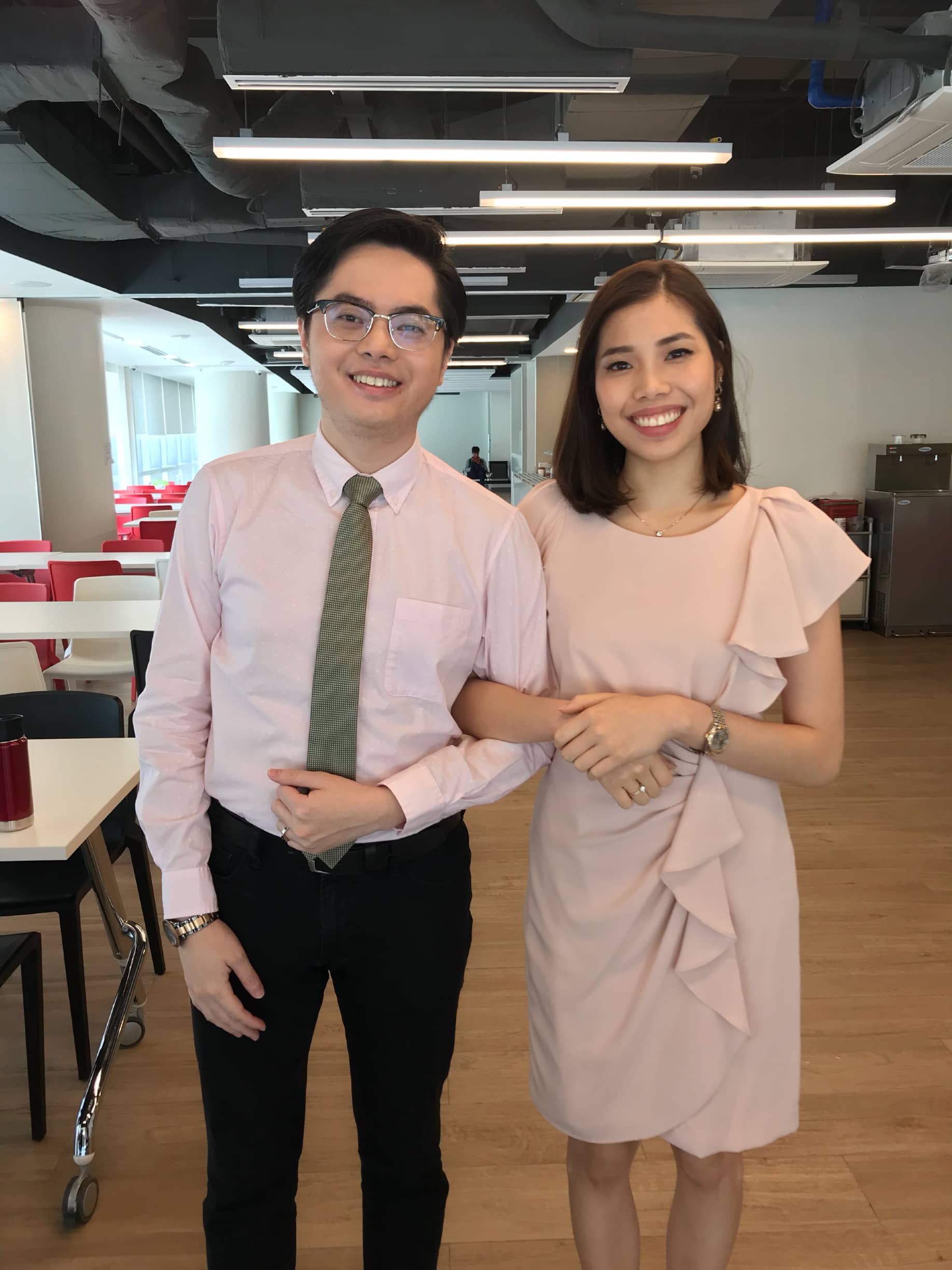 Isabelle with her former PSE co-reporter at ABS-CBN, Bruce Rodriguez
Now, one might wonder why Isabelle has chosen to further her career in a foreign land if her dreams and ambitions are anchored on making the Philippines a better country.
Her response to this is twofold: diversity of experiences, and mastery of her craft.
As much as Isabelle loves her country, she acknowledges that there are many enriching experiences that can only be gained by immersing oneself in a faraway place full of people with different viewpoints, backgrounds, insights, and opinions (and you can't be any more diverse than The Big Apple itself). Some of them may even violently clash with one's own, while there may be others who uplift and validate your life's work—but both sides of the coin are needed to build her character and resolve as a journalist, and as a person.
She also believes that it is through international exposure that she can gain as much as she can in order to be the best possible journalist she can be for her kababayans. She's simply fueling up abroad before she takes on the real job of going back home, where she knows she's needed the most.
"I want to try to work in the US or Asia in the immediate future to master their best practices and bring everything I learned back home. I want to be the best journalist I can be to better tell the stories of Filipinos," she shares.
An ordinary student who has just graduated might savor the feeling of accomplishment. They might go for a vacation or enjoy a drink or two, but these are extraordinary times we live in and instead, Isabelle is preoccupied with keeping abreast of issues that matter to her. She knows she cannot afford to rest on her laurels.
One of these issues, of course, is how her home network was forcibly shut down last month. She may have been miles and miles away from her old office in the ABS-CBN compound, but the news hit her just as hard as it did her former colleagues who witnessed the closure in real time. After all, ABS-CBN was not only where she first gained real-life journalism experience, but a place where Isabelle left with lifelong friends.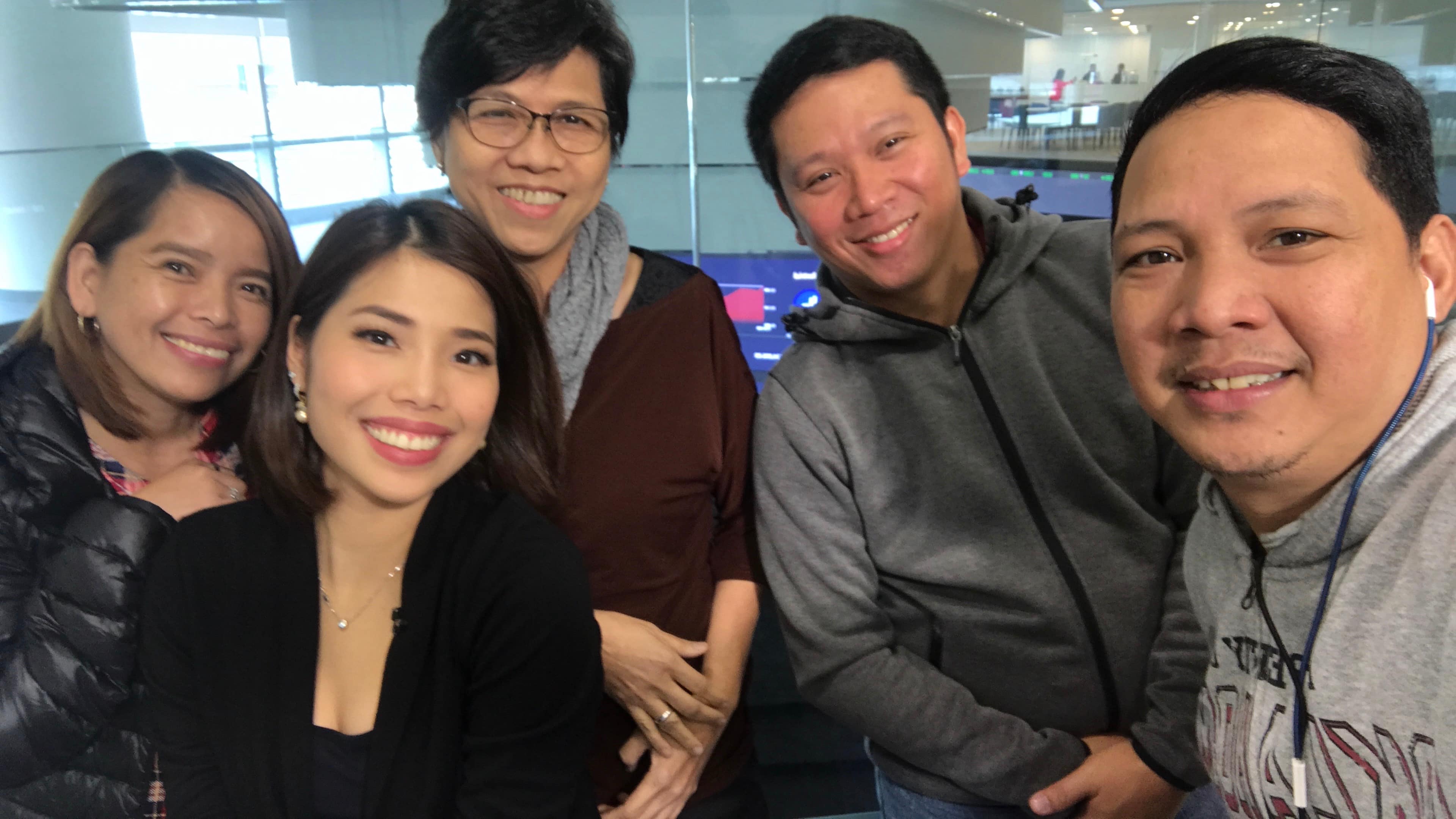 Isabelle's PSE team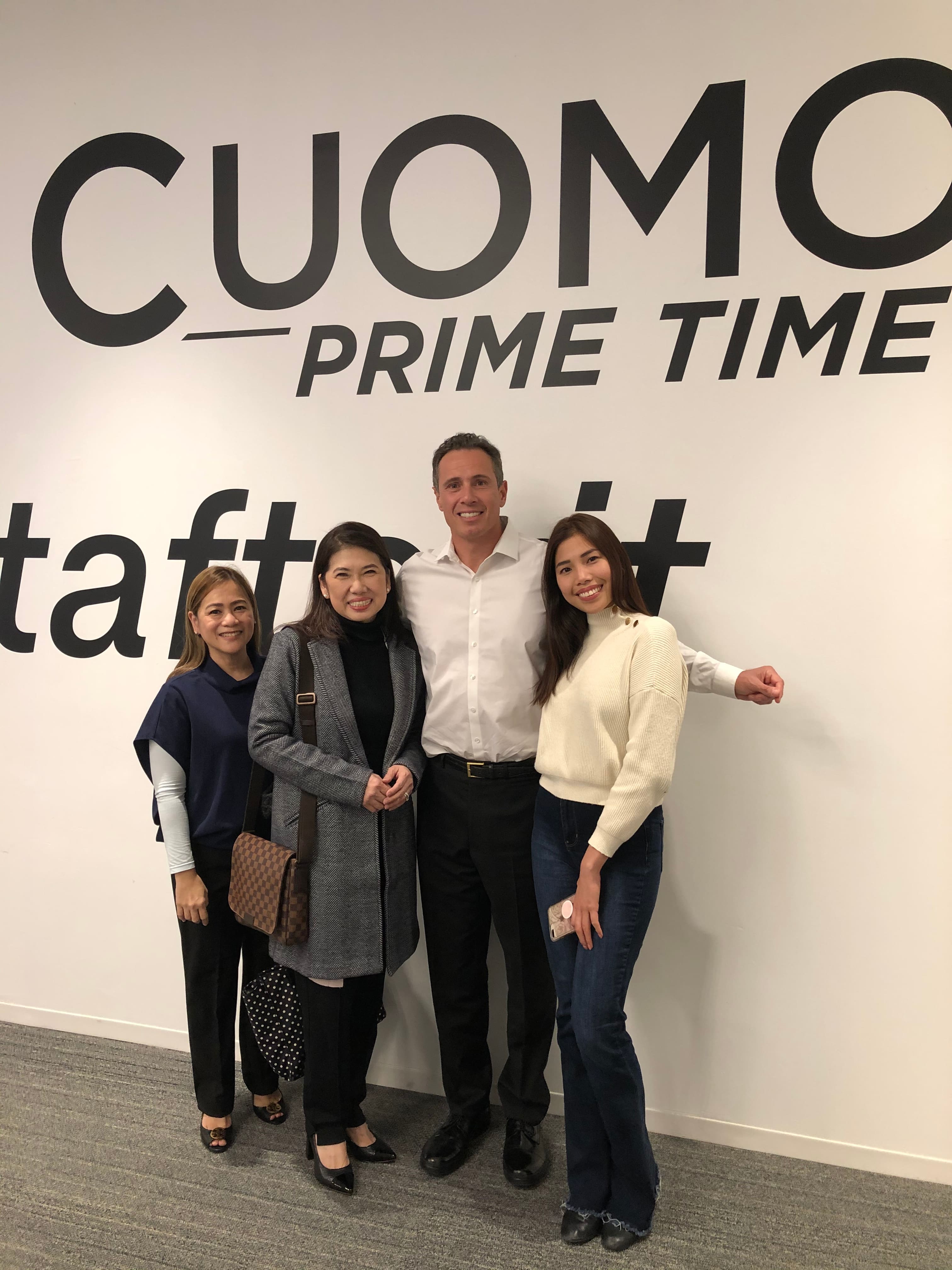 Isabelle with her mother and aunt with "Cuomo Prime Time" host, Chris Cuomo
Isabelle worries about the threats that may come her way (and her family's way) with the path she's taken. It's a scary thought, but she gathers inspiration from journalists who have come before her and soldiered on, those who made the decision to choose the greater good and service above their own safety and needs—that, and a little quote Isabelle never forgot declaring that journalists write the first drafts of history.
It's a sentiment that never left her.
One day, perhaps more than once, Isabelle knows that she may have to make the same decision.
As the Philippines continues to grapple with the effects of a terrible, invisible enemy, Filipinos would do well to remember that journalists, field teams, and newsroom crews are also frontliners; without them, the timely sharing of crucial, truthful, and potentially life-saving information would be close to impossible.
It's a noble job, that's for sure.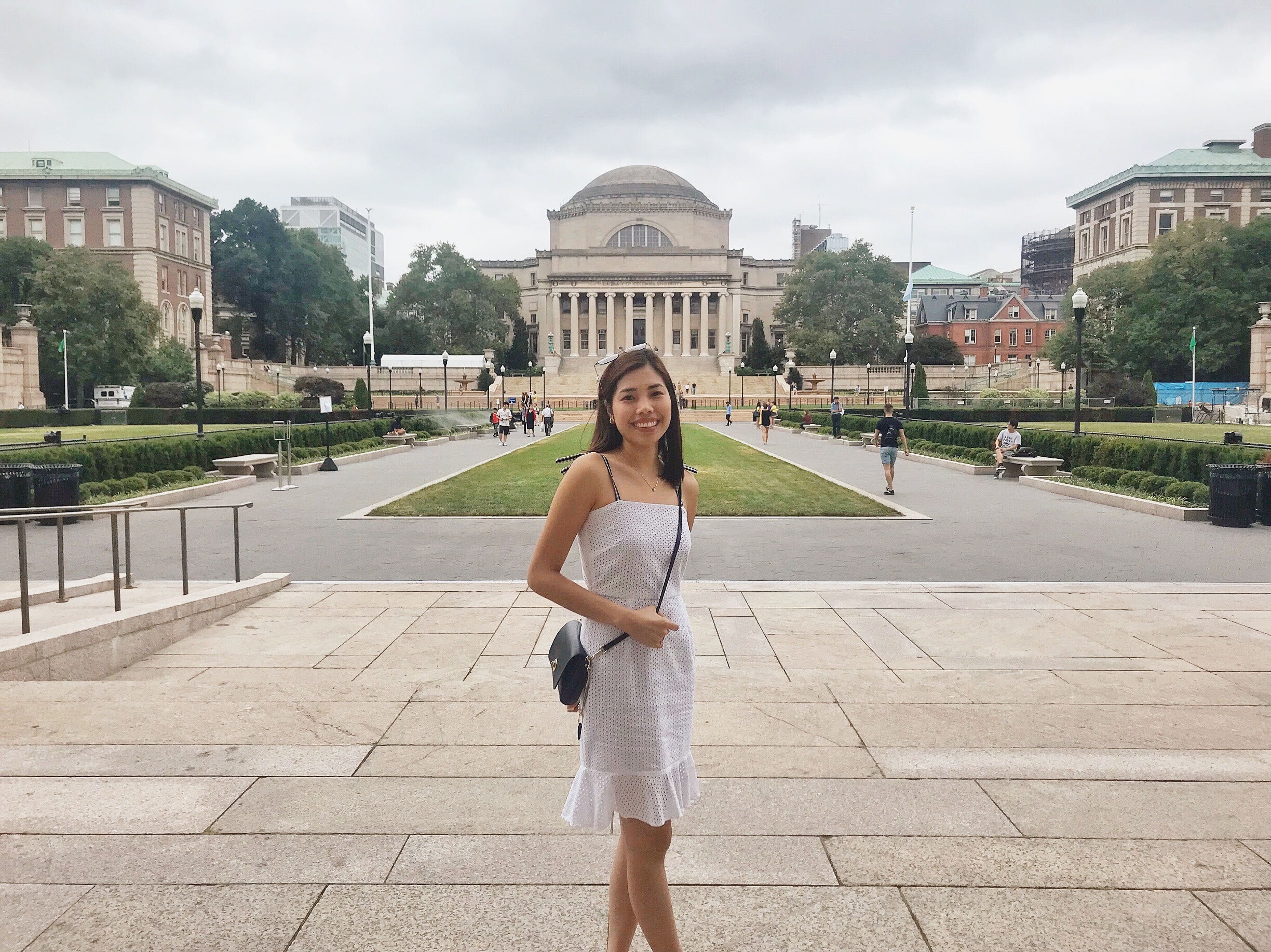 Isabelle after her first month at Columbia University
Yet in spite of its difficulties, challenges, and even threats, Isabelle has made up her mind, and even shares a few words of wisdom to those who wish to follow the same path:
"I would encourage those who want to be journalists to pursue their passion, but with caution. They have to know their why. How does this profession align with their moral imperatives, goals, objectives, and intentions? They have to figure out what is best for them, for their circumstances at the time as well as the resources they have to make that decision... It is one of the best jobs in the world. I would never have met the people I have, learned many topics I now know, and felt the fulfillment I do had I not chosen this field," she enthuses.
Photos courtesy of Isabelle Lee