This Celebrity Stylist Rediscovers Her Love For Baking And Cooking While Under Quarantine
Patty Yap is one of the many Filipinos who found ways to turn these trying times into something fun, meaningful, and profitable even
These are tough times we're in. The sudden stop that came with the COVID-19 pandemic has caused so much stress, anxiety, and fear to people all over the world. We, Filipinos, are especially caught by surprise as quarantine was implemented and lockdown put in place; but if there's anything that can be said about us, it's that we're resilient—it's an adjective that has long been associated with this nation and forever will be embedded in its core.
The global health crisis is a great pause that sadly continues to slow down everyone's lives. But despite that, many Filipinos have learned to ride along, make the most of this pace, and be up to speed on what people need more of now.
One of the businesses that were hugely affected and crippled by the crisis is the food industry. But with people living under quarantine at home, what proves to be the perfect service to offer now is food delivery. Upon realizing this, Filipinos are quick to maximize that opportunity, and suddenly, almost all the food we craved for during the first weeks of the lockdown are now made available to us. What's more, we've been introduced to so many new food brands that were born during such a challenging time.
One of those home-based food businesses we came across with is PattyLou's Kitchen. Celebrity fashion stylist/vlogger Patty Yap and her high school friend Lou Reyes are behind this new business venture.
If before, Patty's days are mostly spent dressing up celebrities like Kim Chiu, Yassi Pressman, Angelica Panganiban, and Jessy Mendiola, today, she's busy baking and cooking at home; other times, she's having a blast with her fun online dating show called "QuaranFLING."
She's always had that passion for baking and cooking, but her work as a fashion stylist didn't give her enough time to nurture them. And if there's a silver lining to this crisis, it's that it has allowed her to rediscover her love for working around the kitchen.
The idea for a food business actually started pre-COVID-19 for Patty and Lou. Patty shares, "PattyLou's Kitchen basically started when my high school friend, Lou Reyes, baked some cookies and had me taste them. After which, I asked for the recipe so I could try it on my own. Luckily, I got to perfect it, and asked her if she wanted to start a business with me."
With cookies as their primary products, they were set to introduce PattyLou's Kitchen last March 17, that's merely two days after Metro Manila was placed under community quarantine. It was certainly not an ideal time to launch a business. Although that was very unfortunate, the duo decided it would be best to turn the crisis into an opportunity—that is, an opportunity to improve their recipes and discover new ones to add to their list of offerings.
Finally, they launched PattyLou's Kitchen last May 2 on social media, where most of the home-based food businesses are making their presence felt these days.
"Our primary products were just cookies but we decided to explore savory dishes in order to cater to more customers," Patty says. "Our offerings are Filipino style with a twist." From soft and chewy chocolate chip and double chocolate chip cookies, PattyLou's Kitchen has also introduced an iteration to the trending sushi bake with their original version of sisig rice roll. They also have their take on the viral ube cheese combo, incorporating those flavors into crinkles, and exploring further, ube coconut cheesecake.
Other items on the menu are cheesy beef lasagna, baby back ribs, baked bangus belly with parmesan garlic crust, chocolate crinkles, and s'mores.
New home-based food businesses like PattyLou's Kitchen are proof that good things can come from bad situations, and when they do, they never fail to put a smile on someone's face (and in this case, satisfy the hunger).
Check out the gallery below to see what Patty and her friend Lou have been busy whipping up: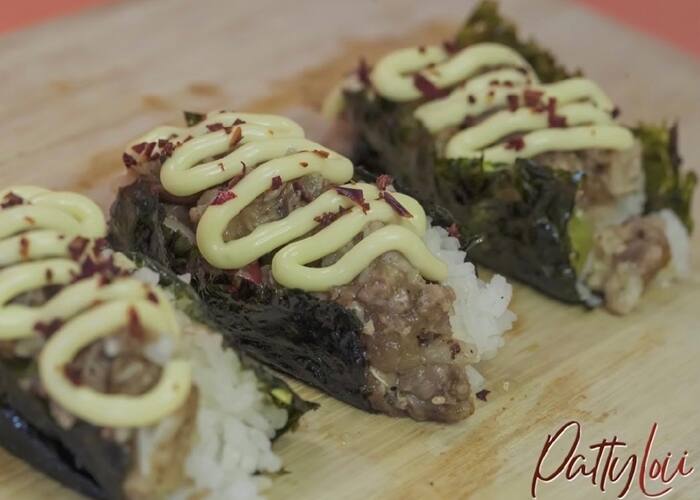 PattyLou's Kitchen
PattyLou's Kitchen
For more info, check out @pattylouskitchen on Instagram. For delivery options, you may either have your orders picked up from Unit 2822 Tower C M Place condominium, Mother Ignacia Ave., QC or you may have them delivered to you through their own rider for an additional fee.
Photos courtesy of Patty Yap