Look! This Debutante's Celestial-Themed Debut Is Truly Out Of This World
All the planets aligned to give this birthday girl the party of her dreams
Kaye Sotingco, a young woman who celebrated 18 years of life this October at The Manila Hotel, threw her guests a celestial-themed party that rivaled the vastness of the cosmos itself. Creating her own little pocket of the Milky Way for just one night, Kaye was enveloped in a venue of majestic indigos and secret shades of blue, complete with décor inspired by the planets, glowing novas, and the deep velvet unendingness of space itself.
Each year of life only has one chance to be celebrated after all, and for Kaye, turning 18 didn't only mean starting another year, but more meaningfully, turning a whole new chapter of her young life.
Like the universe that presents infinite possibilities to the one who dares imagine them, Kaye's 18th represented new heights and potentials for her to reach—an overall bright future filled with endless ways to succeed and be happy.
Dressed in a Jo Rubio-designed blue ball gown with silver accents on its bodice, Kaye was confident in showing her audience that she was more than ready to embark on this journey. Meanwhile, makeup artist Lindsay Co-Alog completed Kaye's glamorous look with neutral eyes and a subdued lip and cheek combo, enhancing her youthfulness just enough to bring out her best features.
Dave Sandoval, on the other hand, made sure to give this pretty debutante the party that would tell her story; the stylist included larger than life ceiling décor, metallics-dominated tablescapes, and violet elements to evoke a sense of walking through comets, constellations, and more.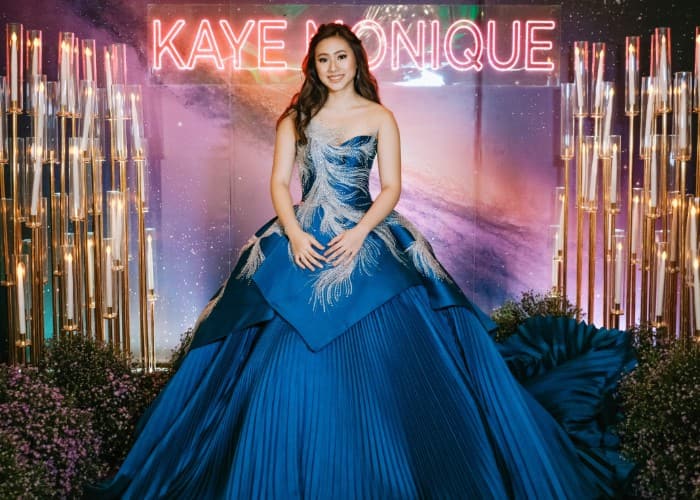 kaye sotingco's celestial-themed debut
kaye sotingco's celestial-themed debut
Of course, there to capture Kaye enjoying herself from the evening's start to finish was NicePrint Photo, a celebrity go-to for capturing scenes in photos and videos during once-in-a-lifetime occasions like this.
Working behind the scenes in partnership with expert coordinator Rhed Sarmiento, Kaye was truly given the party of her dreams and memories that are bound to last long after the last guest had gone home.
Extra attention needs to be given on the three-tier cake made by expert pastry chef, Castillo Fuentes! The luminous sweet treat that looked almost too surreal to slice into was equal parts light and dark, and with the lighting design of LX Events Pro, even shooting stars couldn't have taken the spotlight away from it. (Make sure to look closely or else you'll miss the giant champagne bottle topper).
In the end, everything that Kaye got her guests excited for with her invitations made by Print Divas Invitations lived up—no, exceeded expectations!
Photos courtesy of NicePrint Photo