This Debutante Wore Extravagant Gowns By Mak Tumang and Michael Leyva For Her Crazy Rich Asians-Themed Party
It was an affair that Astrid and Eleanor would have definitely approved of!
Trust a stellar combination of the country's top event stylists and planners to execute a party as lavish as hers.
Birthday girl Christine Catacutan was right on the nose when she picked a debut team made up of event stylist and florist Badang Rueda, production manager Rossel Velasco-Taberna of OBM PH, event planner Voltaire Zalamea, photographer and videographer NicePrint Photo, makeup artist Effie Iñigo, hairstylist Antonio Papa, fashion stylist Jeff Galang, and not one, but two internationally renowned fashion designers by the names of Michael Leyva and Mak Tumang to create custom-made pieces for her special day!
See The Details Of Lala Vinzon's Debut, A Concert And Birthday Rolled Into One!
READ: Here Are All The Details Of Frankie Pangilinan's Jazz-Themed Debut
In Photos: This Non-Traditional Debut Was Inspired By Ariana Grande's "7 Rings"
Remembering how princess-like she felt in her debut, Christine paid special attention to her blue gown by Mak and on Instagram, wrote, "I am still in awe with how it turned out! From its structure to its intricate design, it's waaay beyond my expectations! Thank you so much for your hard work over the last few weeks! I was quite overwhelmed with the compliments I received wearing your creation! I am deeply grateful for you. You're a treasure beyond words!"
Eighteen will only ever come once in a lifetime after all, and the special age deserves all the grandeur, especially for a girl more than ready to make the exciting jump from childhood to young adulthood.
It was then only fitting for Christine to gather inspiration from Kevin Kwan's best-selling novel and 2018 blockbuster Crazy Rich Asians, the latter of which featured a now-iconic wedding scene that set the tone for this debutante's big day.
Though a bride was the center of attention in the film, Christine seamlessly adapted the setting and made it her own, ensuring to make as big an entrance when it was her turn to walk down the aisle, through the crowd, then up to the stage where a big plush chair awaited.
In Photos: This Debutante Wore A Lavish Mak Tumang Gown For Her Milky Way-Themed Party
READ: 11 Of The Most Gorgeous Pre-Nup & Pre-Debut Shoot Destinations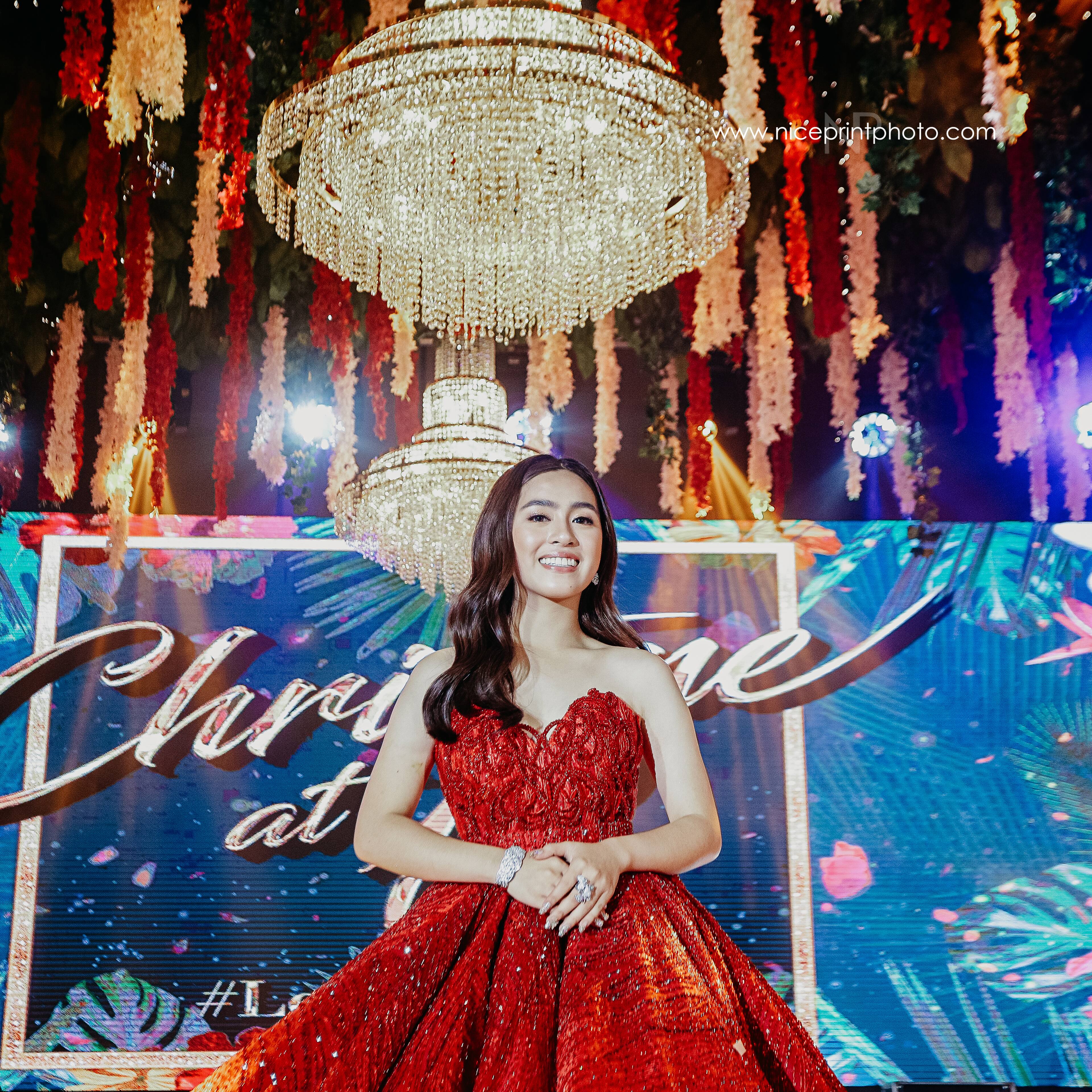 n Photos: Angelina Cruz Looked Like A Modern-Day Cleopatra At Her 18th Birthday Party
In Photos: This Debutante Wore A Lavish Mak Tumang Gown For Her Milky Way-Themed Party
Held at the Clark Marriott Hotel, the party was every inch a glittery affair with guests matching Christine's outfits radiating the luminescence of fire and the coolness of ice.
And while the event could have started and ended on a steady note, it certainly boasted of two performances that guests won't soon forget: song numbers from Joshua Garcia and Richard Poon!
The crooners had their time with Christine onstage, serenading her with heartwarming numbers, much to her delight (a tear or two were shed!). Joshua, however, went the extra mile and took Christine in his arms for a brief dance number that had everyone watching burst in applause and cheers.
Look! This Debutante's Celestial-Themed Debut Is Truly Out Of This World
READ: This Game Of Thrones-Themed Debut Took Its Guests On A Journey To The Kingdom Beyond The WallThis Game Of Thrones-Themed Debut Took Its Guests On A Journey To The Kingdom Beyond The Wall\
Of course, Christine's loved ones completed the tradition of having "18 roses" dance with her onstage and come cake time, all of them and more had gathered around her to marvel at the tower-like cake decked out in colorful flowers prepared by Honey Glaze Cakes. (Check out the top-most tiers that spin!).
Joining in a chorus of happy birthdays, all of Christine's guests were seen having a blast with her, their memories of the evening proving to be the best memories this young woman will forever cherish.
At the end of it all, Christine took the time to thank all who made her dream day possible and penned a second post that spoke of the special day.
"Growing up, it has always been my dream to be Cinderella. I still can't believe that it had already turned into reality on my 18th birthday celebration. How time really flies so fast! And I am still on cloud nine because EVERYTHING WAS SIMPLY PERFECT AND MAGICAL!!!" she said.
"I have cried many times too because the preparations were no joke at all, it tested my patience and determination, but of course, I have these supportive parents, family, and friends who helped me all throughout and never left me. I can say that it was A SUCCESS INDEED! EVERYTHING WAS SO WORTH IT AND UNFORGETTABLE!" she continued, ending her message with a big thank you to God who she says had blessed her immeasurably.
See more photos from Christine's celebration in the gallery below!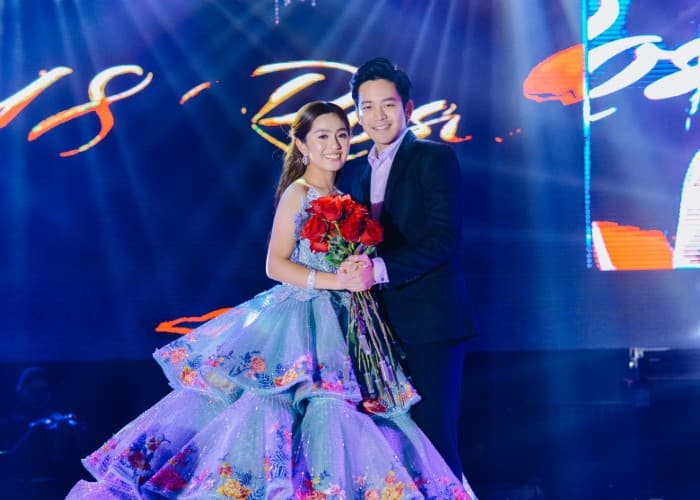 Christine catucutan crazy rich asians debut
Christine catucutan crazy rich asians debut
Photos courtesy of NicePrint Photo