This Debutante Had a Dreamy Coming-of-Age Photoshoot with BJ Pascual
Young achiever Erika Mercado gets the debut photoshoot treatment wearing Leo Almodal, Mark Bumgarner, Patricia Santos, and Steph Tan
Led by the creative direction of Carmela Alcordo, styled by Liz Uy and decked in gorgeous Mark Bumgarner, Leo Almodal, Patricia Santos, and Steph Tan designs, young achiever Erika Mercado — the medical field's next big name, at only 18 — poses gamely for BJ Pascual's lens, coming of age in the dreamiest way possible.
At 18 years old, Erika has grown into what only a few can aspire to be—the perfect blend of beauty, brains, and heart. Clearly, she is predisposed to succeed in her chosen field but she's also fortunate enough to be equipped with the resources needed to bring out the best in them with the help of her loving parents.
Being an honor student ever since she started studying is never a walk in the park to this young woman. Her grades were consistently high and received special awards. She is also about to graduate from Senior High School with High Honors. Time and again, she was a role model, taking home certificates and ribbons and medals, her parents always proudly smiling at her side.
But she also experienced breaking down from the pressure. With a lot of workloads and expectations from every side of the family and friends, it also comes bearing down on her like the whole world. Nevertheless, with her positive mindset, these circumstances do not hinder her from reaching her goal.
"I just stop and rest and meditate on things like, saan ba ako nanggaling, saan ako nagsimula, and iniisip ko na at the end of it all, it will all be worth it," she said. She also finds comfort in singing her heart out and watching her favorite K-drama.
As a matter of fact, inspired by South Korean medical drama starring Kim Rae-won and Park Shin-Hye, The Doctors, Erika realized that with her talent, discipline, and passion to help others, she too can become a doctor. Along with the charming influence of Dr. Derek Shepherd of Grey's Anatomy, she became motivated to pursue a specialization in Neurosurgery.
She is set to attend De La Salle University Manila to get her college degree in Human Biology.
As our conversation went on, she opened up about her deepest thoughts. Erika ponders, "My greatest fear? Lose someone you love and everything that surrounds you… because just last year at the height of the pandemic, I lost my guy best friend and it was difficult for me because I couldn't visit him in the hospital and was not able to attend his wake." Despite the pain, she remains strong and bounces back.
If the pandemic didn't happen, she would have wanted to celebrate her 18th birthday by traveling in Europe or an intimate dinner with close friends and family since she already had a glamorous party when she was 16 years old.
But her mom had different plans for her.
She could not believe that she could celebrate her coming-of-age party with friends and family and the best of them all is work with celebrity photographer BJ Pascual, creative director Carmela Alcordo, and celebrity stylist Liz Uy.
"At first, I was really nervous because they are the people I look up to. It was really a dreamy experience for me dati pinapanuod ko lang sila, now nasa harap ko na sila. Feeling celebrity talaga."
"The whole photoshoot experience is unbelievable," she exclaimed. Erika always wanted to have a photoshoot on a yacht and with different layouts, inspired by Kathryn Bernardo's magazine photos. It was jaw-dropping for her because the team behind it exceeded her expectations. "I'm glad that Ate Carmela was also there to make it all possible."
"Overall," Erika says, "it was a positive experience because from the venue to the gowns, they were all amazing, the ball gown, the flowy dresses, the suit… I loved everything! Even my parents were happy with the photoshoot and supported me all the way."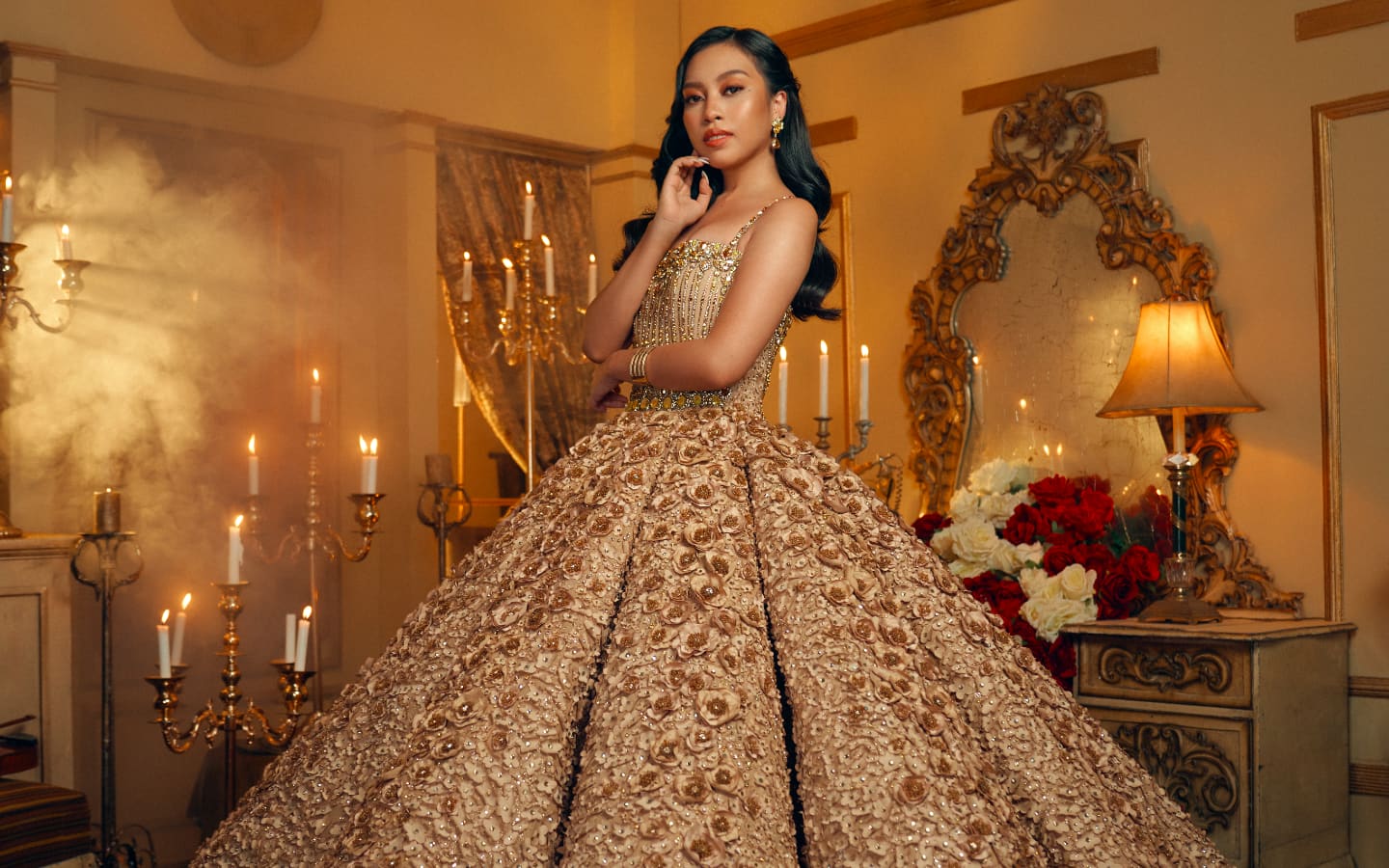 Erika Mercado's dreamy debut photoshoot
Erika Mercado's dreamy debut photoshoot
From a young age, Erika has always been a fashionista in her own right: She made a splash of adorable outfits for every occasion. She was a little princess that looked stunning at any event. If Instagram was a thing in the past, she would definitely be the most stylish kid to follow.
What a way to come of age — surrounded by the people she loves and looks up to most, in a room overflowing with beautiful gowns and picture-perfect backdrops. There's no doubt about it: This is a dream come true.
Creative Director: Carmela Alcordo
Erika's Fashion Styling: Liz Uy
Editorial Photography: BJ Pascual
Fashion Designers:
· Gold Gown - Leo Almodal
· Red Gown - Mark Bumgarner
· White Gown - Patricia Santos
· Silver Gown - Steph Tan
White Suit - Rob Ortega
Makeup Artist: Jelly Eugenio
Hair Stylist: Paul Nebres
Parent's Fashion Styling: Carmela Alcordo
Parent's Glam Team: Carlo Lim
Production Design: Meticulosa Design Studio by Pia Melanz
Photo & Video: Niceprint Photography
Location: Shutterspace Studio
Catering: El Pilyo PH
Coordination: Meticulosa Design Studio by Pia Melanz