Fascinating Women 2022: "Artist on a Mission" Kristine Lim
Since returning to the art scene in 2020 after a 10-year hiatus, this visual artist has been unstoppable at sharing her talent and ultimately fulfilling her mission
For some, art is a manifestation and reflection of the things they are passionate about, the things that touch and move them. For visual artist Kristine Lim, who learned to draw before she could write, there is no wall between her art and her faith.
Last February 28, Kristine launched her art installation titled "Portraits of Christ" in Baluartillo de San Francisco Javier, Fort Santiago in Intramuros, Manila. And it's a great place one can visit this Lent for reflection. The exhibit一which is presented by the Department of Tourism, Intramuros Administration, and Art Lounge Manila一is open until April 1, 2022.
The installation tackles the questions that many people encounter in their life-long spiritual journey: Where can we see God? What does He look like?
"Saan natin makikita 'yung face Niya? Sa atin. Sa mga tao na nakakasalamuha natin. Sa mga pamilya natin, sa mga kaibigan natin, at kahit sa mga kaaway natin, sa mga kinaiinisan natin. Sa mga taong jina-judge natin, pinagtsi-tsimisan natin," Kristine tells Metro.Style. "Whether we like it or not, we are all children of God, and the way we interact, the way we see others is the way we see Christ. Sino ba talaga Siya sa buhay natin?"
This thought process can be seen in how the installation was developed and how it resonates with the viewers as they navigate through it and see versions of their reflections framed by draped cloth across the tunnel.
Of this exhibit, curator Ian Belleza details, "We have a tunnel draped with red velvet to symbolize life and love. We also have mirrors hanging along the draperies. As you walk along the tunnel, you are encouraged to reflect on your life and your relationship with God. Gaze into the mirrors and who do you see? Obviously, you see a reflection of yourself. However, have you ever thought about being with God when you gaze in the mirror? Remember, God made man in His image; this is what Kristine Lim wants us to remember as we take a walk along her exhibit. Thus, we see the many 'Portraits of Christ.'"
Kristine shares how this approach was unexpected by the installation's viewers who initially thought that they would be seeing actual paintings一a welcome surprise. She's overwhelmed by people's feedback on her work. The turnout of the installation is proof that if an artist is truly passionate about something, it will show in his or her art and the way it naturally moves its audiences.
"It's never about me, it's always about Him, and I'm very unapologetic when it comes to expressing my faith through the things that I do," Kristine enthuses.
This art installation is especially significant because this is part of Kristine's journey as an artist reborn. After a 10-year hiatus in the art scene, she made her official comeback in October 2020 in the middle of the pandemic, and she's been unstoppable since.
"When God calls you to do something, no one can stop you. People can delay you, but no one can stop you," she shares in our previous interview with this fascinating woman. She may have had to cross inevitable roadblocks, but that just led her to a clearer path where she's inspiring many along the way.
Working with like-minded artists
Apart from "Portraits of Christ," Kristine also recently worked with Jonathan Manalo, the creative director of ABS-CBN Music, to mark the 22nd anniversary of ABS-CBN Fellowship through a special project. She turned over a masterpiece that was a visual interpretation of Jonathan's "Let's Talk About His Love," a track composed as the official theme song of Real Talk: The Heart of the Matter, a Christian talk show by women for women hosted by Mikee Cojuangco-Jaworski, Pastora Monique Lopez-Ong, and Dyan Castellejo. This effort was done in cooperation with Art Lounge Manila, AOR Global, and Art Plus.
This artwork is part of a project that Kristine and Jonathan are working on to celebrate the latter's 20th anniversary in the music industry. "Sobrang nakakatuwa kasi pareho kami with his song and with my artwork. Pareho kaming very biblical when it comes to our inspiration, when it comes to mga sinusulat at ginagawa, at pine-paint. It's nice to work with someone na who's really on the same boat at pareho kami ng wavelength, pareho 'yung language namin lagi," she says of her collaboration with Jonathan.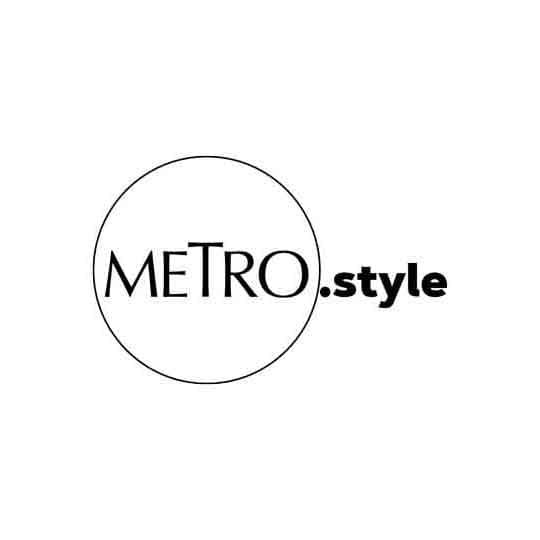 Jonathan Manalo and Kristine Lim during the turnover of the "Let's Talk About His Love" artwork that now adorns ABS-CBN's lobby.
Kristine also worked on another meaningful project with ABS-CBN, this time, a portrait for the late Gina Lopez, who's known for being an environmentalist and philanthropist. It was Kristine's special gift to Bantay Bata 163 on its 25th anniversary. The portrait titled, "Touch the Sky," was donated by ABS-CBN Fellowship members, with the cooperation of Art Lounge Manila, to ABS-CBN Foundation and to Bantay Bata 163.
"Honestly, I am a huge fan of Gina Lopez. Nung pinagbubuntis ko 'yung daughter ko, siya lang 'yung pinapanood ko," Kristine shares. "Aside from 'yung Koreanovelas, I watched her shows titled G-Diaries. Natutuwa kasi ako sa kanya, how light she was, ang gaan-gaan niya panoorin. Bold, and you know, how childlike she was. 'Yung passion niya makikita mo, what she believes in, and the things she really advocates and stands for."
Kristine explained the meaning behind the portrait's title, sharing that she opted to give it a title instead of just using the subject's name."This is the first time I didn't use the name of a person as a title of their portrait, because I want to emphasize that her legacy doesn't rely on her name," she says.
On passion and faith
While it may seem like everything unfolded like clockwork for Kristine, this wasn't the case. The artist explained that she wasn't born with faith-driven work.
Kristine opens up, "I became an alcoholic before. I was diagnosed with Paranoid Personality Disorder. For years, I was really struggling, fighting with people, fighting with myself every day. It was hard. For years, I would always question Him (God). Ang dami kong mga pinasok na bagay just to please people. Failures. Failure after failure, left and right."
Looking at where she is how, it is easy to understand how strengthening her faith has made all the difference in her life. "I'm the kind of person na I'm not gonna do something kapag mabigat siya sa akin. With everything that's happening right now, I honestly just go with the flow. I can't explain how I do everything," she shares. "Honestly, I can't explain how I was able to do everything and talaga, how I am able to do these things pa… and I believe… ito lang explanation dun—if it's God's will, it's going to be done."
This positive disposition has helped her work her way through and around seemingly impossible situations. A couple of years back, her son John, one of her twins, passed away a few months before her comeback exhibit. Kristine describes this as the most challenging moment of her life: "'Yun na talaga ang naging turning point ng life ko, that I really have to live my life here for His purpose. Kung 'yung anak ko na-accomplish na 'yung mission niya, ako, I have to do that as well. People should see their lives not as an opportunity to build a career, but because they have a mission," she points out.
A conversation with Kristine is so inspiring it can remind one of what is important and essential in life. This artist on a mission is on a roll because she, too, has learned to roll with the punches, thanks to the help of her strong faith in God and in herself.
"My faith is no longer a belief, but a conviction. It is something that I will never hide," Kristine declares. "If I'm gonna honor someone this Women's Month, it's going to be my Lord and my Savior. Sabi nga sa Bible, He comforts us as a mother comforts her child."
Photos courtesy of Kristine Lim
Special thanks to Francis Simeon