Fascinating Women: Vocal Coach And Up-And-Coming Solo Artist Katrina Saga
Singer Katrina Saga has traveled the world as a former member of the Philippine Madrigal Singers. Now, she's ready to embark on a new journey as a solo artist
What does it take for a dream to come true? Endurance, constant evolution, passion, needle-sharp focus, an appetite for risk, talent, luck—there are honestly a hundred and one answers to this age-old question.
But for singer Katrina Saga, one word suffices as the ultimate answer: her dream was her destiny.
The year was 2013 and she was a 22-year-old getting her BA in Music, with a major in Vocal Performance, in Silliman University College of Performing and Visual Arts in Dumaguete. That's how old Katrina was when having the right skills, and being in the right place, with the right people, at the right time would change her world as she knew it. Little did she know that the small town girl from Dumaguete, Negros Oriental would sooner than later find herself in the big city of Manila where a lifelong career in music awaited.
Katrina made it through the audition rounds for the Sing Philippines Youth Choir, a provincial outreach program of the famed Philippine Madrigal Singers headed by choirmaster Mark Anthony Carpio. She was pleased enough with her accomplishment—it is certainly an achievement to make it to the 50-person national choir whose members represent all the Philippines' regions—until Mark himself asked her if she preferred to sing with the Madrigal singers instead.
One can safely guess what happened next.
"It was definitely a life-changing decision. I have no regrets to have taken that leap of faith because from that moment on until 2019, my journey with the group has been a blessing indeed. I would then get to sing in the famous semi-circle for almost seven years and have toured almost the whole world with them, doing concerts, workshops, festivals, cultural immersions and meeting new friends and family," Katrina tells Metro.Style.
The trajectory of her singing career has been up and forward ever since. Though she no longer sings with the Madrigal singers, she is currently a teacher at the Philippine Madrigal Singers Music Studio, a private vocal coach to aspiring artists, a graduate student earning her Master's Degree in Voice at The University of the Philippines College of Music, and an up-and-coming solo artist, too. She also plays the flute and piano!
But as much as Katrina's bright future is to be highlighted, her past is equally deserving of your attention. Without it, her stars would have never aligned themselves in the same way.
Enter her family composed of musically inclined individuals.
"I guess I fell in love with music ever since I started singing at the tender age of three and from that moment on, I felt like I needed music to fuel my daily inspiration," she shares.
"I do have a very musically-inclined family. And growing up, I was exposed to different kinds of music from sacred, to classical and jazz. My grandfather, the late Atty. Jose 'Pepe' Villegas Tiongson, was a very big influence in my musical development. He would play the piano everyday from morning until nighttime and would ask me to sing some jazz standards and Filipino love songs. Little did I know, I was already having my first voice lessons right there!" Katrina continues.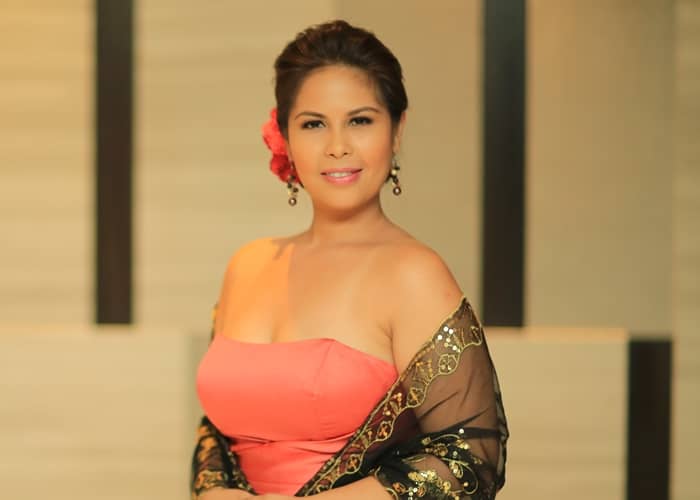 Meet Artist Katrina Saga!
Meet Artist Katrina Saga!
It was the perfect environment for a musical prodigy to thrive in; also present were Katrina's father, a church choir singer for 30 years and counting; her mother, who is also a singer; and her mother's siblings, who played the drums and piano—they all served as the ultimate fuel to her budding talent.
And while her childhood friends likely grew up to the tunes of Britney Spears, *NSYNC, and maybe a bit of Toni Braxton and a good dose of Hanson, Katrina was busy grooving to songs by Whitney Houston, Mariah Carey, Regine Velasquez, and Lani Misalucha, with a peppering of jazz hits by legends George Gershwin and Cole Porter. These days, Katrina is all about "Gypsy" by Suzanne Vega, "Taking a Chance on Love" by Renee Olstead, and "I Know You Know" by Esperanza Spalding.
"I guess as a kid I was also more of an old soul," she quips.
If blood runs through Katrina's veins to keep her physical body alive, it's music that made her soul soar as high as it did then and even higher today as her voice punctures the clouds and makes its way to heaven.
Aside from her family's influence, God of course, she says, has blessed her with this beautiful gift. It is only right that she find ways to give back.
Speaking of giving back, Katrina has a lovely surprise in the works.
"I have been planning to do some online recordings recently. And in this time of great worry, distress and pain, I will be doing several covers of songs that are close to my heart and have likewise helped me in my time of need," she says.
Like other gifted artists, Katrina has plans of dedicating her time and energy to uplifting those working their hardest to keep Filipinos safe from the novel coronavirus (COVID-19) outbreak. She, of all people, is familiar with the power of music to heal and empower, and so, she wishes to ignite the souls of all those who'll listen.
"These songs all speak of comfort and hope that a higher being who is greater than ourselves has everything in control and gives us assurance that all of these have a purpose in teaching us different ways to love and appreciate all the things we have on this earth," she adds.
Who knows? This could also be one way to open up the doors for the other dream she has: one day collaborating with her musical idols like Lea Salonga, Regine Velasquez-Alcasid, Lani Misalucha, and Gary Valenciano.
Even with her accomplishments, Katrina knows that she has only scraped the surface and more is yet to come if she continues working hard.
Once in a while, she looks back at life as a small town girl completely oblivious to the opportunities that lay ahead of her, and finds herself feeling incredibly grateful for all those who played a role in her success—her mother being number one.
"My mother is definitely an outstanding woman for having endured all the sacrifices she made in order to raise us well in her humble and God-fearing values... She would always say to me 'be content with what you have, and you will happy no matter what,'" Katrina describes.
These small yet wise words helped shape the way she sees her musical career, too. Financial gain might be some singers' biggest motivations for doing what they do, but for Katrina, the money comes second, or even third. For her, there's more to making it in the industry than a hefty paycheck.
"I have given my craft more importance and how my training in the field would be a big investment in the future because I love and enjoy my job. I would like to leave my own legacy in any way I can for future musicians," she says.
Music to her is certainly not just an income stream; it is an eternal gift—one that has impacted her life in some of the most meaningful ways—and one that must be shared, humbly and with a thankful heart.
Having honed most of her experience as a member of a group, Katrina is now investing more on herself to be able to launch her solo career.
Currently an independent artist, she hopes to be able to reach a wider audience soon with the help of technology and online tools. And with a talent like hers, it certainly won't take long for listeners from every corner of the country to notice.
"I used to think that someone like me who comes from the province would never be performing alongside some of the country's best artists. But I just took a step back and let God and my family help me overcome my fears and instead shine through my music that comes from the heart," she says.
And as a woman who has proven that dreams can be reached no matter how small the stepping stones to them are, she has a message for other women hoping to make their own achievements one day: be confident and believe, but most importantly, put your heart and soul into all that you do to get there.
Lead photo by Bryan Palermo | All photos courtesy of Katrina Saga