The Beautiful Life Of Ito Curata
Philippine fashion has lost one of its luminaries. We remember designer Ito Curata, who once dressed up Sharon Stone when he was based in San Francisco, through this feature in Metro Magazine in 2011
At 6PM this evening, Filipino designer Ito Curata has passed away at 60 years old. We remember his beautiful life with this article from Metro magazine August 2011, when he opened his home to talk about his life, his design philosophy, and the beautiful objects that inspire him to create. A true aesthete, Ito not only curated the spaces around him, but he also chose to surround himself with positivity—from the people in his life, to his advocacies on fashion and beyond. Metro.Style offers our sincere condolences to the family of Ito.
Ito Curata has lived in San Francisco for 29 years, but the gentle bass of his speaking voice knows no twang nor accent—something unique with this designer who has made it big in the US.
He moved to Pennsylvania at 17, but transferred soon after to Academy of Art University in California to study visual arts. Fashion design was always in the midst, so when the opportunity emerged for him to help friends to design wedding dresses and costumes, his career as a designer took off.
His atelier in San Francisco created gowns for celebrities like Sharon Stone, and society figures like Helena Maria Schulz. He returned to the Philippines seven years ago, he has been known to design high-profile clients such as movie stars and even former presidents. Ito is known for his precision in his work, expressing a femininity and grace that is both understated yet elegant, much like the women he usually designs for.
On photography
"I'm interested in photography, I started shooting years ago since I want photos that focus on the clothes, and I'm a control freak. I like putting it all together—the look, the fashion, even how a dress should appear crumpled, or how far the model should be in the frame."
On models
"When I choose a model, I don't just look at their beauty or their body frame, it's mostly their personality. Of course they need to have certain qualities—they know how to carry my clothes, how to act, and feel the glamour. They need to give off a sense of elegance and sophistication, and not a lot of models could do that."
On Sharon Stone
"I met someone from Miramax and I got hold of her office. I sent a couple of dresses and then she called me herself. The next day I went to L.A., did a fitting, and the rest was history. It was one of my biggest achievements—at that time I didn't know what was happening, and I didn't want to make a big deal out of it. I just wanted to make clothes for her. And she liked my clothes! She was at her peak then, like the Angelina Jolie of this day."
On his design process
"When doing a collection, you either do a color story, or get inspired by certain things—like for my last collection [for Fashion Watch] it was Venice. What did I see in Venice? [I found] a lot of golds and browns, the gondolas and the canals, and I would see this kind of turquoise 'dirt' which comes out in shadows. You write all this down, break it down, draw hundreds of sketches, make a storyboard, and then edit."
On his good and bad design
"You have to be cohesive, you can't have all 20 colors and 20 designs, and in the same token, I have to make [my clothes] wearable to my client. Since [the clothes for Fashion Watch] will be presented during afternoon tea, they had to be crafted really well. I ask myself: Can my client really eat on my clothes? Some designers are very theatrical, but then as I've studied in school, it all boils down to form follows function. If something doesn't have any purpose, it doesn't work, it's bad design. There's no right and wrong design, only good and bad design."
On his fascination with fans
"They're function yet so beautiful, and I got fascinated with fans because of the story behind them. You wonder: who are these people who used these fans before? These people have so much money that they employed an artisan to make this for them, instead of just a regular fan that they would use at their home or their soiree. They make these pieces of art to show their wealth, along with their gowns and corsets made by their top couturiers during that time."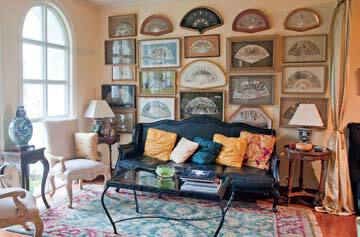 Fans with courtly scenes cover a wall of his receiving room | Photo by Geo Esguerra
On being a designer and an artist
"I'm an artist, not a businessperson. I could spend so many hours on a certain garment, and not even consider that in my costing. I'm an artist, so if I don't like [a piece] I will change it and redo the whole thing. I could spend the entire night redoing it, and it would make me happy, and hopefully, the client will be happy as well."
On his indulgences
"I love food, travel, and books. I love beautiful things—I love the experience of going to a city and absorbing the city. I'm not interested in material things for myself, or even brands. I don't have to get the latest bags or gadgets, but I love the experience itself. I also like collecting paperweights, fans, books, art, Chinese artifacts, Versace plates, Saint-Louis crystals and more."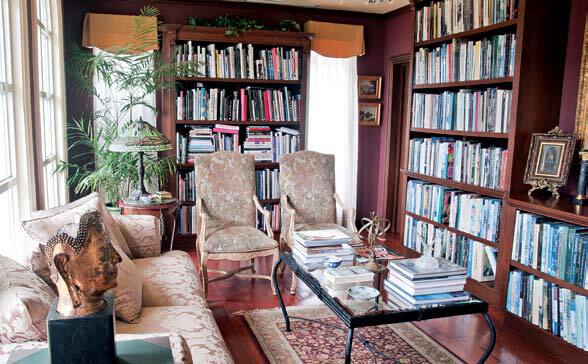 His extensive carries more than a thousand books on fashion, art, and design. | Photo by Geo Esguerra
On his travels
"Going to Europe, an old city, really intrigues me. I love Italy and Paris, in fact, a year and a half ago, I went to Venice and I thought it was magical. I recently visited Amsterdam and Vienna as well. They're old cities, and you know the character of France and Italy really intrigues me."
On passion
"The French are passionate about everything they're doing: whether in fashion, food, or art. It's the same with the Japanese. Even if they have varied interests, they're not going to do it half-way, half-baked. I believe that either you do it well, or don't do it at all. If you decide to do it, give it 110 percent."
On discipline
"I learned a lot when I studied Ikebana. I wanted to move on to the next style [there are 5 different styles] but my master told me I couldn't just jump. In the Japanese mindset, you have to be disciplined. When the right time comes, that's when you can move on [to another style]. You can apply that logic in your everyday life. You can't just rush into things you know you can't do. Even in modern dance, you can't do it well without the background of classical ballet. You cannot sing an aria or a nice Whitney Houston song, it takes years of practice before you could sound like those."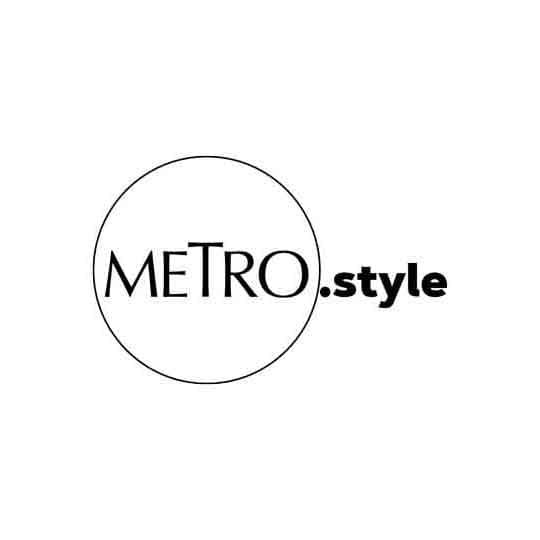 Part of his art collection is a Picasso print, among other things. | Photo by Geo Esguerra
On a life of beauty
"I'm a happy person, I'm surrounded by beautiful things. I'm also very positive. I see goodness in everybody, yet I also know how to look the other way when exposed to negativity. I don't dwell on problems, instead, I choose to enjoy life."
On success
"I really don't feel I'm successful, because I think if a person feels that, then there's no more moving forward—that's the end of the line for them. You cannot be just content. I'm happy, but of course, there's more out there for me to do, like giving back. [I know that] there's a balance, you can't just take and take, so now I'm doing a lot of volunteering work, small things like giving slippers to children. I also help out with Tulay sa Don Bosco, and we're trying to gather books do donate to children."
On getting what you want
"Life has been good. There's nothing in this world that I wanted and didn't get. I think it's because if you're positive to the universe, if you're true to yourself and happy, ang balik nun maganda. Knowing that everything cannot be perfect, but yet you don't let that stop you. You have to keep dreaming and wanting, these will drive you forward."