This 23-Year-Old Filipino Designer Gets Into British Vogue And London Fashion Week
Get to know Cabrini Roy, a young British-Filipina whose Maria Clara-inspired collection has made it to the British fashion scene
She's 23 years old, only a year off the London College of Fashion, and four months into starting her brand—but she has already inched into the spotlight as one of London's emerging fashion designers. She is Cabrini Roy, a British-Filipina fashion designer, who is already making waves for her fashion label in one of the city hotspots of fashion.
A British-Filipina's journey
Cabrini was born in the Philippines, but migrated to the UK at the age of 5. She tells ABS-CBN News that one of her biggest influences growing up was her mother, who was a nurse and loved to dress up. By age 9, she already knew she wanted to design and create beautiful clothes. And by age 13, she asked for her first sewing machine as a birthday present.
And her dreams all came together last year, when she graduated from Fashion Design: Womenswear at the London College of Fashion.
Debuting on the London stage
Her first stop: London Fashion Week, one of the "Big Four" fashion weeks that happen twice a year to provide fashion trend forecasts of the season.
Cabrini recalls that she was only contacted to become a part of the London Fashion Week two weeks prior to the show, so it was a bit of a challenge for her to come up with a whole collection in time for the September show. But instead of focusing on the impossible, Cabrini pushed herself beyond her limits and surprised herself when she came through and showcased her S/S20 line, "Wardrobe ng Modern Maria Clara," on the second day of the fashion week.
The collection is a redefinition of neutral and minimalist, harnessing the finesse of organza and silk to create clothes that are simple but elegant. Inspired by her Filipino roots, she tries to reinterpret the modern Maria Clara by combining soft tailoring and silhouettes that can take any modern Filipina through the modern world.
Cabrini also makes sure that her garments look well in any body type and skin color, thus the use of muted palettes and feminine silhouettes. Many media sites have praised her work, saying it ushers in "a new age of luxury ready-to-wear fashion."
"Only 4 months into starting my brand and so many things has happened. To see my name and my brand on the board, to see the clothes I designed and made on the runway and to walk down the catwalk with my designs, it's all been a dream come true," says Cabrini about the London Fashion Week show on her Instagram account.
Enter: Vogue
And just this month, Cabrini finally breaks into mainstream fashion as she debuts her brand inside the October 2019 issue of British Vogue. She was one of the designers in Vogue's designer profile campaign, where the magazine handpicks emerging designers to be featured on their website and on Vogue retail.
Vogue talks about her brand: "Cabrini Roy is a brand that embodies luxury contemporary with her signature minimalistic approach. Established in London, but with a heavy influence from her Filipino heritage; Cabrini's garments are handcrafted ready-to-wear which aim to empower the everyday modern woman with the use of bold silhouettes and minimal design."
London is indeed one of the seats of fashion in the world, and making it in London at a very young age is no little feat. Apart from the London Fashion Week collection, included in her already vast portfolio are sustainability collaborations with H&M, Southsea Fashion Week in 2014, and a charity fashion show to raise money for the Philippines Community Fund.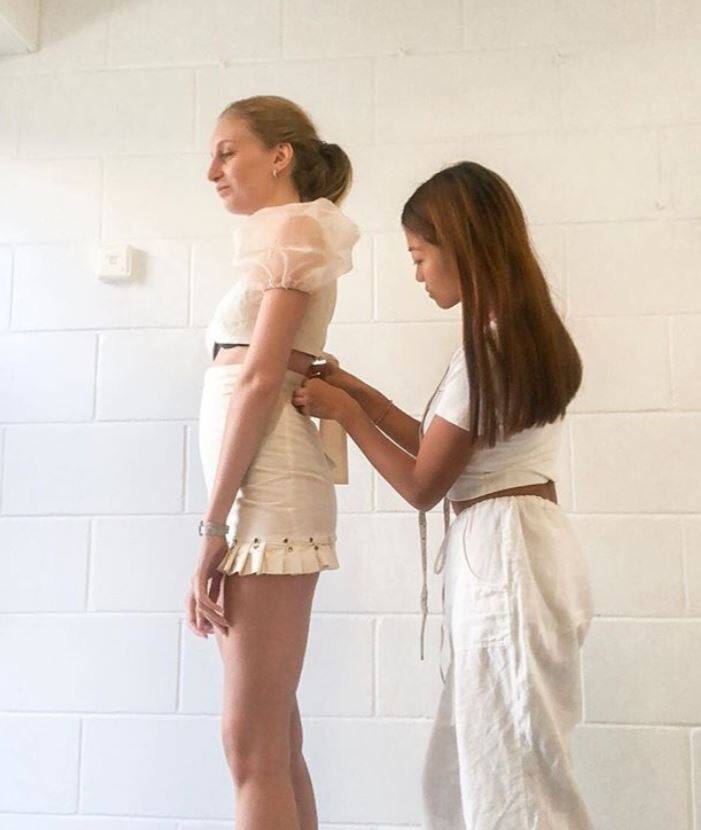 Her Filipino core
Cabrini is now serving as an inspiration to many Filipinos, who aspire to make it big in the world stage. Start and experiment while you're young, and there will be countless of doors that will open for you. She also showcases the importance of honoring your roots—just like what she did with her Maria Clara collection—because it is where your genuineness and talent will truly shine.
Despite growing up in London, Cabrini keeps her ties to the Philippines very solid. For summer this year, she went home to the Philippines to spend some time unwinding in Boracay, Laguna, Batangas, Siargao, and Palawan. And recently, her pieces have broken into the Philippine entertainment scene, where we saw the likes of young stars Loisa Andalio and Nadine Lustre donning her denimwear.
At 23 years old, Cabrini still has so much ahead of her. But for now, she keeps her goals tight and real, saying that she dreams of having her own studio and shop in London, with a strong online shop which women can turn to for clothes that make them feel confident and beautiful.
Photos from @cabriniroy