Look! This Filipino Family Visited The "Geumga Plaza" Filming Location In K-Drama "Vincenzo"
They're big fans of K-dramas, and they've visited filming locations of "Start-Up" and "It's Okay to Not be Okay" before as well
Vincenzo is over, and many K-drama fans (us included) still can't get over it. The 20-episode series ran from February 20 to May 2, 2021, scoring an average nationwide rating of 14.6% for its finale episode. Vincenzo is now the 9th highest-rated drama in Korean cable TV history and the sixth highest-rated drama in tvN's history.
Warning: Spoilers ahead!
Vincenzo follows the story of Vincenzo Cassano (portrayed by Song Joong-ki), an Italian lawyer and mafia consigliere. He leaves Italy and returns to South Korea for a mission to get a Chinese tycoon's hidden treasures, which he helped hide in a secured, underground vault beneath the Geumga-dong Plaza. As he tries to carry out this mission, his fate gets entangled with a huge, corrupt company, Babel Group, that is claiming ownership of this complex. He has then made it his mission to destroy Babel Group and its real chairman, Jang Han-seok (portrayed by Ok Taecyeon), in order to recover the gold.
Vincenzo gets help from feisty lawyer Hong Cha-young (portrayed by Jeon Yeo-been), who takes over her late father's Jipuragi Law Firm whose office is within the Geumga Plaza. The rest of that building's tenants also contributed a lot, as they're all interestingly hiding some secret identities and amazing skills—you've got "Chungju Owl Gang Lightning Scissors" (Choi Deok-moon as Tak Hong-shik), "National Sports Festival Gold Medal Wrestler" (Yang Kyung-won as Lee Chul-wook), "National Sports Festival Gold Medal Weightlifter" (Seo Ye-hwa as Jang Yeon-jin), "Flyweight Boxing Champion in Asia" (Lee Hang-na as Kwak Hee-soo), "Loading Middle School Boxing Club" (Kang Chae-min as Kim Young-ho), "Street Fighter Turned Dancer" (Kim Seol-jin as Larry Kang), "Ssireum Champion from Chungcheongbuk-do" (Kim Hyung-mook as Toto), "President of Vincenzo's Fan Club, 'Oh My Consigliere'" (Im Chul-soo as Ahn Gi-seok), "Geumga-Dong Spirea" (Lee Dal as Jeon Soo-nam), and "Former Geumga-Dong's Angel in White Now, Nutria" (Kim Young-woong as Park Seok-do).
There are also Geumga Plaza's manager (Choi Young-joon as Cho Young-woon), Jipuragi Law Firm's paralegal (Yoon Byung-hee as Nam Joo-sung), piano school owner who turns out to be an expert hacker (Kim Yoon-hye as Seo Mi-ri), the monks at the Nanyak Temple who later help in transferring the gold bars to a different location (Ri Woo-jin as Jeokha and Kwon Seung-woo as Chaeshin), and the accountant at ByeBye Balloon (Jung Ji-yoon as Yang Joo-eun).
The Geumga Plaza has become a key element in the narrative of Vincenzo. It's where we saw some of the most memorable, most intense, and even funniest scenes throughout the whole series. We've come to love its tenants too, and they definitely make up one of the best ensemble casts in recent K-drama history.
Geumga Plaza is, of course, a fictional name. But this building does exist and it's called Cheonggye Plaza (also known as Cheonggye Arcade). And we came across a Filipino family based in South Korea, who recently visited this
Vincenzo
filming location.
"It is an apartment building with electrical shops. It is connected to Sewoon Market (where some scenes were also taken) via an overpass," Seneca Moraleda-Puguan tells us. "Cheonggye Plaza is located at 162 Cheonggyecheon-ro, Jung-gu, Seoul, South Korea. It's a four- to five-minute walk from Euljiro 4-ga subway station, exit 2/5."
Seneca and her family are big fans of Vincenzo and K-dramas in general. Watching K-dramas is her and her husband's bonding activity after putting their children to bed. She shares, "I asked my Korean friends if they watched Vincenzo and they said they loved it too!"
Check out the gallery below to see photos of Seneca and her family as they visited "Geumga Plaza" in Vincenzo: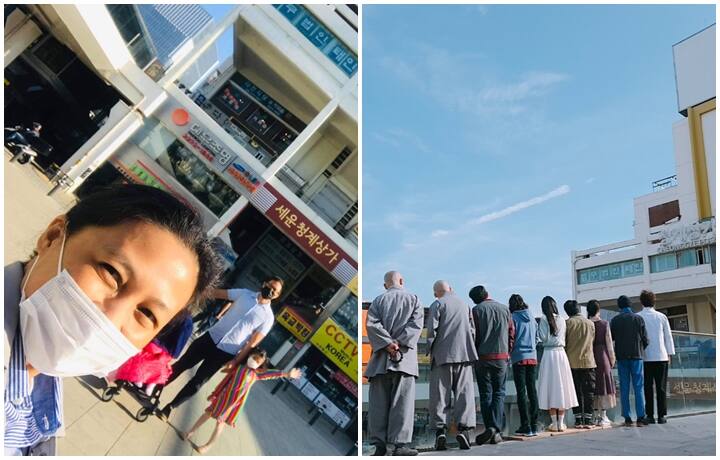 A Filipino Family Visits "Geumga Plaza" In "Vincenzo"
A Filipino Family Visits "Geumga Plaza" In "Vincenzo"
"My husband, John Marc, works as an associate professor in Myongji University Yongin campus while I am a fulltime housewife and mother of our two kids," Seneca shares. "My husband has been here for almost 11 years now, and I've been here for seven years now."
Seneca said they plan to visit Dongdaemun Design Plaza next. That's where the last scene (where Vincenzo and Hong Cha-young kissed) was filmed. They've visited many K-drama filming locations before, including some that were featured in Start-Up and It's Okay to Not Be Okay.
Vincenzo is available on Netflix.
Lead photos courtesy of Seneca Moraleda-Puguan and from @hyeongmook_kim @tvndrama.official