Gina⁠ Lopez Dies At 65—A Look Back At Her Extraordinary Life Of Service
We remember Gina Lopez, her life's greatest legacies, and the eternal mark she left on the Filipino people in a look back at this Metro Society cover story
Former ABS-CBN Lingkod Kapamilya Foundation Head and Department of Environment and Natural Resources Secretary Gina Lopez has passed away.
The hugely popular and driven philanthropist, environmentalist, and humanitarian was 65 years old when she succumbed to multiple organ failure. This icon of service known for her unyielding determination to make a difference in people's lives faced the end of her highly accomplished and meaningful earthly life in her own terms—surrounded by loved ones in her final moments.
As we celebrate her memory, we take a look back at a story that best encapsulates her passions and legacy: improving the lives of Filipinos through public service, instilling deeply respectful connections between man and nature, protecting children, and putting spirituality at the heart of all we do.
Metro.Style remembers Gina Lopez and all that she had done with this Metro Society cover story by writer Yvette Tan, for the magazine's December 2016-January 2017 issue.
"I'm so happy now," Gina Lopez says as she sits in the receiving room of her home, a Manosa oasis with no straight walls, and a garden on each floor. The round house is a reflection of the woman who owns it, a place filled with light, where the delineation between nature and manmade is almost nonexistent.
Gina is known for her compassion for the underprivileged and her love for the environment. This love for all living things started at a young age. Lopez describes her youth as "living in a bubble was loving and compassionate and principled and which has integrity." "My dad was always busy and my mom was always busy in sports (yet) they somehow maneuvered to create a family where love reigned. I get along with all my siblings and I have very good friends that are still good friends now from grade school and high school," Lopez says.
"We were very close growing up because of the age difference. I always admired her. She was always a very good sister and a very good friend to me," says her sister Marisa Lopez-Grassi, who is a year and a half younger. "I'm very close to her. We share a spirituality and I'm very very proud of her."
Finding Herself
Gina's outlook changed at 18 when she went to Boston for college and joined a spiritual group called Ananda Marga. "When I came home, I looked for the group and the group lived in the poorest side of town, in Paco. And that gave me an exposure of another side of Manila society," she says. "I became a missionary because I wanted to do something with my life."
Gina left Manila, dedicating her life to the organization for almost 20 years. She was given the title Didi and lived in the slums of Africa, an experience that enabled her to experience deep poverty. "I had to stand in line for water for hours for a bucket of water and I had to use that bucket of water to wash my hair and take a shower," she says. "I think that's what Africa taught me: a dislike for wasting."
Her experience in the organization was one of survival. Sent by the organization to Africa with no money or contacts, Lopez had to make do on her own, without her last name to back her. "If anything, it taught me how to survive based on guts and faith," she says.
"The age difference is quite big, so growing up, I was aware of her on the periphery," says her sister Berta Lopez-Feliciano, who is eight years younger. "I remember her distinctly being part of Ananda Marga, wearing those orange robes, and it was only actually when she came back from Africa that I really began to develop an adult relationship with her because before that, just the age difference created a big gap."
Gina says that what gave her the strength and conviction to leave her family for a life of poverty and uncertainty wasn't the organization itself, but her internal search for something more. "I think it was more me, my evolution. There was something inside of me that was looking for something and it didn't find it in the church," she says. "The church can be very external and ritualistic and not touching the soul… The rituals of the church are very external. I don't see how you can feel God if you don't do some kind of meditation, stilling the mind, feeling peace inside."
Her feelings about this aspect of Christianity have since changed. "That's been addressed in large part by different segments of the church now," she says. "My mother belongs to a Christian meditation group and my dad did Zen meditation which is headed by a nun and a priest. Religion does not necessarily equate to spirituality, that's what I discovered. I think something inside of me was looking for something, so I ended up in Ananda Marga, and I ended up leaving them after a long time."
Coming Home
Gina's reasons for leaving was twofold: one was a growing disillusionment with Ananda Marga. "In retrospect, I think the organization leaves much to be desired. In itself, it also doesn't imbibe elements of spirituality. I mean, all organizations have some level of weaknesses, and Ananda Marga, like many others, has its own level, and this is manifested in the bosses that are there. That's the way life is," she says.
But the more important reason has to do with the heart. "I fell in love with my boss in Nairobi," she says. "We took a vow of celibacy, and since the relationship was going in the way that was not in the line of celibacy, I said I'd better go home, so that's what I did. I thought that was the honest thing to do," she says.
Manila took a lot of getting used to. "I had a really hard time when I came home because for 20 years, I was living, I cooked, I cleaned, I did everything myself, I didn't have maids or drivers or anything. I mean, I'm like a nothing there in Africa, and then I come here and I have all this help and I didn't have so much to do in the beginning," she says. "If I wasn't pregnant, I might have gone back because I felt like there, the life was better utilized."
Gina's hardship was felt by those around her, too. "When I first started getting to know her again, she shocked me, and she continues to shock me to this day," Berta says. "It (was) like she had no idea what it was like to live in regular society. It was like she was someone from a different era because she just did not know anything like from watching shows to buying things to what to wear… She was totally clueless. In the beginning, getting to know her, I was always in a state of amazement."
So Gina stayed put, and, after some time, found her place when she became Managing Director of the ABS-CBN Foundation, where she spearheaded many corporate social responsibility programs more than a decade before they became ubiquitous. She also got a Masters degree at AIM, despite not finishing college. "She convinced the head of AIM to take her on because her husband then (could not continue) and she said, 'I'll take his place.' I don't know how you can get someone to agree to that because it's something that's usually not done but she got them to agree, she took his place, and she graduated from AIM with a lot of difficulty because she had never taken accounting or math or whatever," Berta says.
Though Gina found her passion in the Foundation, her marriage, however, ended differently. "We were together for eight years then we split, but were still very good friends," Gina says. "I think that's the way it should be with relationships. People move forward, why do you have to be enemies? Why not be friends? And besides, we have two kids. We're good."
A Protector of Children
"I started with children. That was very close to my heart," Gina says. "I was watching a program on TV where a child was beat up by her mother continuously. The neighbors heard her screaming. They didn't do anything about it but they knew it was happening. In the end, this really cute child… died. I was horrified. I said, maybe if there was a number that child could have called, then we could have prevented that death from happening."
Gina spearheaded ABS-CBN Foundation Project Bantay Bata, which offered an easy to remember three-digit number for abused kids or witnesses to abused kids to call for help. The project helped a lot of children escape abuse and find better lives. It also alerted the country to the prevalence of child abuse, giving the topic much-needed attention. "She does Bantay Bata, and then she does all these things—things that you want to do but you never actually stepped out and do—so my amazement turned into more amazement and into pride at all that she's done and all that she continues to do," Berta says. "There's almost no separation between types of people or who you are. (To Gina), it's like, you're a person and I'm going to help you. That's the way she just is."
A Warrior for Mother Earth
"My drive to the environment wasn't even an intended drive. It was because one of my people came to me and said, 'Why don't we reforest the La Mesa watershed?' I said, yes, and that started it, love affair with trees," Gina says. An encounter with murdered journalist and environmental activist Gerry Ortega spurred her uneasiness with extractive industries, a cause that she consistently battled for. She is also known for her drive to clean the Pasig River through cleaning its estuaries one by one. "I saw that by cleaning one estero, that life changed. If there's an impact on human life, I get excited, because I feel that that's what we're all about. And that's why I love the environment: because of its massive, direct impact on human life," she says. "I think I got that from daddy. I like to do things with impact."
So far, Kapit Bisig Para sa Ilog Pasig has cleaned 17 out of 48 estuaries, and has started getting foreign funding to clean more. The French government, for example, has agreed to take on San Juan river, which Gina says comprises 40% of the Pasig River's pollution because of its location. She says that the Pasig can be cleaned in as little as three years, given enough funding and the proper technology. "(The communities by the clean esteros are) so much happier," Gina says. "They say the economy has improved, their health has improved, happiness has improved. They'll keep it clean because they're benefitting. They have to benefit. That's the key."
A Supporter of Quality Education
"I saw that audio visuals intensified the learning curve," Gina says. "(One of the reasons for) poverty is because there's no level playing field in terms of quality of education… so I felt that if I produced audio visuals and beamed it into the public schools, it's one way of equalizing this."
Sineskwela started with science because research showed that countries with strong economic growth were countries with strong science backgrounds. The program garnered number one in audience share and ratings, and had sponsors even before it launched. "There were two things that happened: Sineskwela rated and it was proved through tests that (the show) actually improved academic performance. I was really happy with that," she says.
The series branched out into other topics before a change in the national TV landscape made it move to cable, where it is still shown. "Now, what we're doing is selling the packages and getting corporations to sponsor, for example, schools in their area" Gina says.
Life, G Style
Gina has gone on to help others experience her philosophy of living. She started G Stuff, a retail store that sells products from different communities, with all of the proceeds going back to the communities themselves. "I wanted to do a business when I was in ABS where I don't have to ask for donations all the time," she says. "We choose communities near natural resources that need to be protected because the ones who live there should be the ones who benefit."
She also just launched G Diaries, a travel show she hosts that showcases the beauty of the Philippines. Working with her on the show is American TV director Will Harper, who has directed for shows such as Oprah and Good Morning America. They worked on it while the latter was shooting a documentary on the environment. "What I know is that when you want something really well, my experience in life is that God sends people there," Gina says. "He loves the environment. He's really really good, so now ABS-CBN is hiring him to be a dean in the university to upgrade our production skills."
She tries to keep her personal life simple. "I exercise twice a day for my bones. I'm really healthy. I take care of what I eat. I don't like pork or beef, no white sugar⁠—it makes me tired, no white flour. I don't drink," Gina says.
She grows herbs in her garden, which she fondly calls her botika. She lives a holistic lifestyle, avoiding chemicals because they're bad for the liver and kidneys. She says her health-consciousness is a family trait. My family is really into health. Gabby joined the Paris marathon at 60, my brother is an ironman, my two sisters were champions of water skiing SEA, Berta is a diver, all of my brothers play tennis," she says. "It runs in the family."
She meditates every day: spirituality is important to her. "What you see is really what you get," Berta says. "There's no scripting, there's no forethought. She's spontaneous."
She tries to spend weekends with her older son, who stays with her, though she says that she hasn't relaxed in a long time because she's so busy. And yet, all this activity only serves to fuel her love for life. "There's a childlike quality to her. She's very joyful. Her favorite thing is during Christmas vacation, she says, 'Let's play hide and seek!' Or she'll play patintero," Marisa says. "She loves to play with her staff, and she loves to play basketball with her sons. She loves sports fests. Come Christmas, she loves to get the staff of all of our siblings together and she's there with the mike and she plans the programs and hosts the shows."
Everyone says the same thing about Gina: that everything she does comes from a place of love and an idealistic yearning for a greater good. "My vision for myself is to be able to always be aligned with my highest truth. I would like to be a conduit of light and love" Gina says. "I'm not going to determine what I'll do or be, but as long as it always comes from my highest truth, that's what I would like for myself."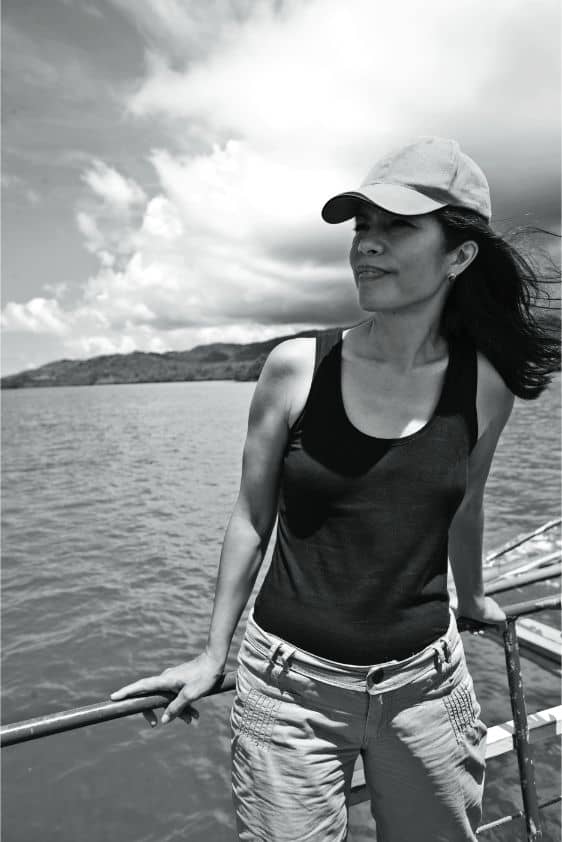 In Service to the Filipino People
Gina's life has gotten a lot more hectic ever since she accepted President Rodrigo Duterte's invitation to become Secretary of the Department of Environment and Natural Resources. "My main hesitation was my spiritual life," she says. "I didn't say yes right away because for me, spirituality is non-negotiable… but during a meditation session, I felt the possibility of my infusing into this heart. Then this whole thing took on a spiritual turn. It wasn't politics for politics, it was the fact that it was a way for me to help and how, if I played the game well, it would actually be a spiritual journey."
"She's a deeply spiritual person," Marisa says. "All her life, she's been that way. It has always been her mission to make the world a better place to live in."
Needless to say, the political arena is a continual test. "You inherit an environment which you didn't make and you're even handicapped at changing it because of all the rules and regulations," Gina says. "And then you go on field and you find out that people are suffering⁠—that's very hard for my heart, when people suffer and especially when people suffer because my people have been corrupt. It's really hard for me. And so the challenge there is for me to keep my cool, and that entails some spiritual muscle. You have to be strong."
Still, this hasn't stopped her from doing what she thinks as to be done for the good of the country. "There are times when one needs hard love, right? That sometimes, just love and sweetness all the time is not what the country always needs," she says. "You want to be clear about what you have to do, make sure that you're doing it not for any other agenda but one of service. The three words which I want DENR to live by is truth, service, and the common good. That's how I ran the ABS-CBN Foundation and that's how I want to run DENR."
"I think that it's only normal (for someone to encounter obstacles). What's good is that she doesn't let it faze her. She goes on in spite of that," Marisa says.
"I think it's great that she has the job she does and I know many people sincerely believe that she's going to do a good job," Berta, who is helping with the DENR website, says. "Of course, there are always people who don't think so, but I think just the passion⁠—I think it's such a good thing for everyone, especially now, with how difficult things are."
Gina has many plans for the Philippines, ones that she hopes to be able to fulfill in her capacity as a government official. "I would like to have is a country where our natural resources are conserved. I want to see mangroves everywhere so that we are protected from climate change. I want to see bamboo everywhere because we can (profit from that)," she says. "I envision a country without poverty. Our people would have enough food to put on the table, enough money to send their kids to school. We can make it happen, and I feel that the way to do it is by creating models on the ground to show that it can be done."
"I think she's doing so much for the country and we want to help her in any way that we can on a personal level because we feel that she is so challenged by her new position," Marisa says. "I think people don't understand her affiliation with President Duterte. I think people pass judgement on that, whereas I feel that she's like a ray of light in this establishment where there is so much discord. And instead of questioning why she is working with him, we should congratulate her for doing some good in this establishment, recognize the good that she can do."
Gina is genuinely in awe of the president. "I really like him. I find him genuine… He's so humble. He's really unassuming," she says. "He can be hard, but there's a genuineness and a sincerity there which resonates with me. He really has a heart for the poor. I've seen it. He has a heart for social justice... That's why I continue to serve the president regardless of the chaos that may sometimes abound."
Her family is proud of what she has achieved, and excited about the change she can effect on a nationwide scale. The task may seem daunting, but they know that it's all in a day's work to the woman who made it on her own in Africa. "Initially, I was really worried for her because she's up against a lot of people who have a lot of money and they definitely don't see eye to eye on basic things, but every time I talk to her, she's so unafraid," Berta says. "I think it gives her an incredible platform to do all she wanted to do."
"I think what people like the most about her is a sincerity and there's a courage about her actions, in the ways she moves and as (head of) DENR," Marisa says."She doesn't care what people say. All that matter is that she's helping the poor and she's helping the environment."
Gina Lopez has led a life intent on giving a voice to those who cannot speak for themselves. From the slums of Africa to the lands of the Philippines, she inspires people to see the possibilities brought about by finding their best selves. "If we in this country dream and hope the common good and commitment to integrity, I have no doubt in my heart and in my mind that our country will see the light of day."
Behind Gina are the friends and family who have supported her in everything she's done, and who will continue to support her through each of her endeavors. "It's been a blessing to be born in a family where people genuinely and sincerely care for each other," she says. "I would say I'm blessed."
It's true that many people have been blessed in the way Gina Lopez has been. It's also true that of the few who share the same kind of opportunities, only a handful have used them to better the lives of others. This is what makes Gina special: her love for others and her desire to see everyone become as happy as she is.
Photography by Philip Sison
Styled by Sam and Sarah Policios
This story was originally published in Metro Society's December 2016-January 2017 issue.