From Gold to Diamond—Scenes From Hidilyn Diaz and Julius Naranjo's Engagement
You have to see her unique engagement ring with a gold barbell accent up close
Hidilyn Diaz and Julius Naranjo are now engaged!
The Olympic gold medalist—the Philippines' first and only—thought she and Julius would just be having a simple dinner with friends. She was told it was for a despedida before they leave for Malaysia and a triple date with couples Iza Calzado and Ben Wintle as well as Precious Lara Quigaman and Marco Alcaraz. Little did she know that Julius was already preparing for the best surprise of her life.
"It's YES!," the 30-year-old weightlifting champ writes on Instagram. "It was a magical moment with @imjulius." Hidilyn went on to share how grateful she is that God sent Julius to her. She acknowledged that Julius, who also happens to be her training coach, is a huge part of her success as an athlete. He's someone who supported her and sacrificed things for her to win gold at the Olympics.
"Masaya ako kasi siya mismo nagsabi God is the center of our relationship, kaya walang duda magYeYES ako dahil swerte ako may isang Julius nagmamahal, nagintindi, at sumoporta sakin," she adds.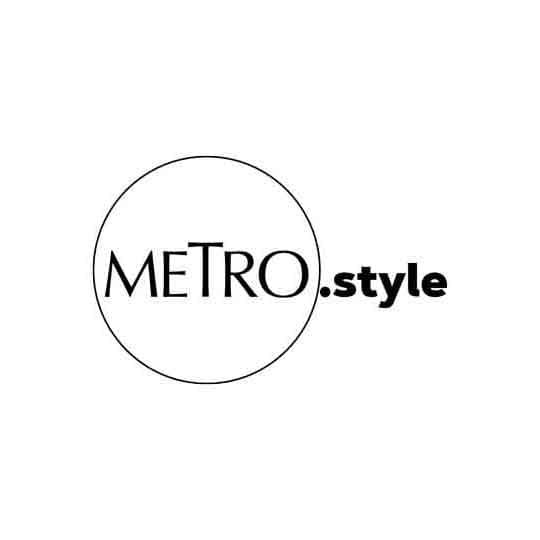 Engaged couple Julius Naranjo and Hidilyn Diaz | Photo from Resorts World Manila via @iamnoelferrer
The proposal happened in Vubble, Sheraton Manila at Resorts World Manila. The luxurious outdoor venue features enclosed dining pods by the poolside, an experience elevated with a special curated menu.
Making the occasion even more special is that Julius gave Hidilyn a gold engagement ring with a barbell accent, which is symbolic of not just their individual journeys but their relationship as well. The happy bride-to-be joked that she gave him a gold medal, and he gave her a gold ring in return.
Julius collaborated with Manila Diamond Studio for this unique, custom ring. On Instagram, he says, "Manila Diamond Studio helped me design this for her. I told them to make it gold because she won gold. And then this is a barbell... and they engraved Tokyo 2020 in the inside of the ring. It's custom-made." Hidilyn won the Philippines' first-ever Olympic gold at the Tokyo 2020 Olympic Games for Women's 55kg category for weightlifting last July.
Manila Diamond Studio says that the ring is inspired by Hidilyn's "love, strength and passion."
In this same video, taken hours before the proposal, Julius was asked whether he was ready to propose. Obviously nervous, he replies, "I don't think you'll know you're ready until it's there," and said he would just go with the flow.
Also there to witness the special moment unfold was Hidilyn's manager, Noel Ferrer, who also helped Julius pull off the proposal. Noel posted a clip of the whole proposal, and it was cute, romantic, sweet, and funny all at the same time. "I thought it's a prank," Hidilyn says in jest.
"Thank you so much for loving me. Thank you so much for supporting me, and thank you so much for this," she tells him. "I feel like my hair is so long and I'm beautiful because you love me and because you proposed to me."
Check out the gallery below for more scenes from the engagement of Hidilyn Diaz and Julius Naranjo: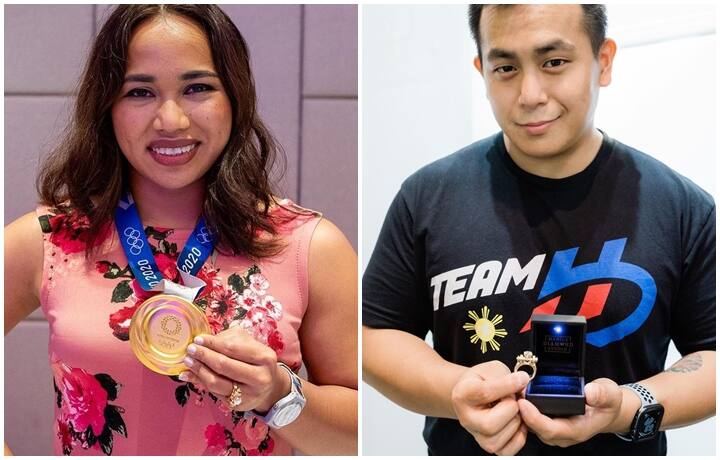 Photo Gallery
Photo Gallery
Congratulations, Hidilyn and Julius!
Lead photo from Resorts World Manila via @iamnoelferrer