Retracing Harnaaz Sandhu's Miss Universe Journey
A look back on Miss Universe 2021 Harnaaz Sandhu's competition highlights
After capturing the coveted crown at the 70th Miss Universe competition in December 2021 at Eilat, Israel, India's Harnaaz Sandhu has brought back glory to her country after owning the title again in 20 long years. Having left an important footprint on India's pageantry history for being the third Indian Miss U titleholder after Sushmita Sen (1994) and Lara Dutta (2000), Harnaaz has become an instant world icon.
Originally a Chandigarh-based model with an impressive educational portfolio, Harnaaz is truly one of the beauty-and-brains kind. Prior to her reign as Miss Universe, she was also able to compete in other Indian-based beauty contests such as Miss Chandigarh, Miss Max Emerging Star India, Femina Miss India, Miss Diva. Born to her realtor father Pritam Singh Sandhu and gynecologist mother Ravinder Kaur Sandhu, Harnaaz Sandhu has become the pride of her clan.
Her recent win has been celebrated from all quarters of the globe, revolutionizing the idea of how beauty should be defined. An enduring advocate of many causes such as menstrual hygiene and equity, Harnaaz has remained an active stalwart of women's well-being. In fact, she has partnered with 11 non-profit organizations worldwide to extend her support and voice to those that necessitate it.

Drawing inspiration from her mother, who happens to be a gynecologist, the beauty queen seeks to empower women and the youth to speak up for themselves and the suppressed, seek access to affordable, accessible, and safe menstrual products, and promote gender equity and social justice across all available platforms. In fact, in April of this year, Harnaaz visited the Philippine archipelago and delivered a speech tackling menstrual equity.
On this advocacy, she tells Metro.Style as she graces its digital cover: "I think why it's not common is because most of us don't think it's important to talk about it. I know how close it is for every woman out there. Especially my mom being a gynecologist, she made me realize the importance of spreading the word on menstrual health and menstrual equity. And that's what ignited the fire in me, and I want to make sure that this reaches every woman and we're still going through the lack of access, a lack of knowledge, and to educate them and support each other."
For a recap of Harnaaz Sandhu's monumental win and some of her Miss Universe 2021 highlights, swipe through the gallery below: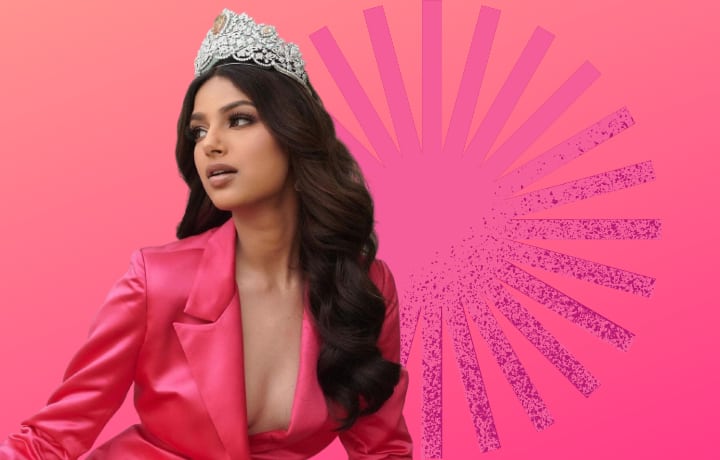 Photo Gallery
Photo Gallery
Lead photos courtesy of @benjaminaskinas via @harnaazsandhu_03