In Conversation With Balara Content House's Feliz Lucas
At this in-demand Japandi aesthetic photo studio, the brainchild of couple Jay Jay and Feliz Lucas, "creating content feels like a community"
In 2020, at the height of the pandemic when the COVID-19 crisis befell companies and businesses, the economy has collapsed and establishments have shut down. The sudden pause has incurred paramount losses. While the pandemic meant not just a roadblock but a dead-end for some entrepreneurs and their businesses, it served as a viable and opportune time to piece together scattered ideas and shape them into something that fits into the current situation.
Conceiving and birthing this "pandemic baby"
Challenged by the global crisis and the great pause, entrepreneurs and creatives Jay Jay and Feliz Lucas, a married couple with three lovely kids, took a chance on rendering concept rooms that will cater to every client's content creation needs.
They turned their vision into fruition through the stunning Balara Content House. Welcoming clients into their home since September 2021, it's a fully furnished property hinged on the Japandi aesthetic which has now become an in-demand place to rent for photo or video shoots and even intimate events from birthdays and weddings to brand launches.
"I think it was because of the pandemic that people or creatives didn't have a venue anymore or didn't have an area to express themselves," Feliz shared with Metro.Style. "We have Lucas Studios already as a content space. It didn't just work as a photo studio. It became a content studio by accident. We eventually opened that up for Balara as well."
Balara Content House is a newfound content creation studio in Quezon City that boasts a spacious stretch and nooks of curated spaces. "For Balara, it was still the direction of creating opportunities or areas for creatives who just create, connect, and then continue to inspire. I think it's really a pandemic baby," she explains, when asked about what steered her and her husband to start Balara Content House. Jay Jay is a photographer, and together, the couple is also behind brands like Chestknots and Little Heartbeat which are go-tos for documenting family milestones.
Feel at home creating
Essentially a blank canvas with a bright interior, their main content space, Magnolia, is illuminated by natural light from ceiling to floor. It gives the studio goers full creative freedom and control over the contents that they want or need to produce, inspiring creativity and making it more conducive to content creation. "We wanted to create an opportunity like that and then hopefully, inspire creatives that while they work, it's also inspiring and comfortable and clean," shares Feliz.
Chic, airy, and cozy, Balara Content House is on another level of ethereal. It has evolved into a luxurious abode that is now a celebrity favorite. Kim Chiu and Belle Mariano did birthday photo shoots here, and Julia Barretto chose this venue for her intimate 25th birthday party, too.
Recently, P-Pop stars BINI and BGYO made this their playground as they spent the entire day at Balara Content House, shooting for Metro's special back-to-back covers.
"It's like a resort, siguro," Feliz continues with a light chuckle. "With Balara, we have tried to do the same way. It's fully furnished, meaning all the interiors are available for you to use in the space that you're going to rent and you can move it around," she says. Taking pride in their trademark, she adds, "You can recreate your own space. If you even want to paint the walls, it's possible."
She also notes that Balara is characterized by function and authenticity, and not all aesthetics: "All the content needs of a content creator or agency is there. Every corner was really created so that it would be Pinterest-able."
Building a community of content creators
Equipped with their vision to encourage collaboration and a sense of community among their clientele, Feliz articulates, "We really wanted to create an opportunity where different creatives will work together as collaborators and not as competitors. That's the reason why there are a lot of spaces for people to just create together, connect together, and inspire each other. When you go to Balara, that would be the atmosphere. Creating content feels like a community."
Location-wise, Balara is not leveled, as opposed to the usual overall terrain in the metro. Its trail is a welcome surprise. "It's going uphill. It's something that you would least expect," points out Feliz. As for the name reference, "balara" stands for "strong" in Latin; launched during a time when people are reminded to "stay strong," the name couldn't have been more apt and meaningful.
"Balara also had a different sound to it," Feliz mentions. "We wanted to challenge the idea of Filipinos that even if it's a common street name or a common barangay name, we wanted to show that it's not just about the name that makes up a place, but it's really the community that's in it. The thing with Balara is you cannot expect the same thing when you're there [or] when you come back to it. There's always something new."
Designed for imagination and creation
Developed by Jay Jay, Balara Content House centers on a homey, cozy design that features Japandi, the fusion of Japanese and Scandinavian aesthetics and minimalistic approach. Balara is steadily growing into a suburban alternative that radiates ambience and calmness that is rare to come by in the urban jungle.
The property has seven different spaces to marvel at and experiment with: Laundry Room, Humble Room (20 sq.m), Valeo Tiny House (130 sq.m), Frontyard (200 sq.m), Calea (110 sq.m), Glass House, Magnolia (180 sq.m), and a newly-launched Kitchen Studio. They also have a café right beneath Magnolia, where you can go for refreshments, and you may even want to use it as your backdrop. Connect with Feliz, Jay Jay, and their team, and you'll be amazed at how flexible their setups can be.
A content creation haven that is home to many content creators, celebrities, and celebrations, Balara Content House makes concept shoots and events stress-free, fab, and classy with a hint of coolness. With creatives now feeling right at home here, you can bet that Balara Content House itself and its creators will keep pushing the envelope to come up with fresh ideas.
Check out the gallery below to see more of Balara Content House: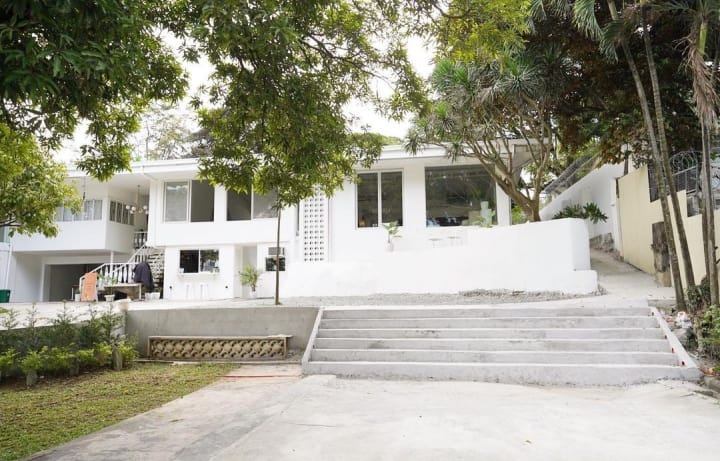 Photo Gallery