EXCLUSIVE: Award-Winning Filipino Sommelier Jhonel Faelnar Went On A Food & Wine Journey In France
He went on a food and wine journey on "The Crawl France" with host Stephanie Kienle-Gonzalez, and we find out how the experience was like for him
France has become synonymous to the fine lifestyle—fine dining, fine experiences, and, of course, fine wine. For Metro Channel's The Crawl France show, award-winning Filipino sommelier Jhonel Faelnar was sent to France to relish and uncover its wine culture.
Filipino-born and raised Jhonel Faelnar is one of the youngest sommeliers who have been named by Wine & Spirits magazine as the Best New Sommelier of New York. He is also the wine director of two Michelin-starred restaurant Atomix which was named as one of the Best Wine Restaurants by Wine Enthusiast this year. So when it comes to wines, you know he really knows what he's talking about.
That's why he was chosen by Metro Channel to accompany host Stephanie Kienle-Gonzalez on an epic 9-day food crawl in the world's center for fine dining.
"The whole experience was more than what you'll see on screen," says Jhonel about his The Crawl France experience. "The actual travel involved, the moving and catching of trains, locations, restaurants, vineyards, wineries, and everything in between is really something memorable."
Metro.Style talks to Jhonel and delves into the behind-the-scenes of The Crawl France, to tease us with some of the things we should look forward to in the show's premiere:
Behind the scenes
Traveling in a foreign country can already be challenging—but imagine having to shoot at the same time, too! But thankfully, Jhonel was a trooper, and loved all the challenges that came with it.
"Traveling always presents last minute challenges like figuring out train schedules, making your transfers, and loading and unloading yourselves on a tight train! I enjoy traveling, including the hard parts, and so I was very happy to see I was in similar company with a team that crushed traveling from Paris - Burgundy - Champagne - Rhone - Paris with a smile on our faces," says Jhonel.
"Traveling in a foreign country without mastery of the language is always a hurdle to get over but thankfully Steph is a pro!" he adds. Since Steph stayed in France for a couple of years, it was easier to have someone who can talk to the locals and know some of the secrets of Paris.
And speaking of challenges, we ask Jhonel about one of their most candid moments off-camera: eating McDonald's in France. You don't really go abroad to eat in a fast food, but sometimes, you really gotta crawl for food!
"One of the most memorable moments for me was probably our hour-long pilgrimage to McDonald's in Rhone. We arrived at an awkward hour, so everything—and I mean everything—was closed in the town of Tain l'Hermitage. There was no food to be had anywhere and we were starving! We tried several places to no avail and decided to cross the bridge over to Tournon.
"Still no luck and quickly fading, we saw a sign for McDonald's that said two minutes away or something like that. So we decided to try and walk it, but somewhere midway, we realized that meant a car traveling at whatever maximum speed limit that was on that highway. Long story short, we made it there, eventually. And we feasted like kings and queens! It was an amazing bonding moment with the crew," shares Jhonel.
Another interesting tidbit about Jhonel is that he loves jazz and he would often go to jazz bars even after shooting. When you're in France, might as well make the most out of it, right?
"I think out of everyone on the trip, I definitely maximized after-hours the most," he says with a laugh. "I definitely walked the streets even when I was tired from a long day. It's a city that needs to be explored! We were luckily staying steps away from jazz bars in Les Halles and it was an easy decision for me spend a few hours just listening to music in this small room that was packed to the gills with a full glass of rum in hand.
"I like live jazz because it's creative and I enjoy seeing the process unfold on stage. It was such a communal atmosphere and really made me feel like a Parisian for a few nights sitting beside artists and jazz-goers alike. I found the spots just by walking around and chatting with the locals."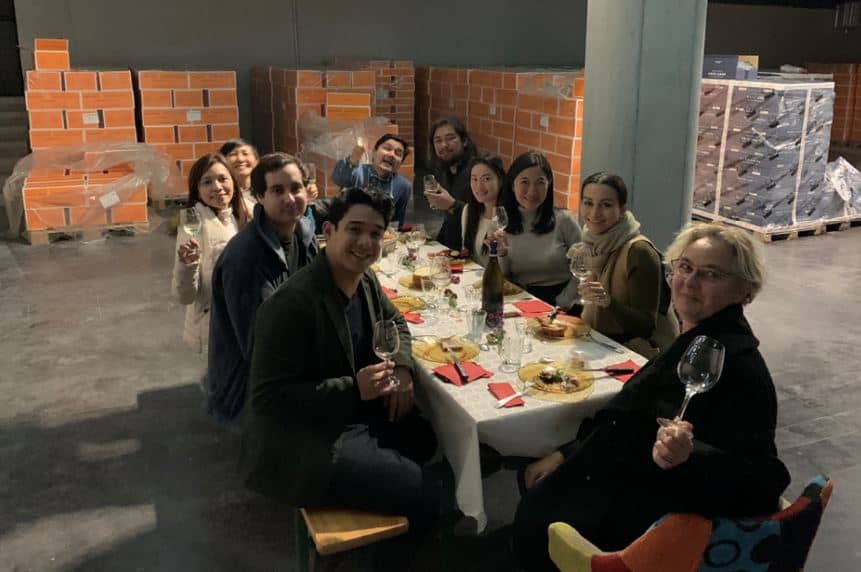 The wine culture
And of course, as a sommelier, exploring the wine regions of France was like Christmas for Jhonel. We tried to convince Jhonel to pick one of his favorite parts of the whole trip (he did not want to pick one because he loved every bit of the experience), and he settled for their trip to the vineyards of Vosne-Romanée.
Vosne-Romanée is a pilgrimage site for anyone who loves wine—what you can call ground zero for the legendary Grand Cru of Burgundy, some of the most sought after in the world. It may be a tiny village, but it is known for having the best terroir to produce exceptional silky wine.
"Words can't really describe how beautiful Burgundy is at this time of the year and it doesn't get any better passing by some of the most storied and prized vineyards, with memories of past bottles of wines from there drunk and emptied, and chatting about them with Anne (vigneronne of Domaine Anne Gros) and Steph," says Jhonel.
He then goes on about the special kind of wine experience you'll only have in France. "When you're in France, you're drinking French, unless you go out of your way to look for something else. We tasted a great many different wines during the trip during and after the shoot. But the most memorable tastes for me were the unfinished wines that we were so generously offered to taste. It's easy to pour someone a taste of something that you consider done, but to share something that's yet to be finished can make anyone feel vulnerable.
"Tasting Anne's unbottled 2018's from Vosne-Romanée, tasting the 2019 out of tank at Piper-Heidsieck with Emilien in Champagne, and pulling barrel samples from 2019 Hermitage with Clement at Chapoutier represent some of the most generous tastes I was offered all trip."
Everything in between
Many more things were caught in front and behind the camera during Jhonel and Steph's trip to France for The Crawl France—like how they would shoot boomerangs as they waited for their train back to Paris, how they went to a bar in Reims with Jhonel choosing the wines for everyone, how Jhonel would be a gentleman and help unload their baggage when traveling. Lala Ventura, Metro Channel head, talks about how it was so handy to have a sommelier with you during a trip—because you'll always have the best wine pairing with your meals.
Having experienced France again, we ask Jhonel for some of his travel tips for people who'd like to enjoy and make the most of their trip to the country. Some of his tips were: "Avoid being too picky and just dive in and order that dish you've never heard of. Have that conversation with that person you're standing in line with at the café that happens to catch your eye. I enjoy spontaneity and sometimes you just have to let go and let things happen."
And that's coming from someone who tried eating calf brain for the first time in his life in Paris—and enjoying every bit of it. He says he'll be sure to have it again.
Join Jhonel Faelnar and Stephanie Kienle-Gonzalez on The Crawl France, premiering on December 8, 7 p.m., on iWant, Metro.style Youtube, and Metro Channel, channel 52 on Sky Cable and channel 174 on HD.
Photos from Lala Ventura