Keri Zamora Opens Up About Her Breast Cancer Diagnosis, Plus Her Road To Recovery
"Allow yourself to cry. Cry when you feel like it, but don't dwell on that negative feeling for long. Allow people to help you," she says
As women, we're taught how to do breast self-checks and learn the importance of doing that from time to time to make sure that nothing is out of the ordinary.
But what happens when a routine check raises a red flag, and a trip to the doctor confirms your worst suspicions? What do you do when you're told that it is undoubtedly breast cancer, and that chemotherapy is, and should be, your immediate course of action? In a snap of a finger, it can certainly feel like a disease has unfairly put your entire life, family, and future on the line, and while it can be devastating, it mustn't be debilitating—at least, not emotionally and spiritually.
For Keri Zamora, proud mom of four and the beautiful wife of San Juan City mayor Francis Zamora, this was the reality she had no choice but to face head on, a seemingly unnecessary hurdle she needed to jump.
Here, she talks about how breast cancer has changed her life and what her road to recovery has been like, so far. To date, Keri has finished her radiation and chemotherapy treatments. Hormone therapy is what's on her medical agenda, and with the support of her loved ones, is able to keep her faith strong and believes that an end to this will soon come. This month, she and her family had reason to celebrate, too: her PET (positron emission tomography) scans came out clear.
"I [had just gotten] back from the gym when I felt a lump on my left breast as I was removing my sports bra," she recalls.
She found it by chance and as one can imagine, was shocked to be told that the lump was a manifestation of breast cancer. It was only when she was diagnosed in February 2019 that Keri learned of a family history of breast cancer, a major health concern that went unattended to for years until that moment.
Her sister and husband were the first to find out. Then, she broke the news to her four kids, a daughter and three boys, and tears were shed. There was sadness and a heaviness hanging over their heads for quite some time, with Keri's biggest fears being that of dying young, turning Francis into a widower, and most painfully, no longer being around to see her children grow into adults and live their own lives with their own families.
The Zamora family's pain didn't last long, however; Keri's kids took it upon themselves to be her number one source of support and happiness. If they were positive, she should be, too.
"They cried with me, but that was only one time when I broke the news. Francis and the kids have been really strong and positive, and that made all the difference. Because of their positivity, I was focused on getting better and praying more," she shares.
As if her diagnosis wasn't difficult enough, it also came at the most inopportune time; the news came a month before the 2019 mayoral elections, when Francis went head to head with Janella Ejercito. It was a tense period for all of the family as results would dictate the end, or the continuation, of the 50-year-long domination of the Ejercitos and Estradas over San Juan City.
"As much as I wanted to be there for my husband who was running for mayor, I couldn't because I was also starting on chemotherapy. I initially told Francis not to share my diagnosis at first because I wanted him to focus on his campaign, and I wanted to focus on healing," Keri says.
What a blessing it truly was when Francis won the mayoral seat, which was a win not only for him but for Keri, too, who needed a dose of good news to keep her going.
The fact that she needed to lessen her activities and paradoxically devote her energy to slowing down had begun to take its toll on her; an active person used to being out and about who is suddenly ordered to bed rest won't be happy doing so despite knowing it's what's necessary.
"'I'm a very active person, so undergoing chemo and feeling weak and nauseous made me feel really sad. I'm just thankful for my family who really cheered me on," she adds.
It wasn't only the lack of mobility that hurt, either.
Going through extreme hair loss that affected her scalp and eyelashes, and having to wear unnatural-looking wigs—when you've lived with a full head of hair for all your life—was absolutely heart-wrenching. It was undeniable evidence that Keri was indeed battling cancer, but even then, she picked herself up and soldiered on, determined to continue treatment to the very end until significant improvements could be found.
She holds a zest for life, a lightness in her aura, and yes, has even gotten her long, brunette locks back that she can now again wear in all the stylish ways she wants.
Keri's new lease on life hasn't all been for her, though. It has taught her to be more giving.
The experience has raised her awareness on making treatment for breast cancer more accessible to more women, a project that she has taken it upon herself to initiate for San Juan residents.
"I'm recovering well. I've been busy with projects on breast cancer awareness and how to make cancer treatment accessible to our San Juan constituents," she explains.
"I've realized that life is short; death is inevitable. I'm trying to live my life with meaning by being of service to others. I've also become more expressive to my loved ones," she continues.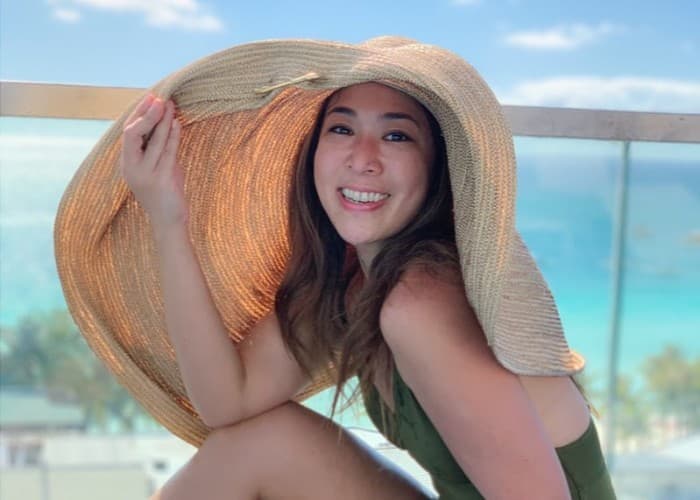 SWIPE LEFT OR RIGHT
TO NAVIGATE BETWEEN PAGES
It wasn't easy then, and it's still not easy now, but Keri is managing just fine. After all, she and her family have braved the worst of the storms, and now that only a drizzle is left, they'll surely be able to overcome.
For those going through a similar experience, Keri has a piece of advice for them:
"Allow yourself to cry. Cry when you feel like it, but don't dwell [on] that negative feeling for long. Allow people to help you. Praying the rosary has helped me a lot, too."
And as an extra tip for ladies who want to look their best despite the challenges at hand, she highly recommends cosmetics label Juice Beauty, a brand that does without artificial additives, especially dyes, in their products.
"I know a lot of doctors tell their patients not to Google, but doing research has actually prepared me [for] the side effects of treatment, and some breast cancer websites have helped me remain positive with their stories of survival," Keri concludes.
Photos from @kerizamora