In Photos: The Baptism Of Kryz Uy And Slater Young's Baby Scott Knoa—Plus, The "SKYFam" Moments We Love
Welcome to the Christian world, Scottie bear!
Kryz Uy and Slater Young just celebrated the baptism of their adorable little boy, Scott Knoa. Kryz shared photos from the intimate event on her Instagram account, and it's one of the many, many beautiful moments this lovely Cebu-based "SKYfam" has shared with their followers over the past months that people spent under quarantine.
During these trying times, Kryz Uy and Slater Young have been fortunate to not only have their son brighten up their days but also have unlimited family time in their SKYPod, allowing them to better transition to parenthood. In a time of fear and great uncertainty, the couple found the silver lining, thanks to this bundle of joy.
Kryz simply captioned her post with "Scottie boo's Baptism day." Scottie boo, boss baby, Scottie the koala bear, SKYbaby, the cutest alarm clock, chunky monkey, little xiaolongbao, happy baby, silly little sushi boy, little pea, little burrito—yes, they're all the nicknames Scott Knoa's parents have called him, and any parent (moms, especially) can relate to Kryz Uy and Slater Young when it comes to thinking of all these cute and funny nicknames for their little one.
Kryz gave birth last June 2, so Scott Knoa will turn six months old soon! The special occasions they have so far spent as a family were Father's Day and Halloween, when Scott Knoa blessed people's feeds with an adorable photo of him in a Baby Yoda costume. But really, for first-time parents like Kryz and Slater, every single day can be special as they see their baby grow.
Check out the gallery below to see more photos from Scott Knoa's baptism as well as some of our favorite SKYfam snaps: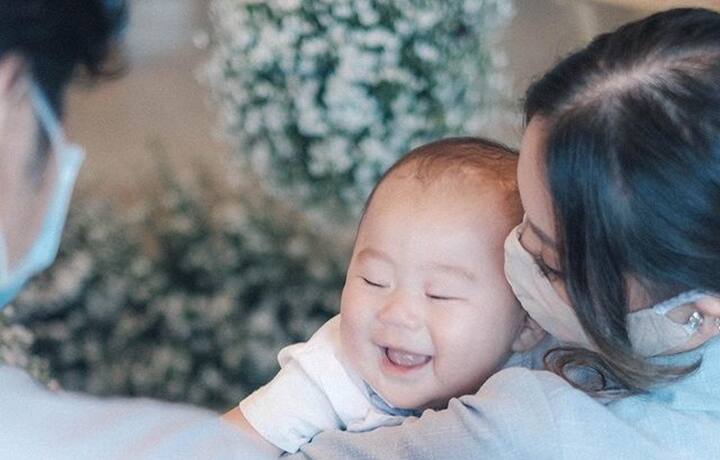 Scott Knoa's Baptism
Scott Knoa's Baptism
Metro.Style cover stars Kryz and Slater got married in Cebu on February 16, 2019. Her pregnancy announcement was done via a 15-minute vlog uploaded on her YouTube channel on November 30, 2019.
Welcome to the Christian world, Scott Knoa!
Photos from @kryzzzie