This 28-Year-Old Pinay Entrepreneur Made It To Forbes Asia's "30 Under 30" List For 2019
Georgianna Carlos established Fetch! Naturals, a brand that offers natural pet care products that are good for pets, humans, and the environment
At some point, many have dreamt of getting recognized by a prestigious company across the globe. Well, that dream is now a reality for Georgianna Carlos, 28, with the recognition she has received this year for her brand Fetch! Naturals.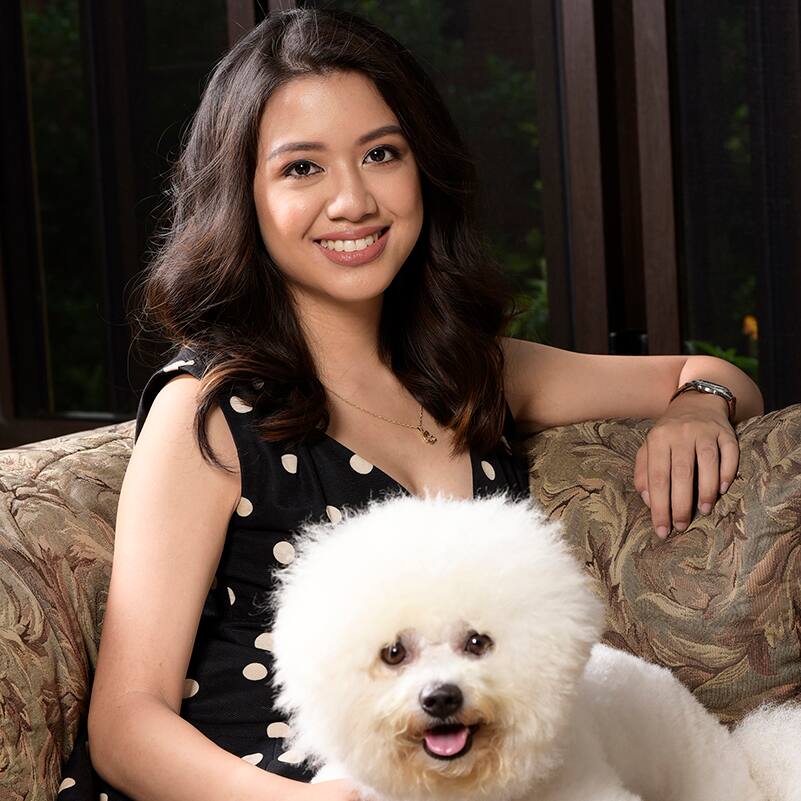 Georgianna Carlos of Fetch! Naturals | Photo courtesy of Ladies Who Launch
Forbes Asia's "30 Under 30" 2019
Georgianna is one of the four Filipinos who made it to Forbes Asia's "30 Under 30" 2019 list, for her business that offers natural pet care products that are good for pets, humans, and the environment. "Come on, past Forbes alumni include Melanie Perkins of Canva, in the Philippines we have Aisa Mijeno of Sustainable Alternative Lighting (SALt)—she was part of APEC, she was interviewed by Obama—another one is Carlo Delantar of Waves For Water (W4W) where he goes to far-flung communities and finds ways to give them access to drinking water," she says humbly, still in awe. "I sell dog shampoo. That doesn't make sense! Why would Forbes choose a pet brand?"
Although the dream seemed too far-fetched in the beginning, she got all the support and encouragement she needed from her friends and family, who sent in her name for nomination. "I just answered some questions, they verified all the information, and a few months later, I got an e-mail telling me I'm one of the Forbes '30 Under 30' for retail and e-commerce," she recalls. "Forbes comes up with the list every year, 30 people under 30 years old in a specific category and I'm under retail and e-commerce. It was such an honor and until now, Forbes does give me a lot of opportunities. Last July, it was the summit for the Asia leg, I met all the other honorees. It's very awe-inspiring but at the same time, you kind of feel comfortable because we're all kind of in the same place. We're all kind of young and trying to figure our way out, trying to find a way to reach our own definition of success."
The start of the brand
It was Georgianna's dog who inspired her to start Fetch! Naturals. "When I got him, he had recurring skin rashes, he lived wearing the cone of shame for one year, I've tried all types of products made here, made outside the country, and nothing worked, until my fiancé brought home a bottle of pet care shampoo from Italy and it worked. It's P700 but it worked," the CEO muses.
Out of curiosity, she turned the bottle around and checked its ingredients. "The active ingredient is neem. I Googled it. Neem is a tropical tree, it's found in tropical countries including the Philippines," she shares. "I did a bunch of research and there's not enough research in the Philippines when it comes to neem. You go to provinces, there are neem trees on the road but it grows so big but the locals just cut it and they burn it. They don't do anything with it because we don't have enough research for that. We had research for aloe vera, coconut, even bananas, but not neem. So this was really my 'aha!' moment."
From there, the owner collaborated with a chemist, business partners, and later on launched their products made out of neem. From the brand's conceptualization up to now, its team has always been clear with their vision. "We redefine what we felt what natural meant to us, we're very conscious of what we think the pet care industry should be in the Philippines, we're very conscious also of what our role is in the society," declares Georgianna.
Why Fetch! Naturals stands out from other pet care brands
Fetch! is the very first pet care brand in the country with an FDA and BAI registration. "A baby can use our products, a toddler can use our products, your grandparents can use our products, I use it," she says. "If you call something natural, is it natural if it's only for the dog? For the cat? It should be good for humans, for the pets, and for the environment."
Business advice from Georgianna
Aside from Fetch! Naturals, she's also handling two other businesses—one offers virtual office in support services for entrepreneurs that she's managing with her mother and a two-month-old company for business registration, which "takes care of the 'unsexy' side of starting a business."
At the recent Ladies Who Launch event, which gathered empowered female leaders and entrepreneurs to talk about their journeys, she gave helpful tips on starting a business: collaborate with others, outsource, test things out, and just go for it! "People will always judge. You'll always stumble upon someone who'd be like, why are you starting a business in that industry? Why that business? Why even try?" she stresses. "I didn't even want to apply for Forbes. Maybe I was shy, maybe I didn't believe in myself but my friend said, 'What do you have to lose?' So, you know, do it anyway."
For her, embracing the hustle is also of paramount importance. "Every little step means a lot and it kind of like builds the road for you for better opportunities in the future," she declares, adding that in the process, one should not be scared to fail. "There's no such thing as failure; it's always a lesson to be learned."
Photos from
@georgecarlos