Marga Valdes Trinidad Talks About Sustainable And Ethical Fashion Choices On "Women Of Style"
The CEO of the Bea Valdes brand shares enlightening insights on the relevant topic of sustainability in fashion
An empowered woman is a woman with purpose. And what is more empowering than making a stand when it comes to sustainable style and a better future?
Marga Valdes Trinidad, a woman who believes that the future of fashion is about making mutual ethical choices, joins Joey Mead-King on Metro Channel's Women of Style to talk about what makes sustainable, eco-friendly, and ethical fashion—and how the Bea Valdes brand champions this.
The Bea Valdes brand was started by her sister Bea, who has always been in the forefront of slow fashion. And behind this artistic director is her sister, Marga, who makes sure the company delivers the vision they have set.
Marga recalls it was Bea who introduced her to the world of fashion, saying, "My background is really much more academic because my B.A. was in Political Science and History, and my Masters is in General and Economic Development. I have been living in London for eight years when I received an email from Bea and she was like, 'I'm ready to seriously take on this business and is this something you'd consider and go back home for?'"
On slow fashion
Fast fashion has always been the norm, but more recently, brands and consumers are becoming more conscious of their fashion and style choices. Marga believes that the Bea Valdes brand has always been anti fast fashion, and as proponents of slow fashion, they've always done things very mindfully and deliberately.
"Time is our greatest luxury. It's taken a while for everybody else to come on board but I'm glad that we're here because we don't believe in disposable fashion, we take care of the environment, we try to be ethical, and we try to be sustainable," says Marga.
Sustainability and ethics are words that have always been thrown around in this new era of conscious and responsible fashion, and Marga helps underline the nuances that one should be on the lookout for when it comes to these terms.
If you want to be more sustainable, eco-friendly, and ethical in your fashion and style choices, Marga advises to ask yourself the following questions when you purchase something:
1. Is it from recycled material and does that matter to you?
2. Is it not harming the environment? Do you use chemical-free dyes with natural fibers?
3. Does it support a community?
4. Every peso or dollar that you spend casts a vote towards a kind of world that you want to live in. So what kind of world are you supporting to build by your action or inaction?
What is sustainability?
When it comes to fashion, Marga defines sustainability or an eco-friendly product as something that advocates love for the environment and everything that's in it.
"When I think of anything that's eco or sustainable, I think of its impact on the environment. So as a producer or consumer, are you hurting the environment in any way?" says Marga.
This is why what they do at Bea Valdes is make sure that there is little to no wastage when it comes to the materials they use, they keep retaso or leftover fabric so they can use them in succeeding projects, and they try to respect the naturally occurring materials that they use. When they work with stones, for example, Marga says that one of the biggest lessons she's learned from Bea is to celebrate the flaws in each stone. They don't have to be perfect or symmetrical, because there can be beauty in the way she can put together these imperfections to bring out beauty.
In a previous Women of Style episode with Bea, we also found out that they use all sorts of things in every Bea Valdes piece. It doesn't have to be luxurious items and precious jewels all the time. Sometimes, they incorporate the most mundane materials like shells, ropes, and even shoe laces, and turn these to something precious. When you have the drive to become more eco-friendly in the things you do, the creativity really follows.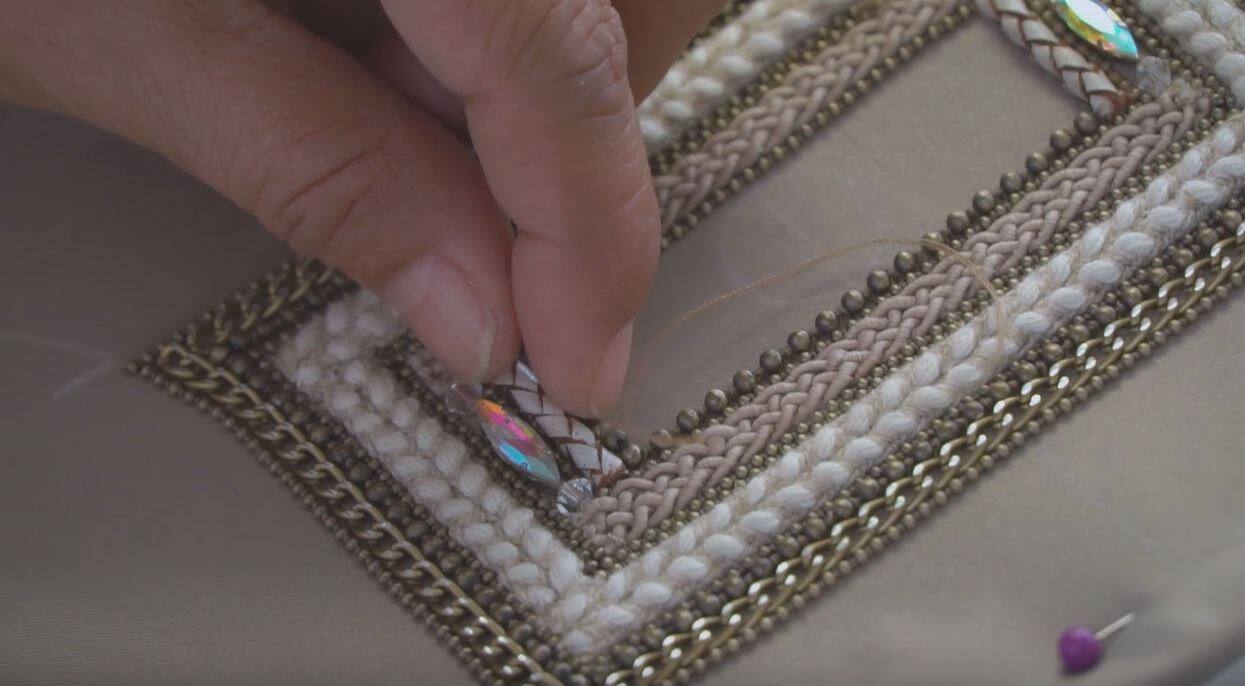 What is ethical?
And being mindful about the environment is not just enough. Of course, as a company, Marga says their brand makes sure they also spread the same love and passion towards the people who make every piece possible.
"When I think about anything about ethical, I think about human rights. I think about the space that the people work in and where items are made. Are wages fare? Are people being treated well? What kind of quality do you put forth in your product?"
This is why when you step into the Bea Valdes workshop, you find a well-lit area that's peaceful and comfortable. They try not to be attached to the power grid as much as they could so they use a lot of natural light through huge glass windows. Marga herself works in a booth right beside her workers, where every piece is quality-checked and road-tested to make sure all meet their standards.
We enjoy the luxury of cheap and fashion from many brands, but at the expense of child and unfair labor. This is why Marga makes sure that at Bea Valdes, the very hands that bring each piece to life is very well taken care of and provided for.
Making the shift
Making the shift to eco-friendly, sustainable, and ethical fashion is so much easier now more than ever. To deliver this vision and tap a larger market, Marga partners up with companies and brands who share the same ethics and aesthetics with them.
One of the places she recommends to anyone who is willing to start their shift to passionate fashion is Maison de mode, an eco-luxury platform that they work with to bring their pieces to the international market.
For Marga, fashion and design is not merely about making something beautiful, it's also about ensuring that it always gives back to the artist, the people, and the environment that inspired it.
"Beauty always gives back."
Watch the full episode of Women of Style with Joey Mead-King and Marga Valdes-Trinidad below or on iWant, Metro.Style YouTube, and Metro Channel, channel 52 on Sky Cable and channel 174 on HD.
Screenshots from Metro Channel's "Women of Style"