Metro Channel Women's Month Special: Self-Taught Artist Tessa Mendoza
Tessa talks about discovering and evolving herself through her art
It's always interesting to find an artist who can play around with different styles and mediums, someone who is driven to explore and push the limits of their creativity and art. Self-taught artist Tessa Mendoza is not afraid to experiment, always seeking ways to challenge herself and to keep on evolving as an artist and as a woman.
Tessa was just 10 when she started doodling at the back of her notebooks. In fourth grade, she received her first recognition as an artist when their teacher chose her work to be displayed in school.
Growing up, she experimented with watercolors, drawing animals, before finally immersing herself in the world of acrylic paints and canvas.
Even without an art degree, Tessa proved that there is value in her art when she held her first joint exhibition with Marivic Rufino in 1987 titled "Nuances."
While the exhibit would have been the perfect spark to launch herself as an artist, Tessa was met with circumstances that pushed her to put this craft into the backseat. A year after this exhibit, she got married and eventually had kids. It wasn't until 2007, when her kids were old enough, that she reunited with her art. Living then in Canada, she joined the Federation of Canadian Artists, Société des Artistes Canadiens, and North Vancouver Community Arts Council.
Bringing her newfound passion and support for her work, Tessa returned to Manila and continued developing her craft. In 2014, she mounted her first solo exhibition in Raffles Makati titled "Gracia," where she showcased her portraits, landscapes, and abstract works.
When asked what inspired her to finally pursue a career as a painter, she says, "I've always believed that to be happy, you should pursue what you are passionate about. It's fun, fulfilling, exciting and never tedious. If you can manage to earn a living while doing what you're passionate about, then even better."
Evolving styles
Tessa had no formal training art. She enjoyed traveling, and that's where she usually gets her inspiration for her creations. She's always trying out new ways to express herself through art.
This was also what made her very interesting as an artist. She has shown, through her works, that she's comfortable in exploring different kinds of art, and that her evolution contributes not just to her growth as an artist, but also as a human being.
"There's progress because I am open to learning and experimenting with tools that enable me to express my creativity. I'm open to observing and learning from other artists as well whether through workshops or my own research," Tessa says.
Through the years, Tessa has used watercolor, pastels, pencil, oil, and acrylic; she even tried sculpting. In terms of art range, she has produced landscapes, sketches, figurative, portraits, and abstracts.
But nowadays, many of her work use gold leaf and texture. When asked what drew her to these, Tessa shares, "I enjoy working with metal leaf because it's attractive. I love the way the light is captured and bounced off the surface of the metal leaf—the sparkle, the luster, the way light becomes a part of the artwork."
Working with gold leaf is extremely hard, Tessa explains. "Gold leaf is thinner than paper. It's four to five millionths of an inch in thickness, therefore you need to have absolutely no breeze when applying it or you'll never get to control it. You have to have steady hands and a feather touch so you don't tear the sheet. It's a huge challenge."
Choosing her subjects
Tessa also has a wide variety of subjects—from human to nature to her inner feelings and advocacies. "Whatever gives me inspiration motivates me to capture it on canvas. Usually visual, emotional, or spiritual inspiration."
Just this month, Tessa showcased her works born from spiritual inspiration at a solo exhibition at the Art Cube Gallery in Makati. Titled "Scripture and Soul," the exhibit captures Tessa's fascination with the holy scripture. The collection featured her work with acrylic and gold leaf, plus a series of one-line drawings on paper.
Many of her recent works also revolve around the woman—portraits, sketches, and abstracts. And as a female artist, there's a unique perspective in the way Tessa interprets and celebrates the Filipina beauty in her work. "As a figurative artist, I've attended a lot of live nude drawing sessions with Filipinas who are comfortable with their body type. While drawing the figure, I try to capture that inner strength, confidence and nonchalance—that to me is beautiful and admirable."
People treat and use art differently. Many look at it as an outlet for their thoughts, some as an escape, others as a way of challenging their creativity and limits. But for Tessa, her work is an extension of herself. "I put a lot of myself into my pieces. Gustav Klimt, one of the artists I admire for his use of gold leaf once said, 'Whoever wants to know something about me—as an artist, which alone is significant—they should look attentively at my pictures and there seek to recognize what I am and what I want.'"
Check out more of Tessa's works in the gallery below: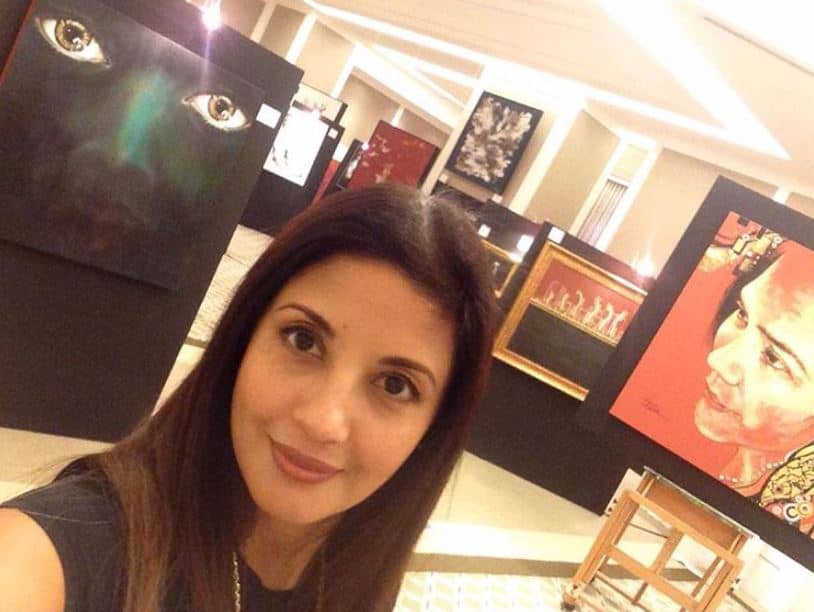 Photos from @tessamendozaart