Metro In Love: Lesbian Couple Alex Montemayor and Alex Moreno And Their Love Story
US-based Filipino vloggers Alex and Alex got married late last year, documented in a trending video dubbed as "The Most Beautiful Lesbian Wedding"
How do you find the love of your life?
Some say it's fate. Others will say it's a matter of seeking them out. For Alex Montemayor and Alex Moreno, it's a little bit of both.
The couple has been together for six years, but they've been in each other's lives for far longer than that. Moreno, a model, has been a fan of Filipino rock bands since her high school days—from Eraserheads, Parokya ni Edgar, Chicosci, Hale, to all-girl rock band General Luna, of which Montemayor had been the bassist.
Moreno had a crush on Montemayor ever since she became a fan of General Luna, even referencing The L Word, and calling Montemayor the Shane of the Philippines. One is inclined to agree—they both share a certain kind of coolness and appeal, after all. From then on, it's as though fate had known what it wanted to do with the two.
Their paths crossed and their lives intertwined, seeing each other at poker games, parties, and events, never interacting much, until they found themselves paired up at an exclusive lesbian party hosted by Montemayor and graced by Moreno as the guest model. "We had a lot of chances to meet, pero torpe si Alex," says Montemayor.
That party sealed it for them—or, at least, for Moreno, who finally worked up the courage to ask for Montemayor's number.
When she finally gave it, Moreno courted her for three months until Montemayor lovingly and wonderfully said the word Moreno has been waiting for, forever: "Yes."
This is the story they tell in one of their vlogs—"How We Met and Started Dating"—and it's a story for the ages. They had to deal with a lot of naysayers, after all, who thought they would never last, or if they did, would only do so for a few months. Their first few challenges as a couple had a lot to do with that, with people saying that they're not "bagay," because of their cultural differences. "We had a language barrier," they both say. Montemayor grew up in the United States and Moreno was "laking-probinsya," as she calls herself.
But that's not enough to keep them apart. After all, if you really love someone, you don't let other people get to you, least of all the little factors that don't matter in the long run.
Since getting married in California late last year, their challenges and problems are typical of a newlywed couple, with the added layer of their living in a different country and adapting to a new culture. Soon, too, they will be experiencing a long-distance relationship for the first time since Montemayor has enlisted in the United States Air Force and will be leaving soon for bootcamp. "It'll be the first time in six years that we'll be apart for longer than three weeks," they say.
Moreno says that there's no secret to maintaining a relationship. It's all about understanding, trust, kindness, generosity, and communication. "The best way to resolve conflicts is through communication. Dapat sabihin mo agad sa partner mo kung ano'ng problema, hindi 'yung ipaparamdam mo sa kanya na galit ka. Once na sinabi sa'yo 'yung problema, ayusin na agad—hindi 'yung magiging defensive ka." This usually aggravates the fight. Just accept it and fix it," Moreno says. "Wala namang perfect."
Just like other vloggers, the Alexes chronicle their daily lives on YouTube, giving fans and viewers updates on what's happening and what they're going through. Most recently, they spoke about Montemayor's dream and decision to enlist in the Air Force, with a teary Moreno talking about their future together. Montemayor envelopes her into a hug, and all at once you can feel their love radiate through the screen.
This too, after their proposal and wedding videos became viral, both reaching 1 million views on the video sharing platform. "The Most Beautiful Lesbian Wedding," their big day's same-day edit video was called, and it's hard to disagree. Both of them suited up in white, both a vision in the colors of a wedding, and the love from each other as well as their family and guests is unmistakable.
"It was pouring rain that day but we had a lot of people comforting us until the rain finally stopped. We felt like we were the rainbow after the rain. Although the wedding was cut short due to the weather, those were definitely amazing four perfect hours of our lives," Montemayor says.
"She's the sweetest girl I've ever met," Moreno says of her wife. "Alam mo 'yung feeling na kahit six years na kami, 'yung kilig, parang nasa first stage pa rin."
Montemayor feels similarly, and how could she not? "Not only is she the sexiest woman to me, she also makes me feel safe, and she makes me strive to be a better person every single day."
The two show their love for each other in each of their own ways, but Montemayor admits she prefers the little things. "It's really the things that she does for me every day that matter most," she says. "Grand gestures are amazing, but I'd rather have sweetness every day."
For Moreno, it's the same. "Araw-araw niya akong pinapakilig," she says of Montemayor.
Their relationship, like any other relationship in the world, goes through ups and downs, but at the end of the day, one thing is massively clear: It's that they found a person in each other against all odds, and honestly, who could ask for more?
Check out the gallery below to see more snaps from their wedding as well as some of their sweetest couple photos: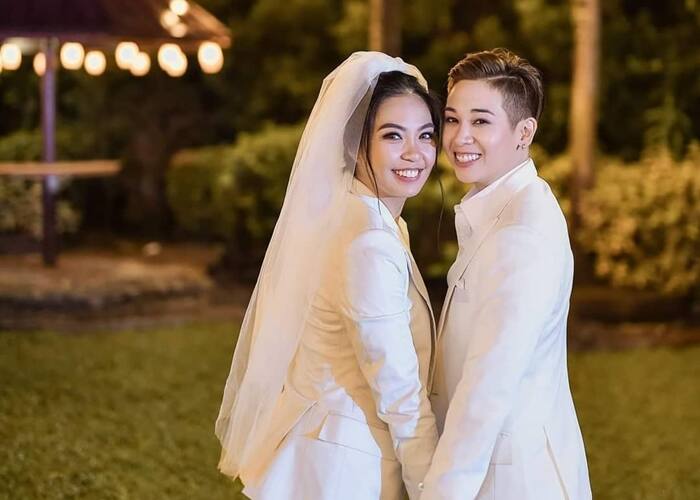 Alex Loves Alex
Alex Loves Alex
Lead photos from @alex.montemayor82