Metro In Love: Donatello Montrone and Denise Ibay
She's a doctor and he's a food entrepreneur. She lives in the Philippines, and he was a tourist when they met. How their paths crossed—and never uncrossed—is testament to all the strange and beautiful ways love brings people together
"Hello."
That was what he wanted to say when he saw her for the very first time. Armed with just a drink and a smile and maybe the courage bestowed upon him by the gods of fate, he made his approach.
In his confidence, Donatello Montrone might have forgotten about a minor detail necessary in making his introduction a success. He didn't speak English—not even hello.
He put one foot in front of the other anyway and with a few cycles of anxious-excited inhales and exhales, there he was. He found himself face to face with Denise Ibay, a doctor-to-be then and the prettiest girl he ever did see, and the friends she was with.
Donatello brought one with him too on his seconds-long journey from his side of the room to hers—a friend to double as a translator, that is.
"He was just smiling," Denise says, smiling herself at the memory of this night from six years ago.
"His friend did most of the talking, but I saw him smiling and I found him cute," she says.
It was a curious encounter; Denise had gotten ready to spend time with friends, but as Cupid would have it, her path was meant to cross with another's, never to be disentangled from it for life.
The initial exchange went on for longer than expected. It was a good sign. Donatello was pleased (his friend was doing a great job). By the time the evening came to a close, Donatello and Denise had exchanged numbers, sticky glances, and good nights, but little did they know that in the process, they had given each other their hearts, too.
Over on a Zoom call, with Donatello's reassuring arm around Denise's shoulders, the pair grins at the silliness of it all. They didn't intend on falling in love—let alone find themselves planning for a wedding, their wedding, in the South of Italy come 2022.
"Other couples have this mindset that when they meet someone and have a couple of dates, 'She's the one.' But when we were talking, [we asked ourselves], 'Did we know that we were the ones for each other? Nah!'" Denise laughs.
But when it comes to love, it doesn't matter what you know and don't know, or what you expect and don't expect. In the end, it's you against love's final say, and if love says you're meant to be, there's no changing its mind.
"It's a funny story," Donatello interjects.
Six years after that fateful night, the Italian businessman and passionate foodie speaks conversational English fluently, enough to (lovingly) poke fun at Denise and at himself for how he ever so clumsily made his way into her life.
"I was in Beijing to visit China because I've never been. It was the first time for me in China, in Beijing. It was snowing and it was cold, and I was with two friends. We checked Google and we said maybe the Philippines would have good weather. We found Coron was sunny, so the next week, we went to Coron," he narrates.
After 10 days in Coron, Donatello and his buddies, who had never been to the Philippines before, explored Metro Manila to get a feel of the city before heading back to Italy. It was one last round of sightseeing before immigration lines, airline food, and baggage claim.
But don't think that Donatello stayed behind in Manila while his friends left for Italy because of how enraptured he was by Denise. No, he still left.
But, Denise and Donatello did see each other a handful of times before his departure. One of those times was their first official date. It was just Denise and Donatello this time around, and good old trusty Google Translate.
"He asked me out for coffee the day before he left for Italy. And at that time, I said, 'Okay, we can meet up for like an hour or two,'" Denise shares.
"Then when he was there, he was using Google Translate to communicate with me, beside me. And then I realized that he couldn't and didn't understand a thing I said. When I asked him a question, all he did was [nod and smile]!" she chuckles.
"In the beginning, I thought she was a nurse. It was something related to a hospital. In three months, I understood that she was studying to be a doctor," Donatello adds.
Three months? Yes, three months. They stayed in touch.
Long after Donatello boarded a homebound plane, he and Denise were in constant communication. In the six years they've known each other, there's never been a day that's gone by without them talking.
That should've been the end for Denise and Donatello, really, if they were any other two people. Their few days together could have easily been diminished to a story to tell and retell over the next rounds of drinks with friends, but that was far from how it was all meant to conclude.
See, Donatello actually told Denise about his big plans for his Manila-based venture. Like many international entrepreneurs, he also saw the potential of establishing a business in the Philippines. His first venture in Manila was Vinoom Inc., an Italian winde distributor or supplier, a business that ran from 2015 to 2019. He also wanted to introduce authentic aperitivo, something he thought could gain traction in a market as in love with food as Filipinos are. Aperitivo Manila found a home in Poblacion, Makati in 2019.
Denise nodded along as he told all of these things in the days leading up to their (temporary) goodbyes, but she shielded herself from getting carried away; she liked him, but there was no way she was going to get carried away by the thought that these plans would materialize, and she would be at the center of them. Slow and steady was the name of the game for her.
"In my mind, 'Everyone says that. Of course, Manila is a good place to live in. Everyone speaks English [and it's] easy to get along with people.' So I didn't think it would happen at first," she says.
But lo and behold, Donatello was living up to his plans, flying back and forth between Italy and the Philippines to build his brand one block at a time. Each trip meant a step or two deeper in the lake of emotions he was starting to feel for Denise, but she was right there with him, swimming in the turquoise waters and feeling the sun kiss her cheeks while she was it.
And then—surprise—he relocated for good.
Six months after their initial conversations, Donatello was back with Denise.
They became an official couple soon after, and there was no going back—not that they wanted to. Neither of them needed Google Translate to show them what was unfolding between them.
Six years fly by when you're in love, more so when you see more and more each day that your relationship enhances all the great things you already had before you became two halves of a whole.
For one thing, with Denise being Filipino and Donatello being Italian, it wasn't difficult for them to appreciate the centrality of family in both their lives. Denise, in her visits to Italy, made the effort to understand the ways Donatello's family welcomed her into the fold (with amazing Italian home cooking, of course) and show her appreciation, whereas Donatello made the effort to adjust to Filipino values and traditions so as to earn his place in her family.
Each was respectful of their individual pursuits, too. After all, a relationship isn't all butterflies and saccharine moments; it's also a partnership that exists to motivate both parties to develop into their own persons, not to limit them. Denise thinks about how Donatello never said a peep about her businesses as a med student, to think that she started med school after they became a couple, which meant a lot less time to do regular couple things, and a lot more of it spent with books and on exams. Denise, on the other hand, was behind Donatello as he maneuvered a food business in a country that wasn't his own, then together they rafted through the rough waters that came when the COVID crisis hit.
Surprisingly, you won't hear this couple talk about how alike they are as the key to them sticking by each other side's all this time. They will, however, say how much of a joy it's been to discover how opposite they truly are.
"I decided later on, when I got to know him-know him, that he is a person I didn't know I needed. It was like a yin and a yang. Even though we're opposites, really being with him, I feel happy. He makes me happy and everything he brings into my life like spontaneity, good food, a widened perspective, that was something I never got in previous relationships," Denise shares.
Donatello is in total agreement with the adage that opposites attract—and how differing views don't translate to clashes, but to maturity as a couple.
He says, "Being opposites is not something bad... If you are similar, sometimes it's boring. I think you give exactly the same thing she gives to you. There is nothing really to discover. If you are opposites, each one can give something different and then you have something new every day."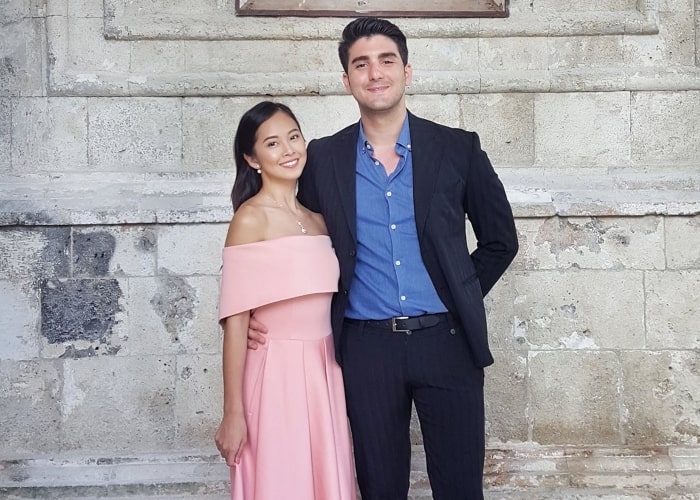 Donatello Montrone and Denise Ibay on Metro In Love
Donatello Montrone and Denise Ibay on Metro In Love
As issue-free as their relationship has been so far, this Mr. and Mrs.-to-be are careful to say that it hasn't always sweet hugs and kisses for them. They've been exposed to a hundred and one scenarios where they were tried, tested, and tried and tested again. In reality, they both say that the secret to a relationship's longevity isn't reducing the number of fights and discussions per se; it's what comes after them.
Are you generous with your apologies? Do you have accountability in your mistakes, or is protecting your ego more important than nurturing your humility? How willing are you to listen to how your partner sees you, even though that means coming to terms with the less desirable things about yourself? Do you have the commitment to ensuring mistakes never happen twice? Do you keep tabs on who has made more mistakes than the other?
They're not easy questions, but Denise and Donatello have gone through all of them, and then some. In fact, that's the whole point—relationships (healthy relationships, at least) are hard work, and they last only if you pull your fair share of weight.
"Six years is also a long time to straighten things out and realign your priorities and all of that. It wasn't always smooth sailing. I think for every couple, we can say that. But if you really want to be with a person, you will find a way to make it work," Denise advises.
Denise and Donatello can't help but reminisce about how they started as two random people on a nightout and then became partners for life. They pick out their favorite memories of their relationship to date, all the while indulging in the excitement of making new ones soon, but this time, as a married couple.
Denise's favorite story has to be when she surprised Donatello with a puppy as an anniversary gift. For weeks, she watched him scroll through pictures of wrinkly-faced, pudgy-nosed English bulldog puppies and being the sweeter one between the two of them, she knew exactly what to do next.
"I told him, 'Love, now we need to go to this place. I'm going to let you meet an upholsterer to change the linen on your sofa.' And then he was like, 'We have to go to an upholsterer on a Sunday?'" she laughs out loud.
"Imagine me waking up at 6 a.m., 7 a.m.. 'Let's go to change the sofa!' Why do we need to change the sofa? It's Sunday morning at 7.a.m.! Why do we need to change the sofa at 7a.m.?" Donatello interrupts, gesturing at the absurdity of her request.
"We went to this place and then he was like, 'Where are we? This doesn't look like a place with sofa upholstery.' And then I said, let's go down. And then that's where he saw a lot of bulldogs. We went to this breeder that I was in contact with, and then I told him that there's a surprise waiting for him inside," she narrates.
In the end, Donatello was more than appeased.
It wasn't the first and last time Donatello was gifted with something incredibly special. He claims that he can write a book about all the sweet things Denise has done for him over the years.
Donatello is a lot more subdued with his expression for his love for Denise, but that's never been an issue for her. Though he's not a creative, gift-giving kind of person, Denise knows she got to know him well enough to see that his ultimate gift to her by far was trying his best to become the kind of man she wanted him to be. He's come to the understanding that being a couple means allowing your S.O. to significantly influence the kind of person you become, rather than resisting and insisting you remain unchanged and unimproved. Now this isn't something you can wrap in a pretty box or take on walks to the park, but it's surely just as meaningful and important to the growth of a relationship.
Besides, Donatello surprised her with the king of all surprises just last month.
He asked her to marry him.
But the moment wasn't without its hilarity. Even during one of the most pivotal minutes of their lives as a couple, Donatello and Denise were in character—still laughing, still smiling, always natural and authentic.
"I have a dog. Maybe [I'll attach the ring] to the dog. Maybe I'll do this, maybe I'll do that. But I said, no, I don't think it's a good idea. The dog will eat the ring. Let me, let me think. In the end, I'm not romantic. Where did I put the ring? Under the pillow," he says, with a palm to his forehead.
"I just found the right moment in the day, the perfect moment to propose. That's all. She said, 'My hair isn't fixed, my nails aren't fixed. I need to put on makeup.' [I said], 'Okay. I can repeat. I'll come back later,'" he continues.
The two break out into giggles at the thought of how it all went down.
"I had just woken up from a nap. It took me maybe five seconds to realize, 'Oh my god, is he proposing now?' That was more or less it. When I woke up, he was telling me, 'Love, I think this lockdown is going to last for two months and I don't think I can wait that long.' And he was hugging me and he told me to check under the pillow. And then I was like, 'Oh my god!'" Denise reveals.
It was precious, the few minutes of the beginnings of their road to married life.
Sweetly enough, no one was surprised that Denise and Donatello ended up engaged. That's how much they were always two peas in a pod, how they were always, well, meant to be.
Denise's family was in on the surprise—but not in the way you might think.
"This is another funny story. I didn't know I had to talk with the family of my girlfriend to ask them. We don't do it in Italy... So I went to the mom of Denise and I said, 'Someone told me I have to ask you if I want to get married to Denise. How do I ask you?' And she said 'Okay, I'll tell you how to ask me,'" Donatello tells us.
"And she did tell me how exactly, and so I went to her dad, and the dad was already laughing because they've known me for a long time already... It was really a fun moment with the parents, because for sure they know I will never ask them in a traditional way, because I didn't know how to! They were just laughing. They said yes, of course, no problem," he beams.
Donatello jokes about learning just enough English to propose to Denise with the right words, and Denise was sure she was saying "yes" to a question she understood.
Through and through, this couple is all about having a good time together. Just as their future wedding location enjoys lovely weather all-year long, it's always warm and sunny in the hearts of these two.
Currently, Donatello is busy with another food venture. He works at Smart Bite PH, a leading company in the region that provides for people's high-end catering needs, and Denise is gearing up for residency.
When they have time to wind down after a full day, you'll find them hanging out in the kitchen with their bulldog (sadly, the bulldog she gifted him with passed away and they now have a new one) not far behind. Donatello puffs up his chest when he talks about how proud he is of how his Italian heritage has made him a lifelong lover of good food, and rightly so. He's a pro home chef, and Denise loves to eat. She can't name a single dish of his as her favorite, but she does revel in being able to experience different dishes not often found in Filipino fare, including octopus and rabbit (plus amazing truffle pasta with a tasty side of burrata).
"I try to give [Denise and her family] something different every day, because with me in the house, they can try new stuff every day. I can experiment with stuff... I told them we can eat adobo once a month. When I'm here we have Italian, then if you don't like, you can go back to the adobo,'" he teases.
Denise and Donatello are simply counting down the days to their "I dos" these days.
The stresses of COVID have mostly been mitigated by each other's company, but that's not stopping them from growing their list of post-pandemic things to do together. A return trip to Italy is a priority for Donatello so he can visit his family as an engaged man, getting back to their outdoorsy lifestyle is definitely something they're looking forward to, and they can't wait to go back to enjoying the things they used to, like a classic date night of dinner and a movie.
For now, they're okay with waiting for all these things to happen in due time.
Denise and Donatello are perfectly satisfied living in the here and now because they have each other. They know they'll be together for always in a relationship built on a hello that could never end in a goodbye.
"That's Metro in love!" Donatello ends.
Photos courtesy of Dr. Denise Ibay / Additional photos from @deniseibaymd