How #MetroMom Celine Gabriel-Lim Spends Their Time Under Quarantine In Canada
Here's a tour of Celine's vacation home in Canada and a peek at how she spends her time with her daughter, Iris
Celine Gabriel-Lim has been in the PR industry for more than 20 years now. It's the kind of job that always keeps her on-the-go and busy with events and other commitments. But with the COVID-19 pandemic shutting down the events industry, Celine has finally found an opportunity to slow down and spend time with her family.
For their daughter Iris, Celine and her husband Matt decided to spend their time under quarantine in their vacation home in Richmond, British Columbia in Canada with Celine's parents. Canada has been praised for its response to the COVID-19 outbreak, with the country providing cash aid for all individuals and businesses hit by the health crisis, and putting effective safeguards and guidelines to keep its citizens safe and happy.
Metro Channel takes a peek at Celine's vacation home in Canada, and finds out what's keeping this career woman busy these days.
Hanging out at home
Celine shares that the living room has become he and her family's favorite hangout spot for watching K-Dramas (she is currently watching The King: Eternal Monarch), listening to old records, and enjoying a good platter of charcuterie and a glass of wine.
Celine's parents live in the house as well, so she got to spend time with her mom last Mothers' Day.
Spending time with her daughter
Celine opens up that her daughter, Iris, was born in 2017 after seven years of marriage.
"We've been trying for a very long time, and when we finally did IVF, it was successful," Celine shares. "She's given us so much joy. She is our miracle baby… She's everything that I've ever prayed for."
Despite the debilitating effects of the health crisis, Celine is grateful that the quarantine has given her and her husband more time with their daughter. They get to be with her every day, and witness each of her milestones. Right now, Iris has picked up painting with watercolor as a hobby, and it has become a regular activity in their household.
Iris, just like Celine and Matt, also likes to stay active. So while Celine jogs around the neighborhood, Iris gets to ride her tiny bike.
Spending time in nature
While Canada has closed down a lot of its economic activities, as is the case in many other countries, the country has allowed its residents to enjoy the beautiful outdoors as long as proper social distancing and precautionary measures are observed.
The family shares a common love for nature, that's why Celine shares that they would go to beaches and nature trails as long as there's not a lot of people in the area. They're also lucky to have a park right across their home, so Celine would always take Iris to the park to enjoy the fresh air. Celine says, "We love being surrounded by trees and flowers, being outdoors."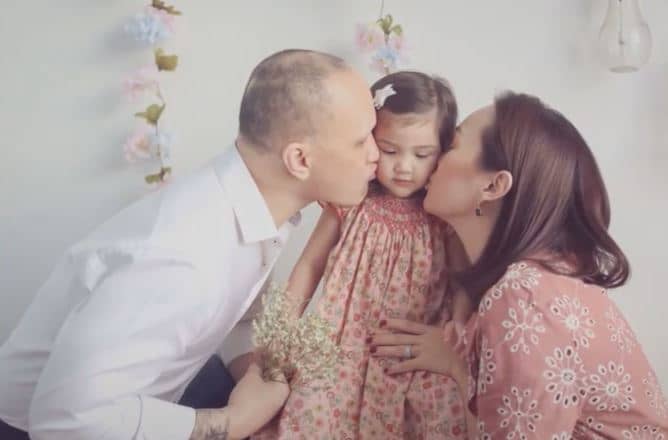 Celine And Her Family
Celine And Her Family
If you missed this Metro Mom episode, watch its first part below:
Lead photos - screenshots from Metro Channel