Meet Our Metro x Kumu Cover Girl Finalists (Top 10 - 7)
Get to know Kumu streamers kikiyaaah, aryelapn, bluemhazzeygurl, and aisroxas!
The first-ever Metro x Kumu Cover Girl campaign puts the spotlight on 10 top streamers who inspire with their beauty, talent, and positivity!
With singer-songwriter Monique de los Santos topping the list, we introduce to you the other finalists who made it to the leaderboard. Here are the Top 7 to 10 finalists: Ais Roxas, bluemhazzeygurl, Aryel Negrito a.k.a. aryelapn, and King Cavan a.k.a. kikiyaaah.
Top 10: King Cavan a.k.a. kikiyaaah
Kumu is a lot of things to its thousands of streamers, but there are certainly some things about the app that all of them love—like how it's non-judgmental, open for all, and the virtual support system you never knew you needed.
Take the case of streamer kikiyaaah, an assistant stylist-turned-daily Kumu streamer and the Top 10 finalist of the Metro Cover Girl campaign challenge on Kumu. You'll find her online at 10 in the morning most of the time, always in a chipper mood talking about her day-to-day activities and engaging with her viewers.
"Araw-araw iba-iba 'yung nakakausap mo, and meron silang iba't-ibang istorya sa buhay. [Ang] sarap lang sa feeling na nag-share sila ng life nila," she says about what she likes best about her Kumu interactions. That, and how without her almost 11,000 followers keeping her on her toes for the better part of 2020, she would have likely not made it through the year with the same optimism and energy.
kikiyaaah first found herself streaming in March, the day after her 27th birthday, and it's been nothing but good, better, and best for her since then. Not only is she a regular on Kumu's leaderboards, but she's also Karlito's Korner Host Princess and one to come out a happier person, thanks to all of her Kumu experiences.
"Damahin mo lang ang lahat kasi 'di natin alam hanggang saan ang buhay. P'wede ngayon mahirap, bukas mahirap pa rin, pero habang nararanasan mo 'yung hirap, natututo ka at nagiging madali 'yung mahirap nang 'di mo napapansin. Tapos sa dulo nu'ng hirap, may prize pala," she smiles.
kikiyaaah credits her mom, no less, for being her role model in seeing things through, no matter how downhearted she might be. She'll never forget how her mother singlehandedly took care of all seven of her children without once asking for help and despite living in a community where they were strangers to its residents.
"Ganu'n siya ka-strong. Kaya siguro naging babae rin ako, kasi lumaki akong siya 'yung unang idol ko," she explains.
"Bago si Ate Reg [Regine Velasquez-Alcasid]," she laughs.
When she's finally allowed to be out and about in the physical world and she takes a break from her online life, she looks forward to visiting her father's final resting place—she has never visited him before, not once.
"Gusto ko siyang mabisita at sabihin sa kanya, 'Yung bunso mo, dalaga na, at ito, lumalaban sa buhay," she ends.
Top 9: Aryel Negrito a.k.a. aryelapn
Just a few days before the community quarantine was implemented last March in Metro Manila, Aryel Negrito (aryelapn) discovered Kumu just for fun. Little did this 25-year-old Bicolana know that this streaming platform would mean so much more to her and keep her company during these trying times.
The young entrepreneur pointed out how stressful it is to run a business—more so these days when things are uncertain—but live streaming has been serving as a breaker to the monotony of her daily grind and life under lockdown.
Aryel, who was born in Naga City, Camarines Sur, took up Bachelor of Science in Hotel and Restaurant Management at the De La Salle University in Dasmariñas, Cavite. She's passionate about many things, but what tops her list of interests is the food and beverage industry. In fact, it was this passion that led her to her current job as the co-owner and director of food and beverage of MAMUSA Art Bistro in Iloilo.
With all there is to know about her and so much she wants to share, Aryel thought of a "get to know me" content for her first-ever Kumu livestream last March 12. She has been doing livestreams almost every other day since then, and now has more than 6,300 followers. It's been wonderful for Aryel to be a part of the Kumunity (Kumu community) amid the pandemic. It not only allows her to make the most of her spare time, it also gives her the chance to meet more people, join campaigns and do guestings on Kumu shows, and even collaborate with brands for certain executions. Kumu has truly opened the door of opportunity for this livestreamer, prompting her to declare, "Kumu is life!"
"[Kumu] made me stronger. Yes, livestreaming could be draining at times, but it is also like my capsule that helps me gain my energy back especially when my viewers really show me appreciation, care, support, and love," Aryel tells Metro.Style.
When she's not live on Kumu, Aryel is busy working out, cooking (and eating!), running her business, and playing with her four fur babies. Had it not been for the pandemic, she would've most likely squeezed in travels, too, as she's such an adventure seeker. Her idea of a great escape is "going on a vineyard trip or getting a tan by the beach or pool." These are exciting activities to think about, but the destination she really wishes to visit soon is the United Arab Emirates, where her mom is based.
When asked about the Filipina she ultimately looks up to, Aryel was quick to answer: "My mom, Donna Prima-Negrito." She shares, "She literally is the perfect definition of an inspiring Filipina to me. She inspires me a lot, every single day. It is never a cliché when it's about your mom, right? Such a strong woman. She made everything happen regardless of whatever situations or challenges there were. I would never be where I am right now if it wasn't for her, that's what I always tell her."
Learning new dance moves, striking up conversations, and living life stress-free—is there anything a Kumu streamer loves more?
This couldn't be more true for this Kumu streamer who goes by the Kumunity name bluemhazzeygurl, the Top 8 finalist of the Metro Cover Girl campaign challenge on Kumu!
The 37-year-old Business Administration major turned entrepreneur from Laguna joined the streaming app just four months ago but already has a ton of of great things to say about her experiences in its online community, so much so that she streams up to four times a week.
She gushes over finding a second, virtual family—one she credits for giving her the support she needed to land a spot in Metro's first-ever Kumu campaign!—and you'll often find her joining more challenges with them.
Like the thousands of Kumunity members, bluemhazzeygurl keeps her Kumu page lighthearted and wholesome; she's got a dance video to get you up on your feet, a couple of photos that show off what she loves most about herself, and maybe, soon, she'll stream herself doing another one of her favorite things: cooking!
In the course of the year, bluemhazzeygurl tells us that her biggest takeaway was to learn and practice self-care, something Kumu has definitely helped her achieve. After all, the app is a safe place to make new connections and spend unlimited time with them. And in these times, new and old friendships have definitely played a part in keeping our well-being intact.
With Kapamilya superstar Vice Ganda as this livestreamer's celebrity idol, who knows? We might just see her pulling off crazy outfits and her own comedy episodes next in the months to come!
Fact: Filipino singers are some of the best the world has ever seen, and you'll find them in every corner of the globe. The worst part for these talents, however, is that the year's COVID-19 crisis had essentially forced the entertainment industry to come to a screeching stop, cutting performers of every kind from their livelihood and really, their passion and purpose.
True Colors' lead vocalist, artist, and now Kumu streamer Ais Roxas has faced the same fate, albeit with a much brighter attitude; when many other singers gave up on all hope to perform for audiences this year, Ais rose to the challenge and discovered a whole new platform for her to continue doing what she loves!
"I love that [Kumu] keeps me busy and makes me feel a bit of normalcy. I look forward to every livestream session as I am able to still get in touch with people virtually," says Ais, Top 7 finalist of the Metro Cover Girl campaign challenge on Kumu.
As her story goes, she was with her band mates in Malaysia when countries closed their borders to all international travel, forcing Ais to find means and ways to make a living in another country for six months before she was able to fly back to Manila.
It was a crazy, crazy time for her but what she did to make the most of it is what separates her from the crowd; she took a chance with Kumu, livestreaming for the first time in September, and the rest is history.
She now enjoys the support of over 3,500 followers, and just as much as they love Ais' soulful voice, she equally enjoys entertaining song requests, making new connections, and even rekindling old friendships in the industry. It's a whole new game for Ais who made her name as a singer on the road, spending much of her time away from home and family; these days, she gets to do both, and it's a shining silver lining indeed under the circumstances.
"Nothing in this life should be taken for granted. We should all be thankful for things that we didn't use to notice before. Now that we are all stripped of the normal things we use to do, it is when we realize that we are social beings and need connection with others. As someone who is away from home most of the time, I learned to appreciate and enjoy time with family," she says.
She dreams of heading back to Japan's less explored destinations for a holiday when commercial travel gets back to normal. For now, she's more than glad to spend her time on Kumu, or when she's away from her screen, swimming and staying physically active. She might just be checking out what her ultimate idol, Lea Salonga, is up to for singing inspiration, too!
She streams thrice a week, so make sure to catch Ais when she's live on Kumu!
Check out the gallery below for more photos of Metro x Kumu Cover Girl campaign finalists kikiyaaah, aryelapn, bluemhazzeygurl, and aisroxas: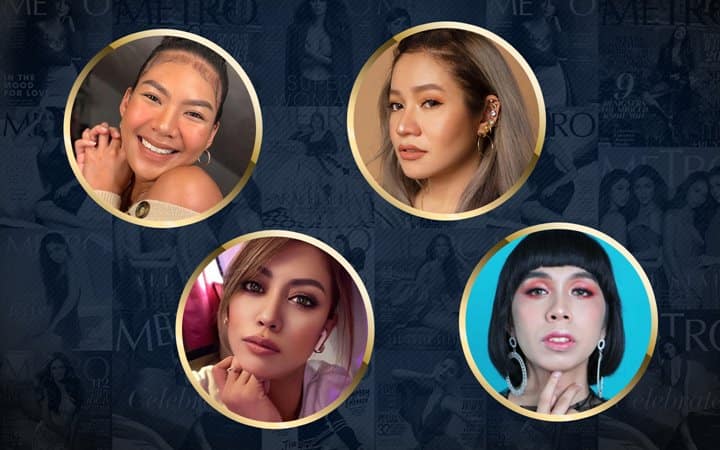 Metro x Kumu Cover Girl Finalists Top 10 to 7
Metro x Kumu Cover Girl Finalists Top 10 to 7
Read about our Metro x Kumu Cover Girl campaign winner Monique de los Santos below:
Read about the other Metro x Kumu Cover Girl finalists below:
Photography direction by Dix Perez
Sittings editors: Kat Cruz-Villanueva and Randz Manucom
Lead photos from @kikiyaaah and @bluemhazzeygurl on Kumu / @aisroxasmusic and @aryelapn on Instagram