Meet Our Metro x Kumu Cover Girl Finalists (1st and 2nd Runners-Up)
Get to know Kumu streamers Angela Janine Torres and Nestle Garcia!
Many Kumu streamers discovered this app during lockdown, and we're not exaggerating when we say that it's been one of the best blessings they've received while under quarantine. With the absence of face-to-face interactions because of COVID-19, they've turned to this virtual community to help them cope with the situation better.
That was the case with Nestle Garcia and Angela Janine Torres, the first and second runners-up, respectively, in the first-ever Metro x Kumu Cover Girl campaign challenge.
Get to know these top livestreamers below.
Second Runner-Up: Angela Janine Torres
"Not everything will go as planned. We may fall down sometimes, but it's okay as long as you get back up," 24-year-old Angela Janine Torres says about her most important realization during the pandemic. No one could've ever been prepared for this life-changing experience, and people had their own ways of coping with, adapting to, and even shaping their "new normal."
This young businesswoman—who graduated with a degree in Bachelor of Arts in Communication from the University of Perpetual Help System DALTA—admits that the global health crisis and the unprecedented challenges that came with it caused her so much anxiety and depression. Suddenly not having the freedom to step out of the house and do as she pleases came as a shock to her as it did with many people all over the world.
"Early 2020 was quite hard," Angela shares. "I experienced depression. I just let the days pass by." Since the lockdown was implemented in mid-March this year up to the first half of August, her life was practically defined by days bleeding into nights. Besides, not everyone can afford to be as productive as others during these trying times, and there's no problem with taking a break as the entire humanity grapples with a great deal of uncertainty. The gravity of the pandemic took a toll on this young lady until she decided it was time to pick herself up and keep going.
"Kumu has been a great help," she says. When she discovered this app last August 19, her days have become happier. Suddenly, she has something to look forward to every day. Livestreaming on Kumu kept her busy, with no time and no space for negativity in her life.
Angela recalls, "My first livestream was a jam session with a really close friend. We were taking turns in singing and then two random strangers joined us. We became friends with them afterwards." She loves that Kumu is more than an app, it's a platform that connects people from different parts of the world and creates a "Kumunity" that allows everyone "to meet a lot of people and gain new friends."
To maintain her relationship with her newfound friends and keep new viewers company, Angela makes it a point to livestream once or twice a day. "My goal is to stream five times a week," she shares.
When she isn't streaming, she relaxes by cooking and grocery/online shopping. Basic household chores, playing instruments, and singing also put her mind at ease.
While her world now revolves within her home, Angela is positive that the light at the end of the tunnel will soon come. And when that happens, she'll be ready with her swimsuit and the rest of her summer essentials and hop on a plane headed to beach destinations Palawan or Boracay. Not everything will go as planned, yes, but there is also beauty in spontaneity.
First Runner-Up: Nestle Garcia
"The pandemic was unexpected and no one knew it would blow up to this extent; therefore we must not be complacent. We always have to keep moving along with the changes that happen around us," Nestle Garcia says.
"Realizing that along with these constant changes or the new normal around us, there are so many life lessons we must take into heart. We must keep on keeping on," she continues.
Listen to Nestle—she knows what she's talking about. As a single mom to a five-year-old boy, a graduate of nursing and a current medical school student, a lead singer and dancer in a band, and most recently, a top Kumu livestreamer, Nestle has definitely shown us what it means to have grit and sharpen it with every experience. And when it comes to Nestle, the more demanding the situation, the sharper she gets. It's definitely something she feels the woman she looks up to, Miss Universe 2018 Catriona Gray, exudes. In the beauty queen, Nestle sees the qualities of having substance, mettle, and social responsibility, all of which are important to her, too.
It was no different for her this year when she found herself relating to two industries deeply affected by the COVID-19 crisis. As a performer, she'd lost many, if not all, the opportunities to earn a living with live shows. And as a nurse, she knew how much healthcare workers of every kind buckled under the weight of the pandemic. Everything she's since done this year has been to address these challenges.
"Since it has always been my dream to become a doctor, I knew I had to push myself to fulfill this goal and that now was the perfect time because our world actually needs medical [professionals]... Throughout the entire quarantine, if [I wasn't] on Kumu, you would basically see me buried in books, participating in health programs or drives in the community and doing my best to be a mom to my thriving five-year-old," Nestle tells Metro.Style.
And when she needs a break, her favorite place to turn to is Kumu. How the app's virtual community is kind and unpretentious, non-judgmental and interactive, and a genuine equalizer for everyone are her favorite parts about it.
"Since we don't have any physical or face-to-face interaction as much as we used to, keeping this bridge between yourself and others open through Kumu has been a big help. We also need social connection and in-depth interaction whether it may be intellectually, socially or emotionally, with new people," she says.
You'll catch Nestle in the evenings mostly, with her preferred time slot of 11:30p.m., and when she's on, expect to be kept company by her show "Private Confessions." She's up for talking most things under the sun, and feel free to engage her in a discussion, too. She lives for being able to share her experiences and opinions and invite her viewers to do the same. She's incredibly pleased that her livestreams are always a two-way street. Ask her about life, love, parenting, fitness, wellness, singing, or living a multi-hyphenate life and we're sure Nestle will have something of value to share. Besides, that's how many of her Kumu-born friendships and solid support systems started out.
And when the craziness of 2020 has dissipated and she catches a break from her many commitments, Nestle definitely looks forward to chasing her dream of ultimate leisure: a cross-country trip across Europe.
While she waits for that dream to be realized, she's settled in her Kumu spot where she's more than happy to do what she does best in this warm and welcoming digital space.
"Kumu has really helped me grow as an individual in more aspects than I thought it would," Nestle reveals. "...It has helped me unwind or destress making it like a safe space for me where I can truly be myself and loosen up, helping me forget about all the stressors or anxiety triggers around me."
Check out the gallery below for more photos of Metro x Kumu Cover Girl 1st Runner-Up Nestle Garcia and 2nd Runner-Up Angela Janine Torres: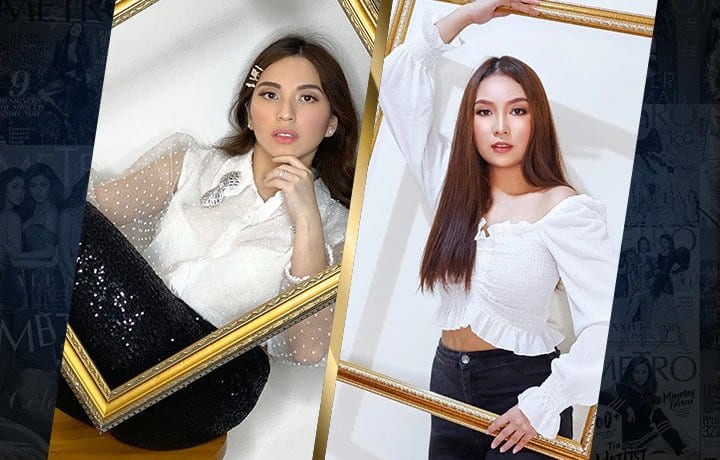 Metro x Kumu Cover Girl Finalists 1st and 2nd Runners-Up
Metro x Kumu Cover Girl Finalists 1st and 2nd Runners-Up
Read about our Metro x Kumu Cover Girl campaign winner Monique de los Santos below:
Read about the other Metro x Kumu Cover Girl finalists below:
Photography direction by Dix Perez
Sittings editors: Kat Cruz-Villanueva and Randz Manucom