Meet Our Metro x Kumu Cover Girl Finalists (Top 6 - 4)
Make way for Marinel Santos, Chelle Mariveles, and Geli Cruz!
Meet fitness buff Geli Cruz and singers Marinel Santos and Chelle Mariveles, the Top 4 to 6 finalists of the Metro Cover Girl campaign challenge on Kumu!
Each of them is different, all with a story worth learning about, but bringing them together is their shared love for Kumu. You'll find all three women regularly livestreaming on the app and thanks to their commitment to being the best at what they do on Kumu's virtual community, Metro is here to recognize them and bring them to a wider audience.
Emerging as winner in this first-ever Metro Cover Girl campaign on Kumu is singer-songwriter Monique de los Santos.
Learn more about Kumu livestreamers marinel_santos, chellemariveles, and gelicruz_ below!
Sometimes getting lost is the best way to find ourselves.
Just ask Marinel Santos, a performer whose international singing career spans over a decade and who contended with life taking away most opportunities for her to do what she loves most. After spending the better part of her life shuffling between Macau and China as a live singer for years, the pandemic hit, and all too suddenly she found herself back in the Philippines with no chance to make a living.
It's been tough, but her wanderings and meanderings are all starting to look like they were part of the plan after all—especially when you happen to chance upon a community like Kumu where its members are ready to welcome you with open arms and offer free-flowing support.
"I would have to say Kumu helped me to be happy again. I kind of forgot who I really was at some point of my life but because of Kumu, I realized that life is still beautiful no matter how the circumstances are affecting our life," she tell us.
For the first time in years, Marinel has extended her stay at home. She's never in Manila for more than three months at a time, but here she is, locked down like millions of other Filipinos, but the most surprising thing is how she has come to enjoy it all.
"It's destined to happen," she smiles. She also jokes how as a self-proclaimed home body, living life under quarantine wasn't a culture shock to her.
She discovered Kumu in July and livestreams practically every night. If she's not on Kumu, she's recording more song covers to upload to her YouTube channel. Her next project is to upgrade her streamer gear as she'd like to level up her live online performances—something she was nervous about in the beginning despite all the experience she's had.
Choosing to stay hopeful during this time, Marinel looks up to the likes of Angel Locsin whose generosity has inspired and helped so many. She also has her mom and fiancé to keep her company when she takes a break from screen time, but when it's time to work, she goes all out for the Kumunity.
"I think what fascinated me [about Kumu] is the fact that I connect to people virtually. I have reconnected with friends whom I haven't talked with for a while. I also met new set of friends, which is really cool. It also gave me a chance to uplift my spirit whenever I feel down because of what's happening around us," she shares.
While she gears up to go back to China, she's making the most of her full-time gig at Kumu. No matter where Marinel ends up in the future, we're sure that she'll always look back on her memories in this livestreaming platform!
For a person with a fear of public speaking, becoming a Kumu livestreamer can do two things. You can either become crippled with nervousness and never again come back after your first stream, or, you can find that you actually enjoy it and that little by little, day by day, the fear turns into excitement—anticipation, even—and discover that you're really, really actually good at it.
Chelle Mariveles is all smiles when she remembers how her first time on Kumu went—and how she eventually overcame her shyness and aversion to talking to large audiences. The 25-year-old Mass Communication major and Enchanted Kingdom performer streams at least thrice weekly these days, doing what she does best on the online platform: singing.
"During the pandemic, affected lahat, lalo na sa field ng work ko, which is singing and performing. Lahat ng events ay affected. Almost a year na walang regular work since nagsimula ang lockdown," she narrates.
"Dahil doon, naisipan kong mag-try magtayo ng online business, which is [an] online shop. But then again, iba pa rin talaga 'yung first love na gusto mong gawin, 'yung gusto mo at nakakapagpasaya sa'yo. Buti na lang may Kumu," she continues.
Since joining the Kumunity in September, she has been able to stage her own performances, collaborate with other singers, and even guest on others' streams and join campaigns—and ultimately landing the Top 5 spot in the Metro Cover Girl campaign challenge on Kumu! In more ways than one, her Kumu experiences have been life-saving, and likely the best thing the nine-month lockdown has brought her. She has baked, cooked, spent time with family and her pets, drawn, painted, worked out, and meditated, but there's nothing quite like the feeling of playing the piano or guitar and holding a pen to paper when an idea for a song comes to mind and getting to sing those words out loud.
The only thing her hours on Kumu can't do are take her on a mountain hike or trips to Batanes, Siargao, and Korea—things she's definitely going to do once COVID-19 becomes a thing of the past.
As for her idols in the local entertainment industry, there's no one else that Chelle looks up to more than Heart Evangelista. The fashion icon and actress' natural grace, generosity with people, and love for animals are what Chelle loves most about her.
"I wanted to take this chance na makapagpasalamat sa lahat ng mga nag-support from the very start. And unang-una na diyan si Lord, Pamilyang Chikadora, Kemberlu Girls, Team Hubient, and Ms. Jhoy Drilon," Chelle says.
"My greatest and important realization during the pandemic is my personal relationship with God. Without Him in your heart and in mind, life is nothing... Another realization is being grateful and thankful for all the simple things in our lives, like waking up everyday. Ika nga, 'Every gising is a blessing,'" she ends.
"Kumu motivates me to learn new things and explore my identity, and for an app to be able to do this, it always amazes me," 21-year-old Geli Cruz tells Metro.Style.
Although she's been livestreaming on Kumu since February 2019, she has newfound appreciation for this platform because of the pandemic and the quarantine. She says, "Since quarantine started, I've committed more to livestreaming. I make it a point to stream at least five times a week. On weeks with lighter work loads, I stream as much as thrice a day." This Speech Communication graduate from the University of the Philippines Diliman currently works as a community manager at a real estate marketing firm.
Describing herself as a Disney Princess wannabe, there was a fantasy element to her first steam, too, as she introduced herself to the Kumunity through a little dialogue with her alter ego character, Patrithia. "I created a life story for her and brought her to life whilst narrating my own," she recalls. To this day, that remains as one of her most memorable streams—after all, there's truly nothing like the first time.
See, that's the beauty of Kumu, you can do whatever floats your boat so long as you don't offend anyone and respect the Kumunity. Having an audience and the opportunity to actually connect and communicate with people even from places so far away were what initially drew Geli into Kumu; it's that sense of community that appealed to her and ultimately the factor that keeps her hooked on the platform. As of this writing, Geli has more than 155,000 followers on Kumu.
"It was and still is a safe space of expression for Filipinos around the world," Geli points out. "Aside from expressing myself, being around the GeliCrew (shoutout to my little Kumu family) makes me strive to be the best version of myself and to continually break out of my comfort zone."
And break out of her comfort zone she did for the most part of her life under quarantine. She explored rapping and beat making, things she can do to entertain her Kumu viewers more. During this time, she also paid more attention to herself and even built her own "little fitness paradise" at home. Young as she is, she has already realized the importance of taking care of both her physical and mental health. "I think taking care of our overall fitness and health is the foundation to leading a good life," she muses. Geli stays in shape through cardio workouts like skipping, boxing, sprinting, and circuit training. As for her mental health, she makes sure that's well taken care of, too, by listening to podcasts that never fail to relax her and, of course, streaming on Kumu where she gets to talk to people and be her authentic self.
"Simply put, [Kumu] helped me pull through," Geli says. "I haven't been doing my best this quarantine because I missed out on a lot and even got my heart broken. Having a place filled with love and support, especially Kumu, definitely kept me afloat. I made friendships that will last me a lifetime all thanks to the app."
Check out the gallery below for more photos of Marinel Santos, Chelle Mariveles, and Geli Cruz: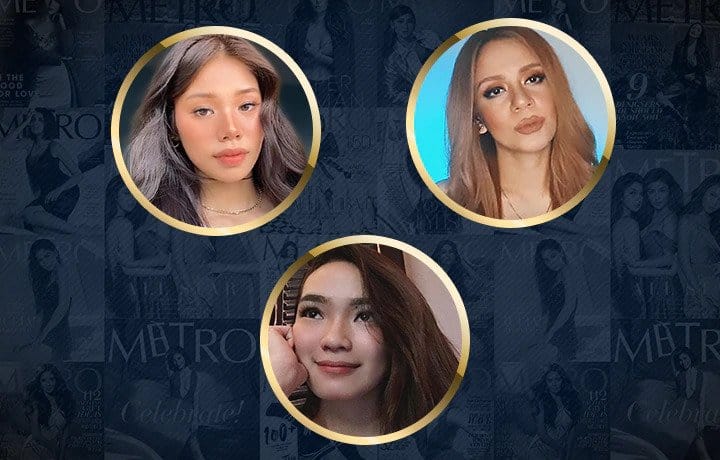 Metro x Kumu Cover Girl Finalists Top 6 to 4
Metro x Kumu Cover Girl Finalists Top 6 to 4
Read about our Metro x Kumu Cover Girl campaign winner Monique de los Santos below:
Read about the other Metro x Kumu Cover Girl finalists below:
Photography direction by Dix Perez
Sittings editors: Kat Cruz-Villanueva and Randz Manucom
Lead photos from "Million Reasons - Lady Gaga | cover by Marinel Santos" on Marinel Santos on YouTube / @gelicruz_ and @chellemariveles on Instagram