EXCLUSIVE: Catching Up With Ysabella Ysmael, Miss Universe Philippines 2020 First Runner-Up
The former "Metro" magazine intern and beauty queen opens up about pageant life, lessons the competition has taught her, and what it takes to make it
"l literally had an experience where I was asleep, and as soon as I woke up, my first thought was, 'Why don't I try out for Miss Universe?" says Ysabella Ysmael, First Runner-Up at the Miss Universe Philippines 2020 competition.
"It just felt like there was something within me telling me I should try this and [I thought], 'Why don't I? What's stopping me?'" she continues.
The 24-year-old had other things in mind for herself, and for most of her life, had simply appreciated pageants from afar; though well aware of the opportunities pageant life opened up and being the niece of none other than Miss Universe 1973 titleholder Margie Moran-Floirendo, she never saw herself sashaying up on the Miss U stage, wearing her country's heart on her sleeve with each moment at front and center.
"I was coming towards the end [of school] and thinking of what [came] after. Of course I had the support of my family, my friends, my loved ones, and things just fell into place. I met the right people—people who believed in me and helped me prepare for the pageant. And now I'm here!" she smiles, proud of how far she's gone from that fateful morning, to training for months on end for the pageant and finally, to coming out of the experience wiser, braver, stronger.
In an exclusive interview on Metro Chats via Kumu's FYE Channel, Ysabella talks to us about her Miss Universe Philippines journey and what it means to her to be part of a modernized pageant scene. As she embraces her role as an instrument of influence (she was recently named Miss U PH's Ambassador for Arts and Culture), Ysabella helps redefine the Filipina beauty queen, paving the path for more women like her to wield the power of the universe not only for themselves, but for the greater good, too.
Focus, focus, and even more focus
"A few days before our pageant, we had a video chat conference with Zozibini Tunzi, Miss Universe 2019, and she's one of the queens I really look up to... One of the things she told us was that when she was in Miss U, it came to a certain point where she kind of had blinders. She was focused on herself, her path," Ysabella recalls.
The piece of advice proved to be the most important mental note she would continually return to every time things proved to be more difficult than she anticipated. The inaugural Miss Universe Philippines pageant pushed through despite the pandemic and the uncertainty it brought with the girls' stress levels on overdrive for so long.
The experience made the adage "survival of the fittest" the most real it's ever been for Ysabella, and without her continuously choosing to believe in herself day after day, she wouldn't have made it as far as she did, or made it at all. That's the truth about pageants that most pageant aficionados often overlook; the competition being a contest of looks and talent and charm is secondary to it being a test of nerves and concentration and calm. A girl can be the most stunning and most articulate, but if her nervousness gets the best of her, the crown is likely to go to someone else.
"Deep within me, despite still feeling overjoyed getting to see my sisters again in Baguio, I still had to sit down and calm my mind, tell myself that this is my journey and that I could do this and believe in myself... I had confidence in myself and that whatever happens is meant to happen. I had confidence in that and I wasn't trying to put so much pressure on myself because that will really, really throw you off!" Ysabella explains.
Family ties
Speaking of being related to a fixture in the pageant scene, Ysabella hadn't realized how much of a big deal her aunt was until she actually joined the pageant.
To Ysabella, Miss Universe 1973 Margie Moran is just Tita Margie. The second woman to bring home the Miss U title to the country has always just been an aunt to Ysabella, rather than a public figure. In her own journey to the crown, their relationship stayed the same; Margie Moran was Ysabella's supportive aunt, rather than an overbearing presence that pressure her instead of nurturing her.
"What I really love about her is that she's really not the kind of person who pushes you to do anything. She's always, 'If this is what you want to do, you should go for it. If not, that's okay.' There was no pressure and that's what I love about her. With her being her and her achievements, I love that she was so open and supportive and first and foremost, my aunt," Ysabella shares.
The mind-body connection
As a psychology major and mental health advocate, she lives and breathes the intimate connection between mind and body; she knows that the issues of one automatically affects the other, and that the health of one means the wellness of both. It was particularly helpful in the pageant that demands strength of both body and mind, but Ysabella explains that it really is a life lesson more than it is just a useful pageant tip.
"My education just made sense of how important it was even as a ballerina, while dancing, and in everyday life as a student, sister, daughter, it's something that I realized is very crucial. It really became one of my core strengths," she says.
She looks back to her nabbing the First Runner-Up spot at Century Tuna's Superbods Ageless 2018 as when she first realized how mental well-being translates to physical wellness and vice-versa.
"That's where I learned that applying yourself in what you do, whether that's yoga, the gym or dance or sports, mental health always plays a role," Ysabella continues.
Pageants, then vs. now
If pageants hadn't been revolutionized in recent years, Ysabella's interest, let alone her participation, in them wouldn't have been likely.
That's because she doesn't believe in pageants existing solely for the purpose of rewarding a woman for her looks. Not that there's anything wrong with being beautiful—only that a pretty face is but one part of a dynamic whole.
"One of the biggest turning points of what pageants have become is that they're more focused on women empowerment nowadays. I love that! Back then, women were always seen as something as special however the focus then was how you looked: your face, your body, how you projected—which are still very important factors now. But what modern pageants focus more on is how you speak, what you speak about, what you stand up for. I really like how people root for authenticity," Ysabella tells Metro.Style.
That was especially true this year with Shamcey Supsup-Lee, Miss Universe 2011 3rd Runner-Up, taking over the pageant as its national director. Like Ysabella, she too believes that today's Filipina beauty queens must grow to become more than what their predecessors were limited to being.
Ysabella was more than happy to see how candidates were encouraged to be true to themselves, on and off-camera, rather than made to fit into an almost doll-like, unnatural mold. Diversity was just as big of a deal in the inaugural Miss Universe Philippines pageant, and it was a real effort to represent the many faces, voices, and passions of Filipinas.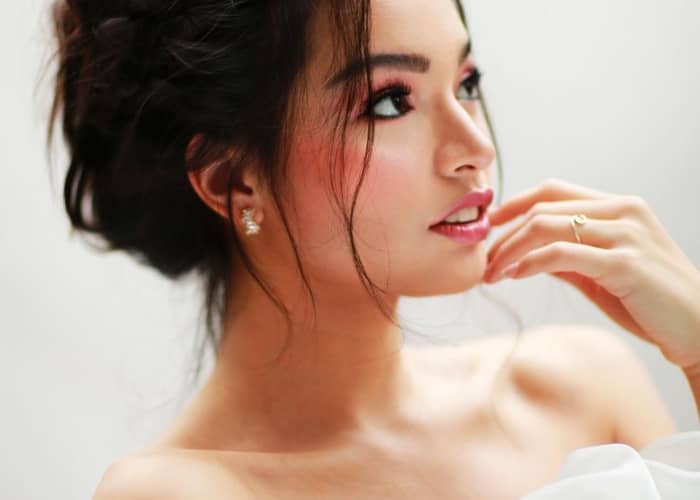 Ysabella Ysmael - Beauty Looks
SWIPE LEFT OR RIGHT
TO NAVIGATE BETWEEN PAGES
Ysabella these days
It's been well over a month since the pageant came to a close and Rabiya Mateo was named this year's representative to the Miss Universe stage. Ysabella has only good things to say about the experience, having zero doubts and zero regrets about the choices she made. If anything, she's even shocked that the public continues to support her despite returning to a relatively low-key and private life these days.
The self-proclaimed homebody is totally happy with getting time for herself—finally! After practically a whole year of preparing for the competition, she's a hundred percent content hanging out at home and getting to call the shots for her day-to-day activities. She's getting to live in the here and now, and couldn't be happier about it.
"I've been finding my way back to sports. I've been wakeboarding, and that's been keeping me fit and giving me that mental health that I need. That and spending time with my family, with myself, reading the books that I haven't been able to read yet. It's going back to what I used to do," she reveals.
Here and there, she does Pilates and yoga, and if she's in the mood for it, also indulges the ballerina in her. You'll find her going on YouTube to follow some of her favorite trainers and also in an online ballet class from time to time.
She has all the time to think of how pageantry has changed for the better, too.
"You're supposed to show yourself for who you really are, but at the same time, you have to make sure you're making an impact on other people. And in order to help other people, you have to understand them," Ysabella says.
"With psychology, I have been able to at least try to understand and it has helped me with the pageant because I was able to make the most of my experience. Not only being onstage but chatting with my sisters, the production team, different members of the crew, but also that the main takeaway from this experience is that I made more friends, I had more experiences—things I can take with me even years after the pageant," she ends.
Watch new episodes of Metro Chats on Kumu's FYE Channel every Thursday evening.
Photos from @bellaysmael