Here's What Went On At Miss Universe 2021 Preliminary Competition
See our very own Miss Universe Philippines 2021 Beatrice Luigi Gomez in swimsuit, evening gown, and national costume
Miss Universe 2021 held its preliminary competition on December 10, with 80 beauty queens competing for the coveted Mouawad Power of Unity crown and the title of Miss Universe in Eilat, Israel.
The 70th Miss Universe's preliminary competition was hosted by American TV personality Carson Kressley alongside the reigning Miss Universe, Mexico's Andrea Meza.
The Miss Universe 2021 candidates took to the stage first in swimsuits then in evening gowns, and finally, in national costumes.
During the swimsuit round, Miss Universe Philippines 2021 Beatrice Luigi Gomez was introduced with this description: "Beatrice's greatest ambition is to become a life coach. This 26-year-old is a proud bisexual who experienced insecurities coming out of her shell, so she wants to share the value of overcoming fears."
For the evening gown competition, Philippines' Beatrice Luigi Gomez wore a fiery red sparkly gown with an asymmetrical neckline, cut-out detail, and thigh-high slit by Francis Libiran. While modeling this creation, Carson Kressley described her, saying, "Beatrice proudly took a citizen military course and became part of her country's Navy Reserve Force. This 26-year-old is passionate about youth empowerment, focusing on uplifting children in conflict with the law."
As for her national costume, she showcaased an ensemble called the "Bakunawa Final Form: The Golden Lunar Dragon."
Miss Universe Philippines describes the national costume: "In Bea's national competition, she wore a Bakunawa dragon costume depicted in its mid-life cycle. In Philippine mythology, the bakunawa is a serpent-like dragon that's believed to cause eclipses. It is said to swallow the moon. It's also part of the shamanistic rituals of the babaylans or Filipino shamans.
"She continues this narrative taking it to the Bakunawa's final form… The Golden Lunar Dragon. It is a metaphor for Bea's growth and personal evolution. The costume is done in gold as it is considered to be the perfect element and acts much like an enchanted armor. The bakunawa appears in Philippine literature, arts, pop culture and even children's games.
"The Bakunawa costume is made by Axel Que while the intricate, handcrafted metal headdress depicting the moon and accessories were done by Manny Halasan."
Check out the gallery below to see Beatrice Luigi Gomez in her evening gown and national costume: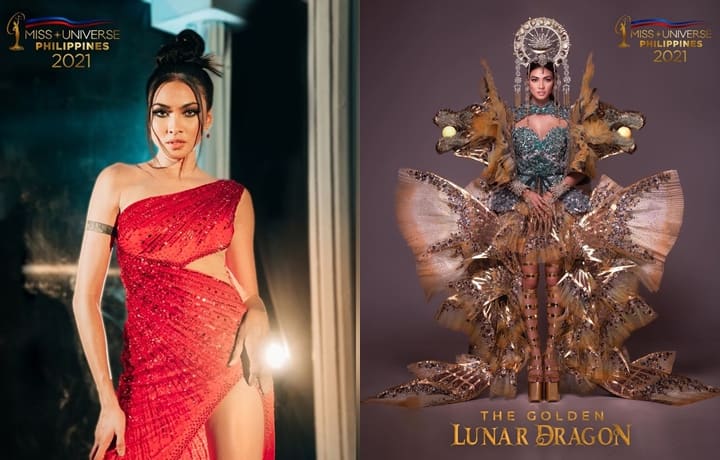 Photo Gallery
Photo Gallery
The all-female selection committee for the Miss Universe 2021 preliminary competition is made up of the following:
Bollywood actress and India's representative at the Miss Universe 2015 pageant, Urvashi Rautela
Award-winning actress, host, and the most followed Filipino celebrity on Facebook, Marian Rivera
Former Miss USA and 2019 Miss Universe finalist, and a correspondent for the nationally broadcast entertainment news show "Extra TV," Cheslie Kryst
Global fashion icon and named the most valuable Victoria's Secret Angel, Adriana Lima
One of the most famous European influencers and the second woman in France to wear the Miss Universe crown, Iris Mittenaere
Emmy award-winning entertainment host, author of two bestselling books, and Person of the Year by People en Español, Adamari López
Entrepreneur, model, brand visionary, and the CEO of skincare line SKN by LH, Lori Harvey
Attorney, published author, former member of the Israeli Air Force, and Israel's first and only Miss Universe to date, Rina Mor
Catch the Miss Universe 2021 happening on December 12 (December 13 in Manila) at Universe Dome, Port of Eilat in Eilat, South District, Israel through the channels below:
Photos from @themissuniverseph @missuniverse @originmanagement