In Photos: See The Miss Universe Philippines 2020 Candidates In Swimsuits
Miss Iloilo City Rabiya Mateo received the Best in Swimsuit award
Yesterday, the inaugural Miss Universe Philippines 2020 held its preliminary competition at the Baguio Country Club. Nine special awards were given to a few lucky candidates—some were sponsored awards and some were the standard, much-awaited pageant awards like Best in Swimsuit, Best in Evening Gown, Best in National Costume, and Miss Photogenic. See the complete list of preliminary winners here.
The Miss Universe Philippines 2020 coronation night will take place in Baguio tomorrow, October 25.
Whenever there's a beauty pageant, viewers always look forward to the swimsuit segment. It's when the aspiring titleholders not only get to flaunt the swimsuit-ready bodies they worked hard to maintain but also showcase their confidence onstage. The Miss Universe Philippines 2020 stage sizzled with the 46 candidates taking on the stage in yellow and pink two-piece bikinis.
Several Miss Universe Philippines 2020 candidates proved to be standouts in swimsuit, but in the end, only one was declared the sexiest and most confident in swimsuit of them all: Miss Iloilo City Rabiya Mateo!
Check out the gallery below to see the Miss Universe Philippines 2020 candidates in swimsuit: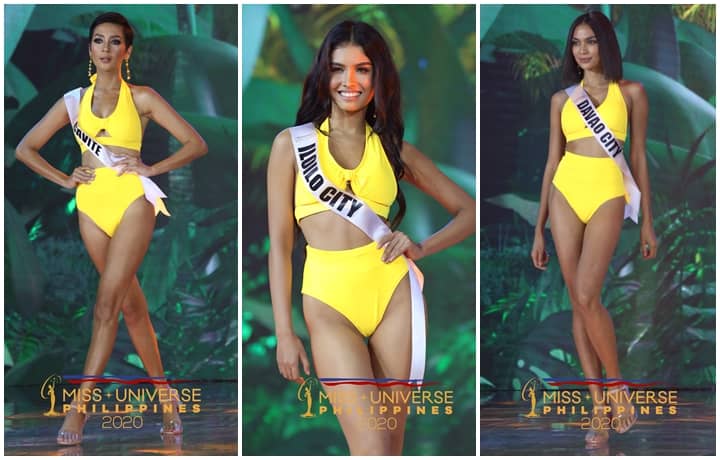 Photo Gallery
Photo Gallery
Check out our exclusive interview with Miss Universe Philippines 2020 national director Shamcey Supsup-Lee below:
Photos courtesy of Miss Universe Philippines