Mo Twister And Angelicopter Are Engaged—Check Out The Unique Proposal!
The podcast-turned-proposal was the best thing to ever happen to this unsuspecting bride-to-be
She didn't just say "yes."
She said, "Of course, babe!"
And although we couldn't actually
see
how this marriage proposal went, we're sure that both Mohan Gumatay and Angelika Schmeing—a.k.a. Magic 89.9. radio delights Mo Twister and Angelicopter—were over the moon and all smiles about knowing that sooner or later,
they'll finally, and officially, be Mr. and Mrs.
The only visual we have of this super special day was a photo posted by Mo himself on Instagram—a low-key announcement showing Angelika, his partner for eight years and counting now, wearing her brand new engagement ring and a caption to match. In the post, he calls Angelika "the rock of our family, the prized jewel of my heart, the beauty with the diamond eyes," sweet words which bore more meaning for those who knew the story behind them.
As it turns out, the pair was getting ready for their usual banter on Good Times With Mo Twister (GTWM), a podcast Mo has been hosting from home for some time.
In the same way that his previous 89.9 shows used to go, he accepts callers (most of the time callers ready with the most entertaining questions ever) and engages them in some of the most hilarious banter you'll hear all day. Mo used exactly the same strategy, but this time around, little did Angelika know that the "caller" was actually their very own GTWM producer who was undercover and armed with a proposal setup.
It was a simple but foolproof plan:
The supposed mystery caller went on-air. (She had a fake name too for good measure—Karla).
Mo and Angelika proceeded to talk to Karla who called and immediately dove into discussing her pretend love life. After a few minutes of describing a situation that so closely mirrored Mo and Angelika's real-life family life, Karla says, "You know, I just want him to say one thing. I just wish he'd say this line: 'Angelika, would you take this ring and say yes to being Mohan's wife?"
We wish we could have seen Angelika's reaction!
She has yet to post her own engagement announcement, but—just like waiting for Mo to finally ask her to be his wife—we're sure that the wait will be worth it.
The messages of congratulations and well-wishes were endless on Mo's post about the big "yes." Bianca Gonzalez and K Brosas were two of the first celebs to react to this pair's engagement.
And for those who wish to relive the pretty awesome moment, the podcast-turned-proposal is up on Spotify (Good Times With Mo Twister, Season 7, Episode 45).
Angelika and Mo currently live in Las Vegas.
Together, they're raising their youngest, daughter Amsterdam, and son Lucas, Angelika's child from a previous relationship.
Mo met Angelika a decade ago when he first spotted her sitting in a radio booth.
As en extra treat, scroll through the gallery below to see our favorite photos of this married couple in the making!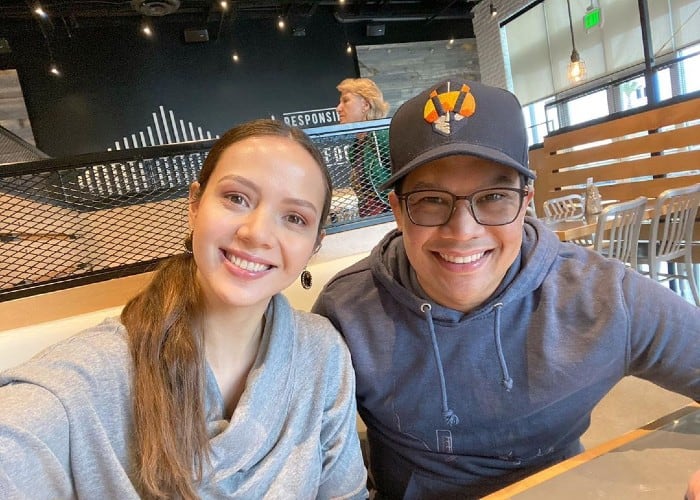 Mo Twister and Angelicopter
SWIPE LEFT OR RIGHT
TO NAVIGATE BETWEEN PAGES
Photos from @djmotwister @angelicopter