Meet Noelle Llave, The Metro Up And Coming Designer Awardee At Fora By FilipinaZ
The young creative received the Metro Up and Coming Designer Award at the recently concluded Fora by FilipinaZ fair, and for good reason—her pieces are one of a kind and deserve a rightful spot in every fashionista's collection!
Consider her work evidence of a modern-day baptism of fire.
"I needed to eat dust before everything else happened," opens Noelle Llave, the founder and designer of O-El Designs, an emerging favorite of Manila's most fashionable.
"I let go of designing because I got tired and thought it wasn't my line of work. I would do sidelines but I really couldn't do it anymore. I said, 'Okay, Lord, if you really want me to go to a full-time mission, I'll go...' Eventually, I went into a ministry, and how they would do it was through art. That's when I discovered that God was an artist and I thought, 'Maybe I should go back,'" she continues, her tone tinted with a hint of joy mirroring the pretty pastel bags lined up across from her, each waiting for their turn behind the camera.
"It was really part of my calling," Noelle adds. This time, a smile unmistakably spreads across her face.
Hers is a story one doesn't expect to hear from the recipient of the 2019 Metro Up and Coming Designer award at the recent Fora by FilipinaZ fundraising event that took place last October. Instead of telling a narrative composed of the three main ingredients to early fashion success—starting small but strong, getting discovered by the right people, then making it big—Noelle describes a 10-year-long journey marked by self-doubt, burnout, and at her lowest point, deep depression.
See, before her breakthrough, she was in a dark place, she admits. One so dark, in fact, that those who know what she had gone through were absolutely shocked by her most recent collection's colorful, toy-inspired aesthetic!
As an ode to this journey, Noelle recounts her life experiences that led up to the present.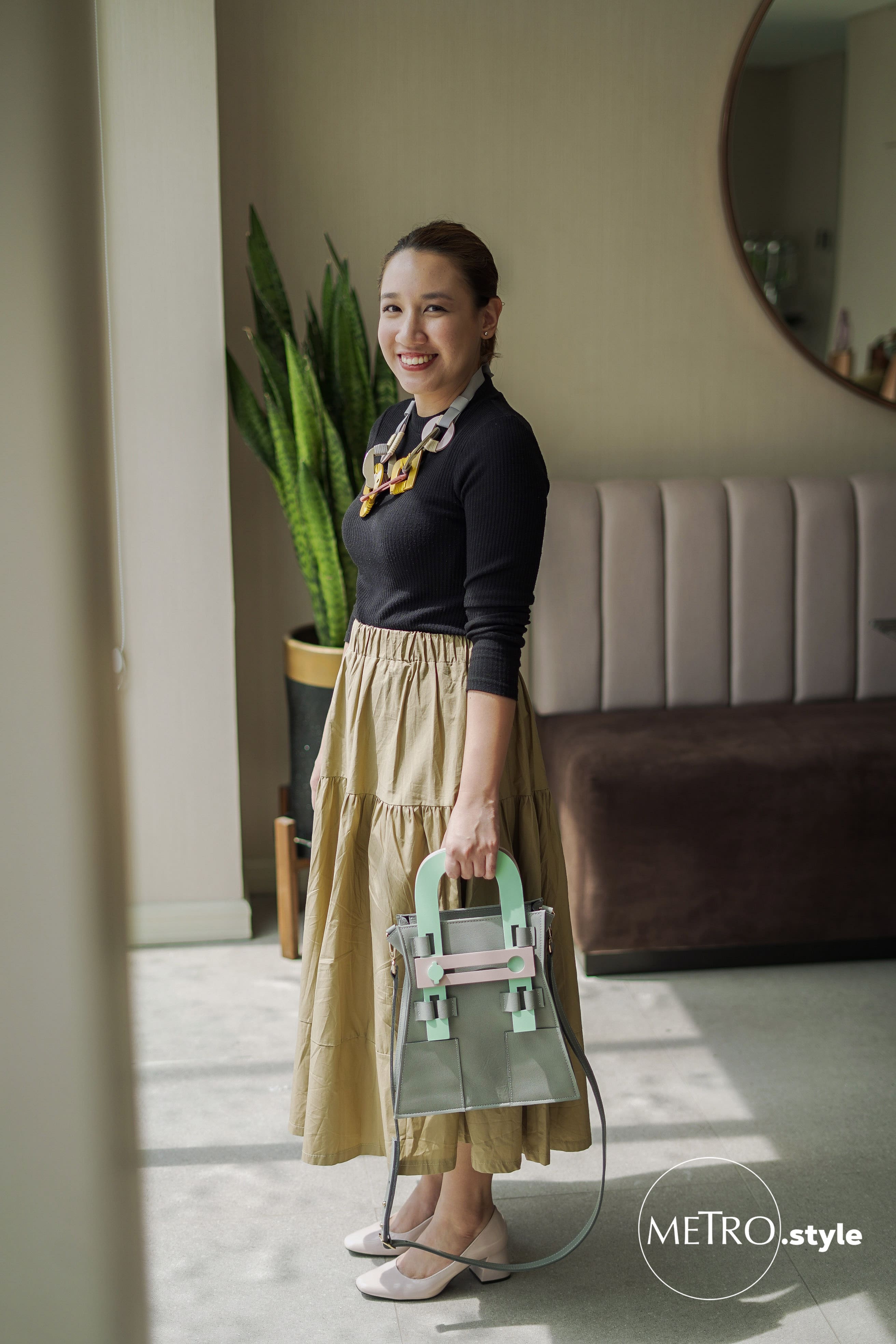 She began her designing career in 2009 as a student at the SoFa Design Institute under the mentorship of Luis Espiritu, creating avant-garde clothes in nothing but black, white, and gray. She'd always been a frustrated architect, so she mostly dependent on highly structured, geometric designs to meld those colors together into catwalk-ready pieces.
Within weeks of her first day in school, she was told she had potential early on and was advised to dabble in accessory design. Magazines were requesting for her clothes for their fashion editorials. She was getting invited to international junkets. But even when receiving the kind of feedback many young designers crave—even with the growing fame—she wondered why she wasn't happy.
Noelle wasn't encouraged by the prospect of getting involved in more fashion projects; just thinking about it exhausted her. A quarter-life crisis soon ensued and propelled her into a state of uncertainty and a general "whatever, come what may" attitude, leading her to cut ties with fashion and fill the void with patchwork solutions in the form of unrelated jobs in insurance, weddings, and events.
The more she explored, the worse it got.
"There was one evening when I was about to do it, to kill myself, then I heard a voice that said, 'Do you know where you're going?' Saan nanggaling 'yung boses na 'yun!" she bravely shares.
"I grew up knowing God, that He exists, but I didn't believe. I was actually an atheist. Ako pa 'yung makikipag-away sa'yo—until na-depress talaga ako... I started reading the word and from there, I started changing. I thought, 'Maybe, there is a God.' I started seeking," Noelle explains.
It was the first time she found herself committing to something after years of confusion. She eventually came to a realization that perhaps fashion just wasn't for her; a life dedicating to spreading the word of God as a missionary was what she was meant to do.
But as she was getting ready to bid a final farewell to doing small jobs in events, she was inspired by seeing how small brands could get together and reach an audience.
"I saw brands and I felt that I wanted to do my own business again. I chose accessories, and that's how O-El started," she recalls.
"Eventually, I ended up going back to the industry that I thought had nothing left [for me]," Noelle reveals.
Now, she's able to look back at that time in her life not with fondness, but with an understanding of its necessity. In order for her to truly discover her place in this world, she first needed to break down everything she thought her success meant; it wasn't amount the recognition, the popularity, the compliments, but rather, self-fulfillment, spiritual fullness, and a sense of purpose.
Come October 2019 when Noelle and her fellow SoFa alumni had joined the FilipinaZ fair. She had simply joined to make sales as she needed to recover the costs from creating her collection. It was a practical motivation, she joked, so when her name was bellowed out from the stage to signal that she had been chosen as a major awardee, she was nothing but surprised.
"When they were calling out name and awarding other people, I was actually looking for food! Palabas na ako and then they started calling my name. Sabi ko, 'Ano'ng ginawa ko? Ano'ng nangyari?' Everybody was there and I didn't know what was happening," she laughs out loud.
"I took it as validation because it was unexpected and I just wanted to sell," she says.
Anyone will agree that Noelle has gone leaps and bounds from her days as a student, to a person in search of meaning, to becoming a proud Christian. Although she would have never thought that her healing will coincide with her pursuit of success, she's glad that that's how things turned out, as it affected her outlook and output at the same time.
She's no longer an "out there" designer who made crazy clothes that less than one percent of the population would wear, but one inspired by things that matter to her and move her.
Her love for architecture and avant-garde artists remains, albeit it's expressed with more refinement.
Think Picasso, Hanna-Barbera, Dr. Seuss, moving toys, and other similar inspirations. She loves adding a taste of quirkiness in her designs as evidenced by the shapes, accents, color combinations, and three-dimensional, almost moving parts of her creations. More so, you'll find her concentrating on earrings, bags, and neck pieces today, rather than clothes.
She is, however, still waiting for a mission to open up for her to join. She'll go wherever God wills her to go, be it in Africa or beyond, and if or when the time comes, she'll have to hit pause on fashion—maybe temporarily, maybe for good. (She'll only know for sure what destiny has in store when her future finally reveals itself to her, so make sure you get a hold of her pieces while she's in town to make them).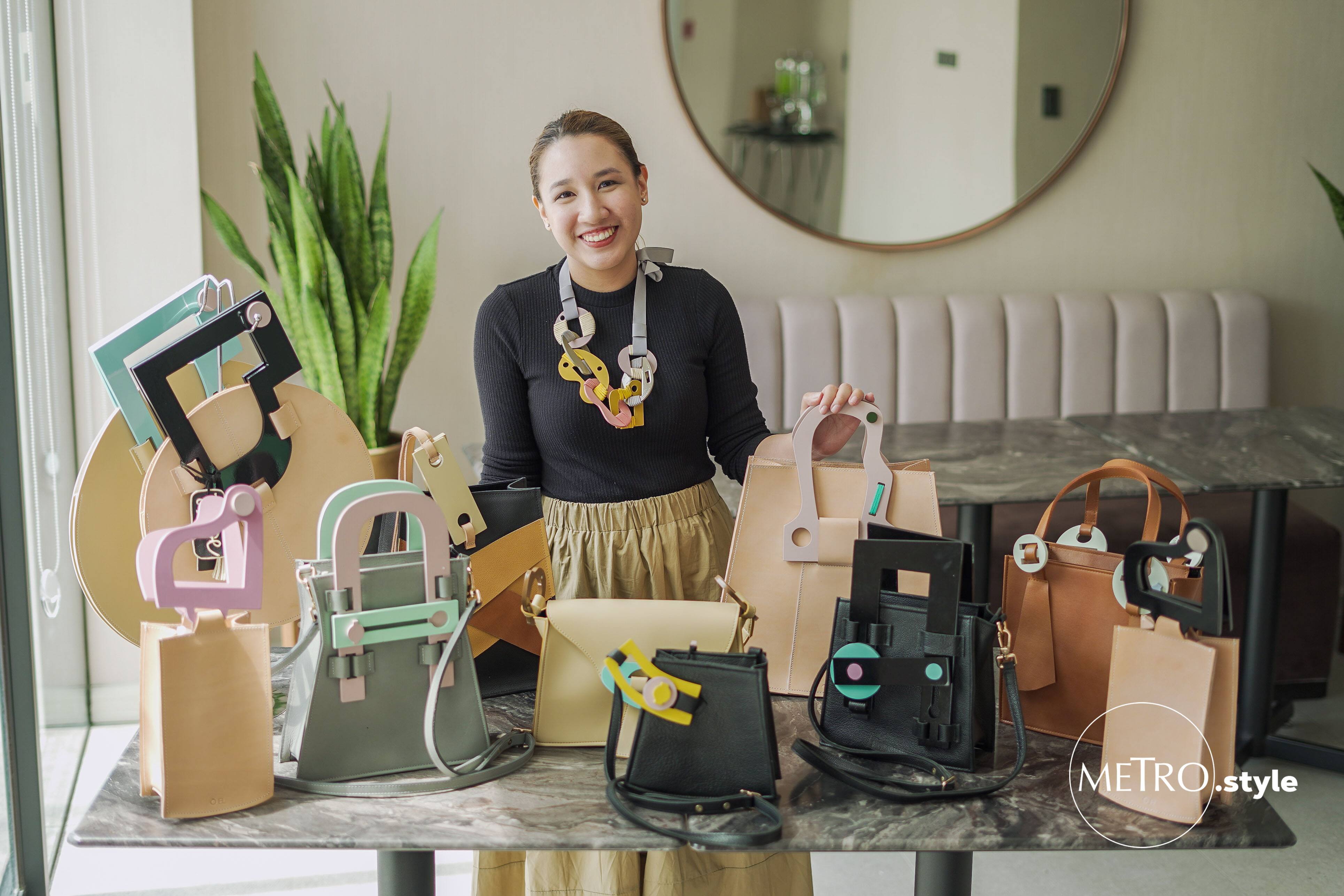 As a parting thought, Noelle uses herself as an example for young people to learn from, be they aspiring fashion designers or professionals in other fields.
"Fame can do a lot of things to you. People can have so many accolades then they see their identity in the fame. Akala mo ikaw 'yung fame. 'Pag bata ka, 'pag binigay sa'yo 'yun nang sobrang aga, it could eat you up," she cautions.
Fame is an alluring trap, but one easily avoided when armed with the right weapons: knowing that a force greater than yourself is what drives you towards success—the kind that stands the test of time and emanates from within.
What a ride it's certainly been for Noelle, and what heights are there still to keep on reaching.
Produced by Grace Libero-Cruz and Kate Paras-Santiago
Photography by Pat Buenaobra
Special thanks to Gab Perez and Larissa Robles
Shot on location at Privato Hotel, Makati