Opulence 2019: The Sexiest Outfits We Loved At Mond Gutierrez's Halloween Party
The guests' modern-day interpretations of the excessive, lavish style associated with "Queen of Fashion" Marie Antoinette were absolutely impressive
Celebrities, society personalities, local fashion and beauty industry insiders, and models gathered at Mond Gutierrez's Halloween party dubbed "Opulence: Let Them Eat Cake" last night, October 31, at The Tent at Solaire. The dress code: opulent ensembles inspired by the Queen of France (also recognized as the Queen of Fashion), Marie Antoinette. During her era, fashion for the royals saw a reinvention; the clothing style for women leaned towards more revealing cuts and sexy feminine details like lace, bows, ruffles, and corsets (which was considered a symbol of wealth and an essential item in an aristocratic woman's wardrobe).
As iconic as corsets were during this period, Marie Antoinette, who many perceived as a fashion rebel, didn't like wearing them. She refused to conform to the rule of using this rigid undergarment, and preferred to wear a light nightgown instead. Regardless of this fact, there's no denying that corsets were among the elements that defined French fashion then—those, combined with the exaggeratedly wide skirts that defined the waist and drew attention to the bustier.
The guests at Opulence took inspiration from this iconic overall look, but many of them opted to forgo the heavy, frilly gowns and chose to put the spotlight on the undergarment that completed the outfits of French women before. Some turned up in their own interpretations of sexy opulence (read: warrior princess, Marilyn Monroe, and Dita Von Teese). There was a generous serving of one-piece undergarment, bustiers, bralettes, cage skirts, hosiery, and sheer fabric on the most opulent Halloween party of the year.
Now, choosing the sexiest among the hundreds of attendees sure was a tough one, but here are our favorites.
Scroll through the gallery below: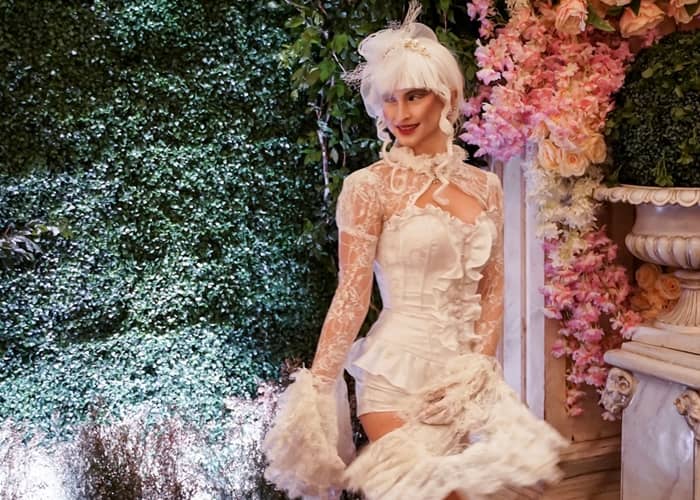 Photographs by Daniel Soriano and Rxandy Capinpin