Charm And Competence: Here's Why We Love Pasig Mayor Vico Sotto
The 30-year-old mayor of Pasig City has become an internet fave, thanks to his humility, capability, and transparency in carrying out his duties as a public servant
These days, we wake up reading and hearing about a lot of bad and sad news items. It has become the reality for people the world over. During these trying times when the goal is to stay negative from the novel coronavirus disease (COVID-19), every piece of good news and any story of positivity has the power to uplift our spirits, calm our minds, and soothe our souls.
Today, in the face of a global pandemic, solidarity is what's needed the most. And the people who are championing this team spirit and camaraderie and are frontliners at COVID-19 relief efforts are considered modern-day heroes. As they say, not all heroes wear capes—today, they're in scrubs (or, hopefully, in personal protective equipment) and some, like the public servants, are simply in shirts and jeans.
We are now reminded of the image of 30-year-old Pasig City mayor Vico Sotto. In his blue round neck shirt and denim pants, he passionately talked about his request to exempt tricycle drivers from mass transport ban, stressing its importance for emergency purposes. "Ginagamit natin ang mga sasakyan ng lungsod para sa #LibrengSakay pero kulang na kulang ito. Our risk assessment shows that we CANNOT completely ban tricycles," he said.
Because of his deeds, Vico has become the public's sweetheart.
Public service
During the 2019 elections, Vico Sotto easily became a favorite among Pasig City residents as well as—and perhaps most importantly—internet dwellers. On Karen Davila's show, Headstart on ANC, he was asked how, if he were to be elected, he would spend Pasig's 10.7B budget. Allocating a quarter of that amount, he said, he'd like to fully implement universal healthcare and reduce infrastructure spending. When Karen asked him if he could resist corruption, he said yes without even skipping a beat. To this day, that clip of him is still the pinned tweet on his Twitter account, sitting on top of his profile with a total of over 47,000 likes and 6,000 retweets.
Over the past week, as local government units figure out how best to serve their constituents amid the threat of COVID-19, Vico has consistently turned up to protect the people he has sworn to take care of: the Pasigueños. In early March, days before the community quarantine across Metro Manila was even announced, he already started prepping the team involved with the Rescue Emergency Disaster (RED) Training Center.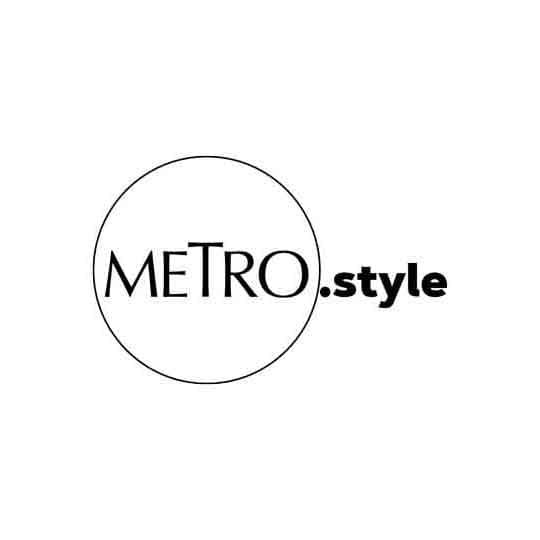 Vico Sotto in action | Photo from Vico Sotto's Official Facebook
COVID-19 relief efforts
What he's done for the Pasigueños has been the subject of much praise and exultation, including creating the mobile palengke, buying drone disinfectants, enacting Pasig's anti-panic buying and anti-hoarding ordinance, installing sanitation tents, converting Dahlia Hotel into a quarantine facility, distributing relief packs, and more.
"Upang mabawasan ang dami ng tao sa Pasig Mega Market at mga talipapa, inilunsad namin ang mobile palengke," he announced on Twitter. "Presyong palengke, mas malapit sa mamimili, at tulong na rin sa mga maninindang Pasigueño. Vico is also against quarantine passes within his jurisdiction, as he says it's nothing more than additional person-to-person contact.
Of the drone disinfectants, Vico has told ANC's Dateline Philippines that, "Our target is to disinfect every street, big or small, in Pasig City as well as wherever there's a request for disinfecting." Of the distribution of food packs, Vico said, "This is the effort of the city government to make sure they get the nutrition they need. Kailangan malakas ang resistensiya nila. We're also giving them vitamins."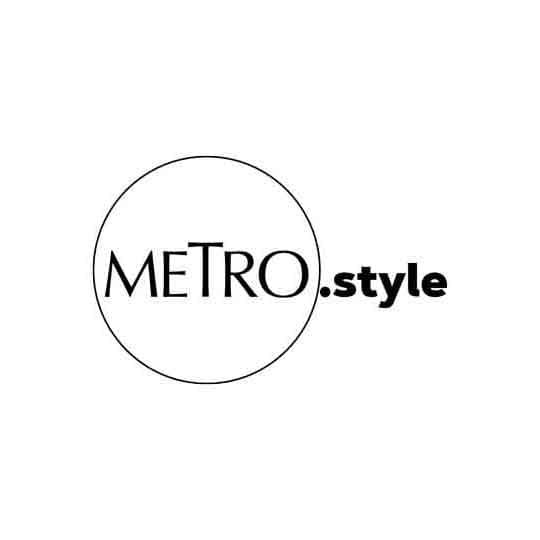 Vico overseeing the goods that have arrived for repacking | Photo from @vicosotto on Twitter
Man of the hour
His intellect, competence, general aloofness, and utmost transparency—along with his good looks, of course—has led a lot of social media users to be completely enamored by him. His name shows up constantly on the Trending Topics list, and a thousand memes and the hashtags #ProtectVicoSotto and #ProtectVico have been created in his honor. The professionalism, capability, and eloquence he's shown throughout his interviews and Facebook Live videos are clearly invigorating and exciting to Filipinos. Most of all, he's got a goofy side to him, too, and the videos in his Twitter search all showcase very endearing dad-dancing. A quick look at his Instagram also shows that he's an innately funny man, as he peppers jokes every now and then in his posts.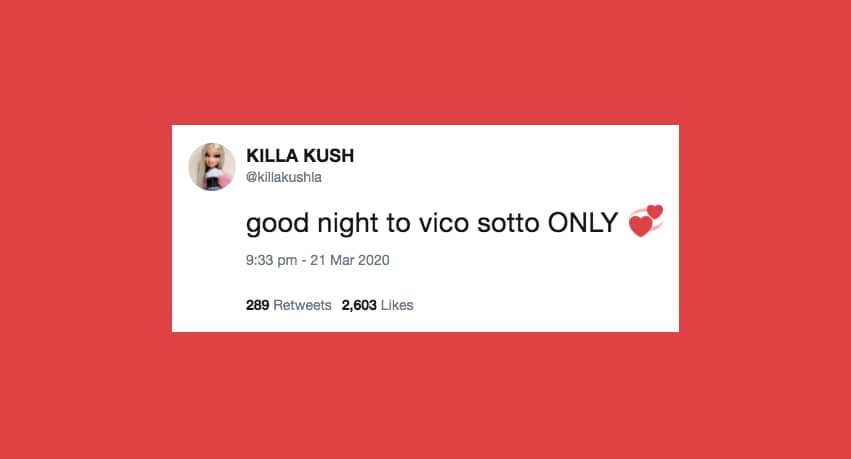 Inspiring leadership
The best part about Vico is that what he's doing now clearly isn't just for show, as his track record indicates that since his time as a counselor, he has consistently done top work quietly, humbly, and without the need for praise or compliments. He stands firm on his beliefs, and famously doesn't believe in write-ups, as his Aegis (Ateneo's college yearbook) entry indicates.
In college, he took up Political Science as his major, graduating in 2011, and continued his studies at the Ateneo School of Government. He became a councilor in 2016, and ended the previous Eusebio political clan's nearly 27-year hold on the city of Pasig after being elected as its mayor in 2019.
He has made it his platform to prioritize healthcare, housing, education, and public consultation for his constituents and to curb corruption in the city. He veered away from show business—in which his parents, Coney Reyes and Vic Sotto are icons—to forge his own path. Even though his time as a mayor is still in its early stages—he's barely a year into his term, after all—he's already proven that he's a capable politician and an inspiring leader, and is someone the Filipino people can count on if needed.
Lead photo from Vico Sotto's Official Facebook