Meet Patricia Gonzalez And Margaux Romero, The Women Behind Coral Swimwear
"We decided that modesty was going to be the primary value that we wanted to push ," Margaux says. Through Coral Swimwear, those who are not comfortable in showing off everything can still look stylish!
Have you ordered a swimsuit online and realized it's not the right fit for you? Sometimes, things like this happen and you just end up leaving it in your closet (or, giving it to your sister or a friend).
That right fit is one of the factors Patricia Gonzales and Margaux Romero paid special attention to during the creation of Coral Swimwear, a brand that caters to different body types as it provides coverage, comfort, and style. "We know that not every swimsuit is going to be flattering for each body type so we try to design them in different ways," Margaux shares. "On our website, in the description, we put 'This is flattering for this specific body type' because we know everyone is built differently and what looks good on one person doesn't necessarily look good on the other one."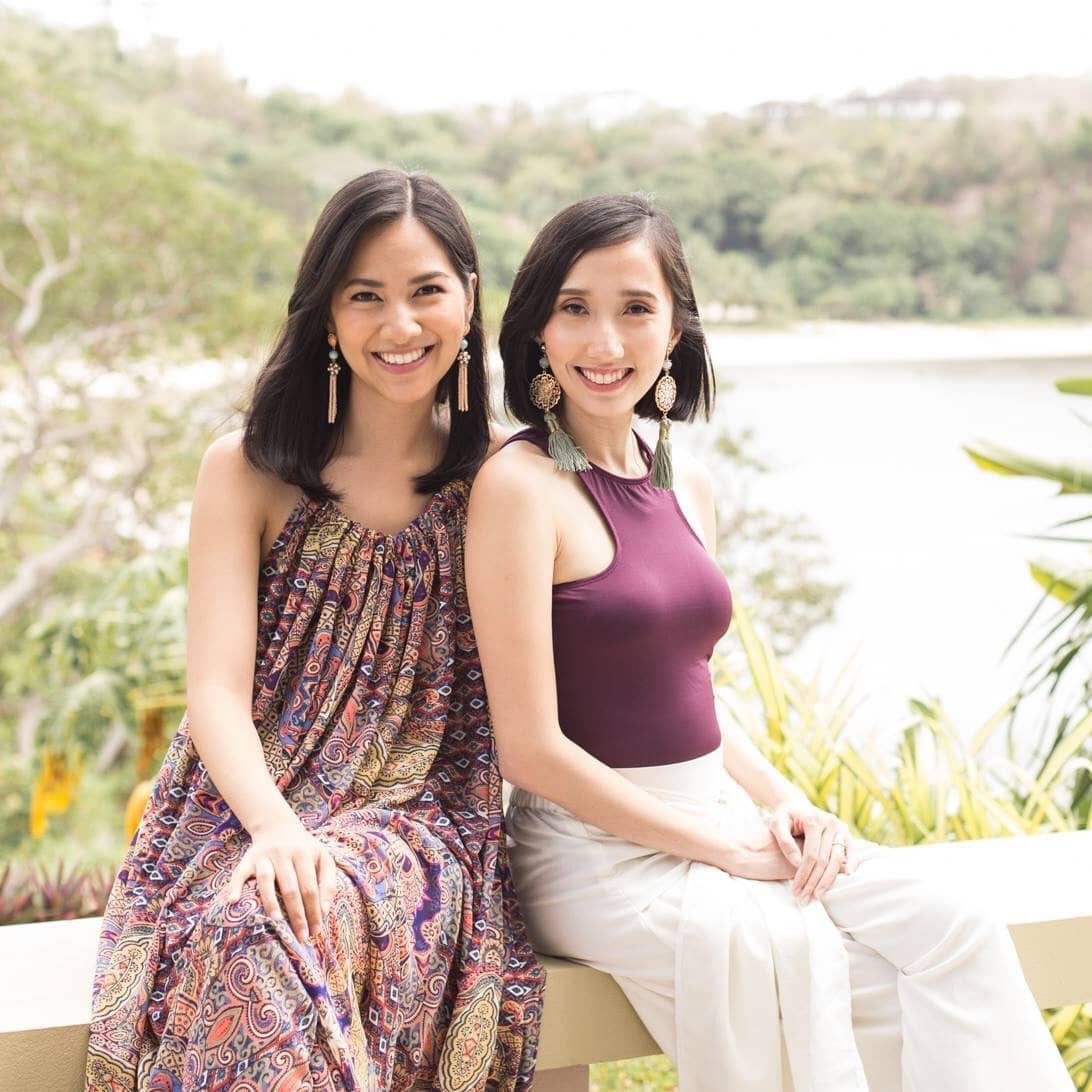 Margaux Romero and Patricia Gonzalez of Coral Swimwear | Photo courtesy of Ladies Who Launch
Their source of inspiration
It all began twelve years ago, when the two met and organized an international formation program for teen girls in the Philippines. Dubbed "Pure Fashion," it highlighted fashion, beauty, and public speaking beyond what the eye can see: dignity, inner beauty, purity, and modesty—such values that they admittedly were not focused on at that time.
Margaux is a former fashion editor for a magazine. "If you're in that industry—fashion—how you look, who you're with, it's everything," she confesses. It was also quite the same for Pat, who used to be too self-focused. "It was all about me, my career, my independence, I didn't want to get married because I wanted to be this strong woman. I didn't want to have babies because I didn't want my body to change," admits Pat.
The two got into the program with very little knowledge about it but surprisingly, it brought out the best in them. "Through the program, I realized these are actually beautiful parts of femininity. In fact, it was embracing marriage and motherhood that I feel like I became more myself," says Pat.
Margaux adds, "For me, I realized I could also use fashion to express the values that I have and not just dress for the sake of dressing up, looking good, or showing off. I could use fashion as a means to express my dignity, my faith, so that was kind of the game changer for me. These values just grew and developed for the both of us from that point."
Starting the business
After being with Pure Fashion for five years, the duo later agreed to continue what it stands for and direct it to a wider audience. "We decided that modesty was going to be the primary value that we wanted to push and we had a hard time finding swimwear at that time that provided coverage but still make you look stylish and fashionable. So we decided, why not start a swimwear business?" Margaux recalls.
Back then, they didn't have any background in production or retail so the venture took a huge deal of trial and error before it came to life. "We did a lot of research on our own, looking for suppliers from scratch," she continues. "There was even a point where we were driving around Manila, going door-to-door knocking at people's houses, looking for a sewer! We really started from zero."
Their first collection was launched in April 2015 on Margaux's birthday. "We had six styles and we didn't have many stocks but thankfully, I'm sure they were all our friends, we sold everything," recalls Pat. "Since then, we've been growing through the years. We got a lot of feedback on how our message was unique and there are women who are not so comfortable in showing off everything so there was a market. There were women who we were speaking to not just on a fashion level but on a heart level."
Earlier this year, they have built an office in Cainta, Rizal for the team. "We chose our office to be in Cainta where the sewers live so instead of choosing an office closer to us, we chose to be close to them because we want them to be close to their families and we really want them to be happy and have a good working environment," Margaux says, with Pat quickly adding, "The environment we try to create in our office is all about women supporting women and making our dreams come true together."
A juggling act
It was not a full-time job for them in the beginning, with Pat working as a writer and Margaux working as a stylist. "The business grew with us and our families. As much as possible, we would try to work around the needs of our children. We worked during nap time or late at night. We would learn useful life skills like having meetings over Skype while breastfeeding—or in person while breastfeeding—working amidst our children playing around us," shares Pat, expressing gratitude for being a mom and being able to do something that's close to their hearts.
"We believe that motherhood and being a woman is empowering," she continues. "Sometimes, people think it could be limiting but we believe it's empowering and these are what pushed us to get to where we are and keep going because we don't do it just for ourselves but for our families as well and we want to show that as women, we can be strong together."
Tips for moms who want to start a business
For Pat, it's always essential to know your purpose and make it more than just about the money. "Of course, you need to profit, but think about how your business can help others, whether it be in the culture you're creating through your company, your message, and your products. How can you help others? How can you make a difference?"
Margaux, meanwhile, stressed the importance of time management. "Balancing it all requires us to prioritize family for some seasons and push harder in others. For us, peak season is summer so we have to work hard during summertime, but we make up for it after," she says, adding that keeping your passion alive will likewise take you closer to your goals. "It's really important for me to have that creative outlet so know what you love to do and find a way to do what you love."
Photos from @launchspace @patricia.ocampo.372