11 Personalities Share Their Unforgettable Moments In Rustan's That Will Last A Lifetime
As Rustan's celebrates their 70th year, their loyal following reminisce on how the retail favorite created both big and small yet memorable memories with their most precious ones
All milestones should be celebrated—whether they're big or small. More so if it's a feat fit for a grand commemoration. This goes for retail favorite Rustan's, a constant provider of only the finest luxury products and brands to the Filipino market. Now turning 70 years, they make their major anniversary more meaningful with surprises in store for their loyal following.
What started as a move to share her passion and appreciation for the best things in life in 1952 grew into Gliceria 'Glecy' Rustia-Tantoco's dream come true. Fully supported by her husband Bienvenido 'Benny' Tantoco Sr., the retail destination easily became a go-to not only to the stylish crowd, but also their whole family and friends.
"Today, her legacy is still alive, and the boundaries that she broke ensures that we still offer only the top brands—only the finest products and only the best service," Rustan's chairman and chief executive officer Zenaida R. Tantoco says. "We are who we are because of her, alongside our ever-loyal customers who are such an entwined part of our Rustan's story. Our promise is to constantly pursue how we can continue to make the everyday special for them, and the seemingly ordinary, extraordinary."
To attest to the decades-long of moments made in Rustan's, loyal customers who are part of this extraordinary story shared their best memories of shopping at the establishment. For instance, the brand has become witness to Divine Lee's expanding family, starting from the day she's planning to tie the knot.
"If there's one thing constant in all the big events of my life, it's Rustan's," she happily recalls. "My wedding registry, my baby registry with my first child, my second child's first mall visit after the lockdown, my online baby shower during the pandemic and their joint baptism, birthday, and reception. Rustan's has been there seeing me grow—and seeing my family grow."
Jaja Chiongban-Rama, on the other hand, considers moments in Rustan's as a "tradition". She remembers her Lola Felisa and mom Nita bringing her to the store as a kid; she also mentions parties with mascots Rusty and Tanya whenever there are parties.
It's also the place where she met her now-husband Eduardo. "Decades ago when they opened in Cebu, I was one of their 'Rainbow Riders' models and was paired with who would then be the love of my life, my husband. The photos I have of us holding hands when we were around six years old are one of my most treasured possessions and the part of our love story I love retelling," she shares with a smile.
Another then-child model of Rustan's, Rica de Jesus, muses on the times she spent with her Lola and cousins striking a pose for fashion shows and advertisements for the brand. "I remember my favorite place was and is always Rustan's. It was my second home. I attended many events and went with my parents and grandparents to the store." She adds, "It's my happy place, especially during Christmas."
Meanwhile, Victor Basa considers Rustan's as his savior, especially when it comes to gift giving. "One of my special Rustan's stories is simply finding that perfect gift for someone who has everything," he points out. "The convenience and knowledge of their personal shoppers is instrumental to bring smiles to the people who receive their perfectly chosen and wrapped Rustan's gift."
Check out more stories here: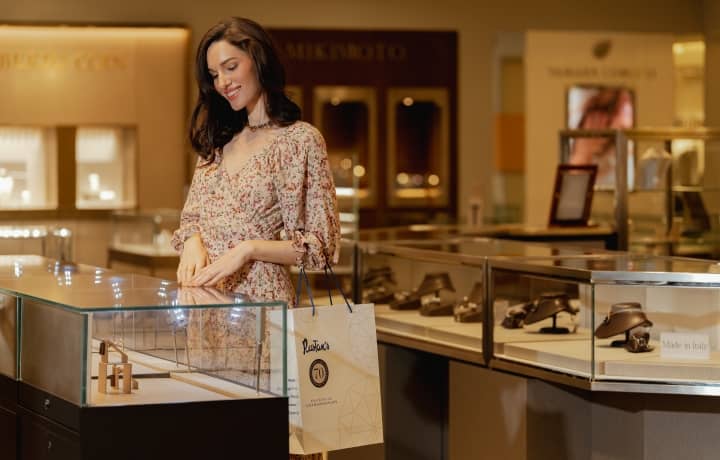 Photo Gallery
Photo Gallery
Inviting other Rustan's patrons to open up about their best moments created within the store, the brand launched the "Your Story Is Our Story" campaign. Along with these personal anecdotes by customers, they also prepared many in-store events, promotions, and exciting new brands and collections—all to further stack up only the best moments shared with our loved ones.
It's an invitation that we simply cannot say no to—so come and join the festivities by the brand that witnessed many of our life's biggest moments.
Celebrate with Rustan's using the #YourStoryIsOurStory hashtag.
Lead photos courtesy of Rustan's