This PH-Based TKEM Fan Club Put Up A LED Ad In Gangnam To Celebrate The K-Drama's First Anniversary
Wow, their LED ad was featured at the famous Starfield COEX Mall in Gangnam!
K-drama The King: Eternal Monarch (TKEM), which starred Lee Min-ho and Kim Go-eun, celebrated its first anniversary last April 17. The global fans of this romance, fantasy series and this on-screen couple had their own ways of marking this special occasion. But for Philippine-based fan club BLACKHEART UNIVERSE, the members expressed their unending love and support for the hit Korean series and its cast members by organizing a LED advertisement project.
Organizing a LED advertisement in Manila is in itself a huge effort; but since we're talking about celebrating the first "glorious" anniversary of The King: Eternal Monarch here, this fan club made sure to go bigger on this initiative. They had their ad featured at no less than the famous Starfield COEX Mall in the posh district of Gangnam in Seoul, South Korea last April 17 from 6pm to 12mn.
TKEM was such a moving, heartwarming, and comforting masterpiece for these fans, so much so they wanted to show their appreciation to the cast and the production team behind it through this project.
"This drama did not just teach us how to love unconditionally but [also] how to love in ways that not even the doors in the universe can suppress. Thank you for bringing us into your wonderful world between 0 and 1. It was all thanks to you that we saw something beautiful. And for that, we'll forever be grateful," Blackheart Universe says.
The members of the fan club also had an online welcome party, where the LED ad video was shown for the first time, and there were a Twitter hashtag party and a virtual cupsleeve event via Zoom for it as well.
TKEM also starred Woo Do-hwan, Kim Kyung-nam, Jung Eun-chae, and Lee Jung-jin.
Check out the gallery below to see this PH-based fan club's LED advertisement for The King: Eternal Monarch in Starfield COEX Mall - Gangnam, Seoul: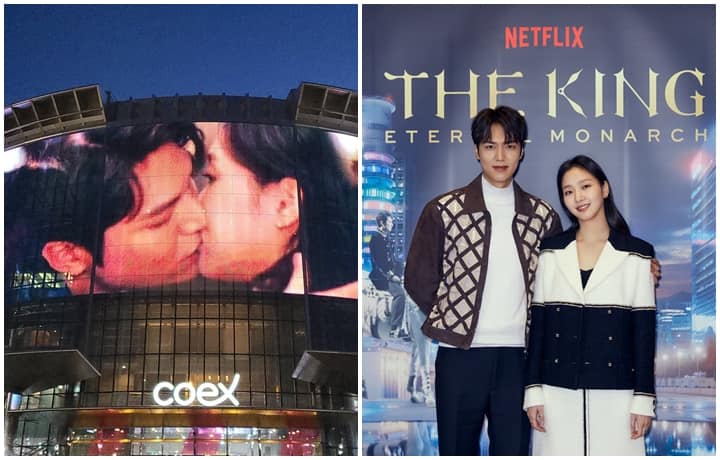 TKEM LED Advertisement in Gangnam
TKEM LED Advertisement in Gangnam
Lead photos from @blackheart_universe and Netflix