EXCLUSIVE: Margaret Hall Talks About The Details Of Her And Phil Younghusband's English Countryside Wedding
In classic fairy tale-like style, this couple tied the knot in one of Canterbury, England's most romantic settings
Ladies and gents, meet Mr. and Mrs. Younghusband!
Philippine Azkals star Phil Youghusband and model Margaret Hall tied the knot in Goodnestone Park, Canterbury, England on July 21.
Photos from the private ceremony, which hosted about a hundred of the couple's friends and family, were shared by NicePrint Photo, and showed the idyllic summer atmosphere that enveloped the special occasion. Margaret proudly notes that the best details about the ceremony were creatively conceptualized and bespoke, as she and Phil had chosen a motif of gold accents and their initials to make special appearances in the décor. Their special day took 18 months to plan (they began working on it within the first week of their engagement!).
Everything came together perfectly, despite the challenges of planning an English wedding halfway around the world in the Philippines. And according to this bride, much of the success of their big day can be credited to knowing when to stay on top of things, when to step back, and of course, team work with your future spouse.
She advises, "Plan your wedding with your fiancé. Of course you want everything to be perfect, but you will encounter some obstacles along the way and you will need to support each other's decisions.
It's important not to worry too much and to try and find a solution together."
After their wedding, Phil and Margaret took the time to thank all those who made the day extra memorable by penning matching heartwarming messages on Instagram, saying, "Thank you to everyone that shared our special day with us. We are overwhelmed by all the incredibly kind and touching messages that we have received. We would like to thank all of our family and friends most sincerely for all their love, support and guidance during our engagement."
Continuing to keep much of their relationship's details away from the public eye, Phil and Margaret simply shared that they chose England as their wedding venue because of Phil's Filipino-English heritage. They've been visiting the country every year since they became a couple in 2015 and got engaged in December 2017. (They did, however, opt for a pre-wedding photo shoot in May that featured stylized Filipino elements to honor their shared Filipino roots).
Describing their wedding as a "fairy tale," the bride and groom certainly dressed the parts of an elegant princess and charming prince in their complementing ensembles.
Both of them kept their looks timeless with small touches of statement-making details. Margaret donned a long-sleeved, lace number with a daring deep v-neck and a gold headpiece by Victoria Percival, while Phil looked every inch a proper English lad in a three-piece suit done in gray and beige.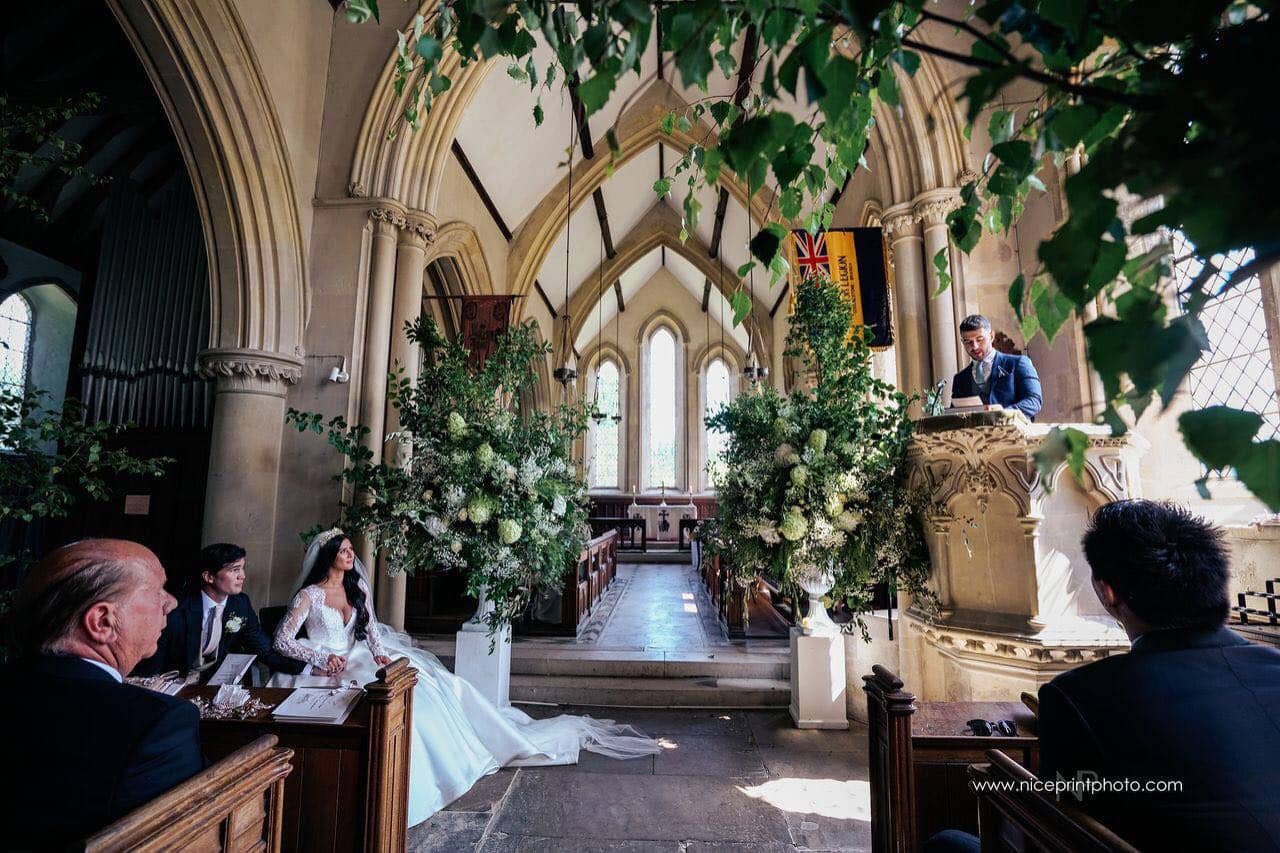 Recalling what it was like to see her wedding gown for the first time, Margaret had nothing but fond memories of the moment.
"I wore a bespoke gown and it was made by British Designer, Suzanne Neville. My experience with the Suzanne Neville brand has been unforgettable. From the moment I saw my dress come out of the bag, at my wedding dress fitting, until the minute I took it off at the wedding, I felt like a princess. The detail and artistry of my gown is incredible. The hand embroidery, fine silk, lace and pearls are exquisite. My dream gown was beautifully constructed to fit my body."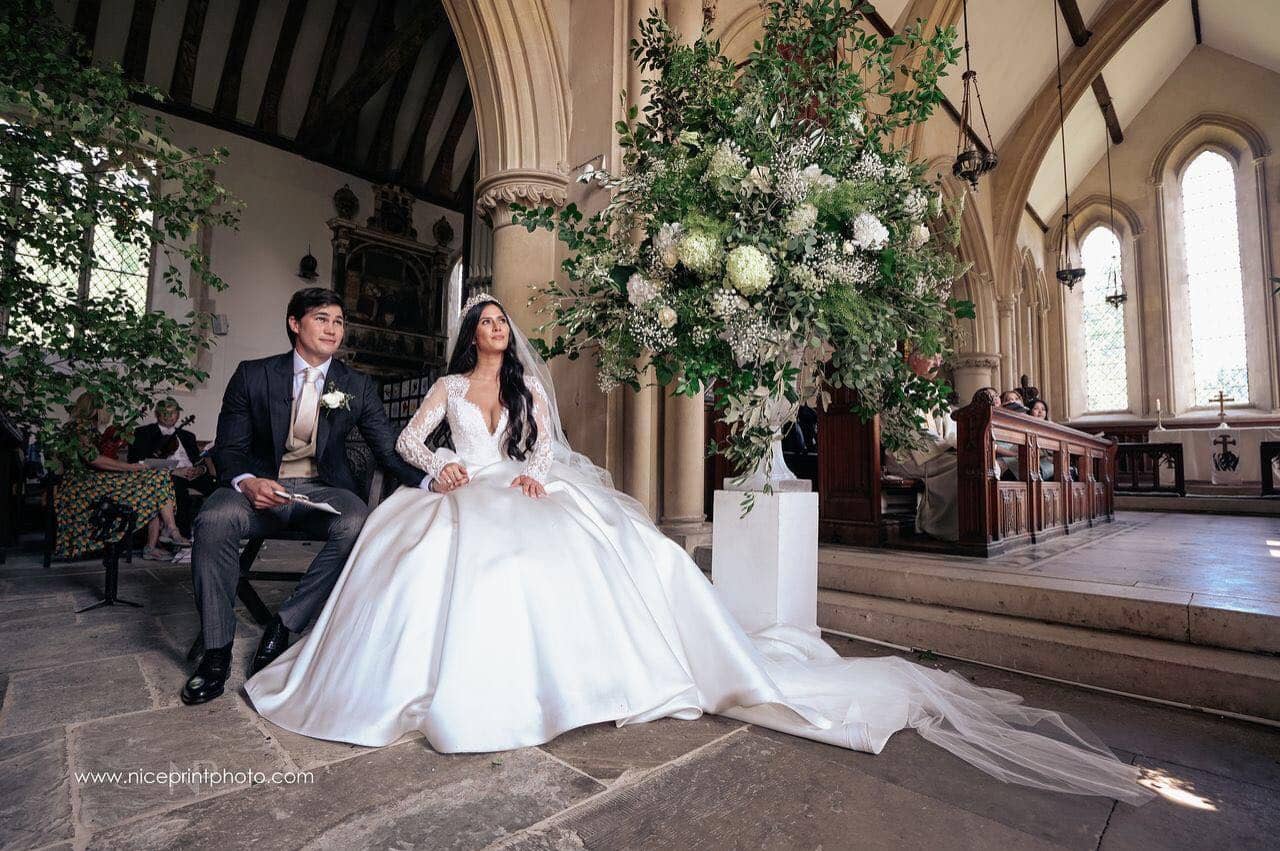 Likewise, Margaret's makeup was done exactly to her liking: fresh-faced, glowing, soft, and natural.
"For my wedding day, I wanted to look like the best version of myself... The finished look was everything I had hoped for and more!" she described.
Their choice of venue was also not just a place for this pair of newlyweds but also a gift to their guests who flew in from different parts of the world to support them on their special day, some of which were Phil and his brother's football friends. The grand manor's 20-plus guest rooms were rented out by the couple for their guests to enjoy.
However, it's impossible for this pair of newlyweds to choose a single aspect about their wedding to call their favorite, but according to Margaret, she was especially fond of these moments and details: "T
he speeches, cutting of the cake, the champagne tower and our first dance were all wonderful highlights of our wedding reception but the part that stood out the most, was our church wedding ceremony."
"It was such a beautiful feeling, sitting at the top table, holding hands as newlyweds and looking out on all of the smiling faces of our closest family and friends. There's nothing better than seeing all of the people you adore come together to love and support you on such a special day. Our hearts were so full at that moment," Margaret shares.
As for their honeymoon, Phil and Margaret haven't revealed details yet but are reportedly considering somewhere warmer, quite possibly a tropical destination. Most of their travels have been around Europe during fall and winter, so they're looking to shake things up a little by enjoying the sun.
Regardless of where they head to to celebrate their union, we're sure that it will be beautiful, and they'll be as in love as ever!
Congratulations to the happy husband and wife!
Photos from NicePrint Photo/ Additional images from @niceprintphoto