EXCLUSIVE: This Guy's Romantic Proposal Features K-Drama Elements
Adrienne Ley got the engagement of her dreams! Her boyfriend and now fiancé, Philippe Lorenzo, did an amazing job planning the setup
What else do you do for someone you want to spend the rest of your life with? For Philippe Lorenzo, boyfriend and now fiancé of Adrienne Ley, it's to give the love of his life nothing but the best.
"I was so happy and in pure bliss! No tears, all laughs, because I couldn't believe it was happening and I was so impressed that I had zero clue prior to that evening," says Adrienne, a bride-to-be that was proposed to just this month.
"That day was so normal for us. We just had lunch at the mall and he even took me shopping for something nice to wear," she continues.
It was a moment nine years in the making.
See, Philippe and Adrienne met at school. She had a class that he happened to be in too, and seeing how he didn't know anyone in the period, she befriended him at the request of a mutual friend. She was more than happy to do so—she had a secret crush on him and theirs was a friendship she gladly nurtured. He, on the other hand, wrongly assumed she was unfriendly, no thanks to her misleading poker face.
This one class turned into more classes, and more classes turned into time spent together in and out of school—a lot more time.
"We ended up being groupmates for our thesis project and spending so much time together made our hearts grow fonder," Adrienne smiles.
Fast forward to all the milestones that every 20-something looks forward to—graduation, first jobs, first paychecks, first promotions, and everything in between—and Philippe and Adrienne have exclusively been by each other's side ever since. There's no other way they would have rather wanted things to be.
With almost a decade behind them, these college sweethearts weren't strangers to planning for the future. Only, the future this time around didn't just mean where to eat dinner next, how to spend Christmas this year, or what to do for each other's birthdays, but rather, the next level at this stage of their relationship: marriage.
"We have open conversations about our future and earlier [on the day he proposed], he was even asking me about how he should go about seeking my parents' permission and what they would ask him. We also openly discuss how difficult it would be for him to stage a surprise proposal since we're always together and don't really keep any secrets from each other," she explains.
The conversation passed without anything out of the ordinary and Adrienne enjoyed her meal and the company of her number one as usual, not knowing that in a few hours, he would ask her to be his for life.
Philippe proposed to Adrienne on their ninth anniversary.
"Before heading home that night, my dad called me up to buy some take-out before heading home. So on the way back, I was just on my phone ordering food and asking Phil for tips on how to win in mahjong because I thought we would be playing with my dad, my brother and his friend," Adrienne tells us.
She wasn't at all expecting anything special, and that didn't change even when they arrived home and Phil insisted on entering through another entrance, one that led Adrienne down a dark path illuminated only by candles too many to count.
"I was like, 'I wonder why my dad set this up for mom? Is it an early Valentine's present? Is there a party at home?'" she laughs.
It was an early Valentine's present, she was half-right there, but it was for her, and she missed out an incredibly important detail, too. It was a marriage proposal, and it was for her.
Her mind couldn't keep up with her heart (or the other way around—no bride truly has the right words to describe the feeling when they realize a proposal, their proposal, is unfolding before them), and the two only aligned when a favorite song of hers started to play.
"It only dawned on me that Phil was about to propose to me when I heard the K-drama OST in the background ("All About You" from the K-drama Hotel del Luna) and I saw a camera crew (Gatz creatives and Framed Motions team)," Adrienne narrates.
Coming back to her senses little by little, step by step, Adrienne felt a second wave of pure love wash over her when she saw what was waiting for her at the end of the candle-lit path.
It reminds us of that scene in Crash Landing on You when Hyun Bin's Captain Ri Jeong-hyeok was holding up a scented candle while looking for Son Ye-jin's Yoon Se-ri in a dark market—only this proposal featured lots of candles.
The love of her life standing underneath something straight out of a K-drama finale.
Adrienne describes, "Everything was dark except for the candles and flowers lighting the pathway to the garden revealing the most beautiful cave filled with flowers (in my favorite color, purple) and a 'Will you marry me?' sign. Of course, I said 'Yes!'"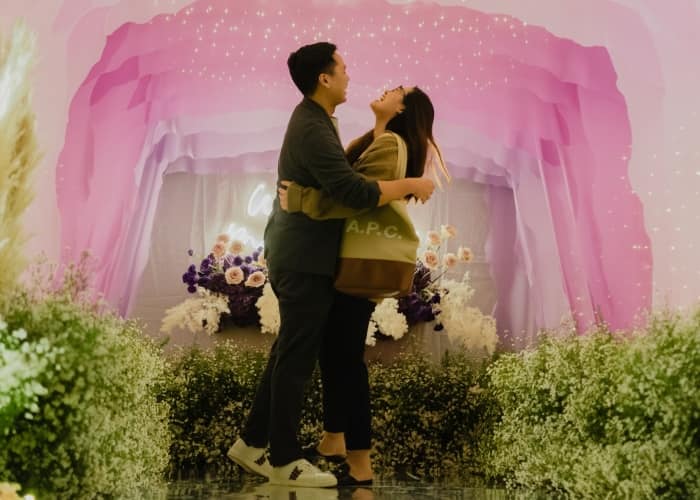 Philippe Lorenzo and Adrienne Ley's Engagement
Philippe Lorenzo and Adrienne Ley's Engagement
With a bit of prodding from Adrienne, Philippe dished out on the story behind the gorgeous surprise.
It couldn't have been a one-man job, and in reality, Philippe got his future in-laws and Adrienne's entire household involved in the job, with special help from Kyno Kho for the proposal setup.
"He revealed to me that he almost got caught several times and that the 'free mani-pedi for regular customers' that I got when we were at Basement Salon for his haircut, was actually sponsored by him! He remembered that I told him it would be such a waste to get engaged and have a gorgeous ring but photographed with a horrible manicure so he booked an appointment for me a week prior!" Adrienne gushes.
The only thing Philippe missed out on was the Instagram livestream of the big moment. This groom in the making was likely caught up in his personal mix of tension and excitement, forgetting to take his phone out of his pocket and instead livestreaming a screen of black to his friends and family. It's a flub the two laugh about now, and besides, black screen or otherwise, there's something else from this story that gleams exceptionally brightly.
"Phil had also already found the perfect diamond (he said he got it because of its significance; the carat size is in my favorite number in threes), brought to life by our dear friends, the Aysons of JMA Jewelry," Adrienne shares.
"We shared the photos and videos on social media last Valentine's Day and the congratulatory messages and well wishes have been so overwhelming from our family and friends. We are so blessed to have people who love and support us dearly," Adrienne says.
And despite current circumstances and the big question marks they've posed, Philippe and Adrienne have no questions left to ask about their future: tomorrow for them means becoming Mr. and Mrs., and not even a pandemic can get in the way of that.
"Given the pandemic, everything has been so uncertain. As of now, we don't have any concrete plans yet for our wedding. We love entertaining and we would like to have a fun and meaningful celebration for such a huge milestone in our lives with our friends and family," Adrienne ends.
Photos courtesy of Philippe Lorenzo and Adrienne Ley