WATCH: An Exclusive Look at Small Laude's Sophisticated, Pink-Themed Birthday Party
Metro Channel's "It's a Small World" host takes us through the preps for her ultra-chic intimate dinner party at home
Small Laude celebrated her birthday last June, and she let Metro Channel into her home to document her preparations. This special birthday feature is for her show, It's a Small World, which premiered last August 1.
Because of the pandemic and the ever-changing quarantine restrictions, Small decided to just host an intimate dinner party for her family. She loves throwing parties, and didn't want to waste the opportunity to organize one for her very own milestone.
But because it's Small who took charge of the event, even a party held at home can look so elegant, thoughtfully planned, and exquisitely put together. "I love organizing big parties… I miss bringing many people together and showing them a great time. But these times call for smaller gatherings, so I'm once again celebrating my birthday with just my family," Small said.
There was no specific theme for Small's birthday party; her only non-negotiable was that the color motif was pink, this kikay host/vlogger's favorite. She wanted the décor to complement her pink tulle Dolce & Gabbana dress with a corset bodice, which she'd been wanting to wear.
Since it was just an intimate event, Small simply styled their foyer and dining area with pink roses placed in clear glass vases of different heights. Her tables were dressed up in baby pink linen, and her tablescape was elevated by Flora Danica dinnerware and Puiforcat cutlery which her sister Alice Eduardo graciously lent her. Since Small admittedly doesn't know how to cook, she sought the help of Chef Jessie to whip up her birthday menu, which included lobster and steak.
450 dozens of roses adorned her foyer and dining area; they were beautifully arranged and spread out, exuding femininity and refined elegance. "Nothing too fancy," she pointed out.
And, of course, everything had to match down to the very last details, so her drip cake (which she found on Pinterest) was also pink and designed with Ecuadorian roses.
She started styling her house at 10am, and by 2pm, she took a break by unboxing some gifts from her family, which included perfumes and a pearl necklace. Small also shared birthday video greetings her fans sent her; they also gifted her with balloons for her party!
"It changed my life that I met these people online and they really make me feel so loved… Thank you so much for all the love, and I will never forget that," Small told her supporters whose lives she touched one happy, funny, and entertaining vlog at a time.
Small said that she usually celebrates her birthday out of town since her kids also happen to be on summer vacation during this time. She shared, "I'm always happy when it's my birthday, and I never experience those birthday blues. And you know what, I truly feel it's because my family never fails to be there on my special day. It doesn't matter if there's a party or special meal, as long as my nearest and dearest are there, that's enough for me."
Just as she was about to get dressed up for dinner, she found her kids in her tropical-themed lounge area at the roofdeck; they were waiting to surprise her and give her her gift. But first, they pranked their mom a little by giving her an iPad box that was empty and only contained a handwritten letter. A few moments later, they gave her her real gift, an iPad that they delicately wrapped in a baby pink wrapper and white ribbon. Then her daughter read their letter out loud.
"Birthday girls deserve to treat themselves to whatever they want. You want to catch up on some much-needed sleep? Go for it! You want to spend it with a special someone? Make it happen! Me? I just wanted to get my hair and makeup theme together for an afternoon of fun in the glam room," Small said.
Check out the gallery below for more scenes from Small Laude's birthday episode on Metro Channel's It's a Small World: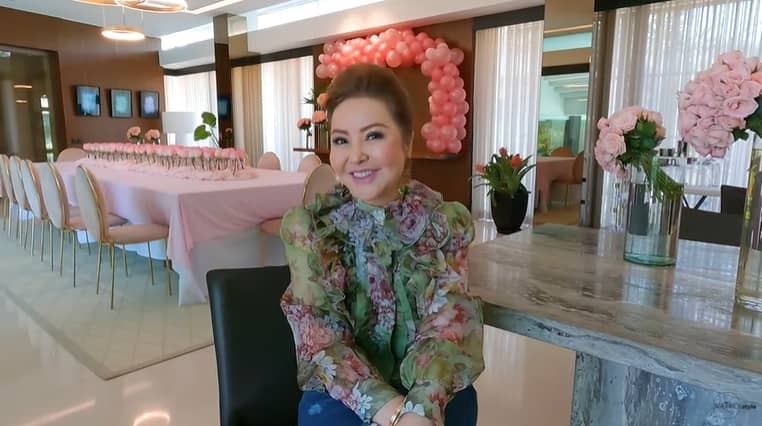 Photo Gallery
Photo Gallery
Watch the full episode below:
Lead photo from @smalllaude