Look! Tim Yap Wins The "Fundraiser Award" At The BMW Berlin Marathon
Dedicating his run to the kids of Smile Train PH, Tim accomplished much more than just a finish line medal
There's a hundred and one reasons for why people join marathons. It might be a regular part of a fitness regimen for some, a personal goal for others, but for a select handful, a more philanthropic reason might be their motivation.
Take it from Metro Channel host Tim Yap who recently crossed the finish line at the annual BMW Berlin Marathon over the weekend; he didn't do it for personal glory, but rather, ran with the beneficiaries of Smile Train PH in mind.
(Smile Train PH is a charity focused on providing medical care to children with clef palates and related issues).
"When I was tired, I thought of the @smiletrainph kids and how this run will provide for their second chance at life..." he wrote on Instagram.
"So many times I was on the brink of tears but I didn't want to be dramatic. Fast forward to this medal on my neck and an award I wasn't expecting, and I realize more than ever that there is nothing we cannot do once we set our mind into it," he continued.
With his eyes up to the sky and a heart full of fulfilled dreams, Tim shared a photo of himself with the race's coveted medal that represents the physical feat of running a total of 42.20 kilometers alongside professional athletes and amateur competitors.
Tim wasn't the only Filipino personality at the marathon, though; he was accompanied by weather anchor and host Kim Atienza, actor Dingdong Dantes, entrepreneur Ranvel Rufino, coach and athlete Miguel Lopez, journalist Gilbert Remulla, Atty. Mark Gorriceta, and more of their friends.
Collectively, they charmingly called themselves #TeamGotta, and like Tim, they too competed with the intention of helping Smile Train PH.
Tim continued to share more of the fulfilling experience, talking about how both the literal and figurative roads to the end were full of hurdles and detours.
An injury and a brief period of feeling under the weather had dampened his spirits, while having only a few weeks—as opposed to having several months—to train for the big event shook his confidence in being able to perform at his prime.
In the end, an almost divine intervention gave him the strength to go on.
Tim says, "Once I stepped into the field and under the rain, I felt the energy of the place and the people and knew that a Higher Power was guiding me—I was in the right place at the right time.The marathon was an extreme physical, mental, emotional and spiritual exercise. Aside from pushing my body way outside it's normal limits, it was also flexing my mind to ignore whatever pain or discomfort I felt while I was running. All through out I just kept chanting "Thank you God, thank you God!"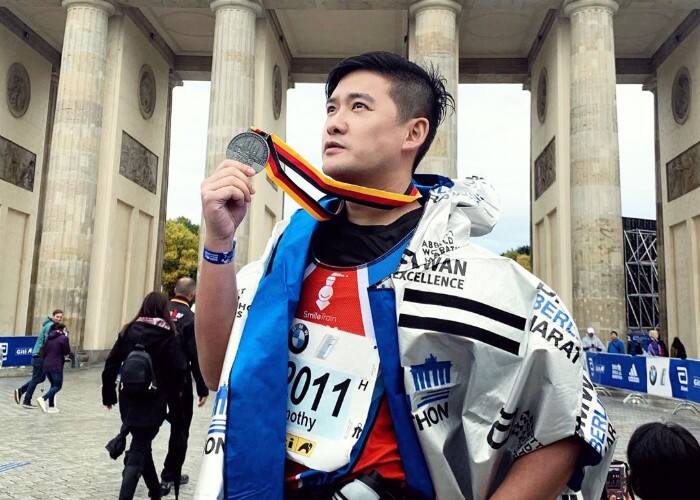 But there was a second, much more personal reason for why Tim insisted on running for Smile Train PH's cause—his older sister Janet passed away at just two-years-old due to complications from a cleft palate surgery.
"All together, #SmileTrainTeamEmpower (whose jersey I wore) was able to put [together] $100,000 which will go to the operations of kids with cleft lips and palettes from all over the world. Nothing is impossible, indeed. I dedicate this medal to my mom, who lost my elder sister Janet on her second birthday due to complications related to her cleft surgery," Tim ended.
A big congratulations is indeed due to Tim and the rest of #TeamGotta!
Images from @officialtimyap @dongdantes @kuyakim_atienza @ranvelrufino