EXCLUSIVE: What One Month Of Motherhood During The COVID-19 Outbreak Has Been Like For Tricia Gosingtian
This new mom gave birth at the height of the COVID-19 crisis. She says, "As a first time mom, I didn't really know what to expect, but I knew I had to be strong for my baby"
Think of Tricia Gosingtian when you hear the adage "there's more than meets the eye."
The influencer and owner of clothing label Hinhin is known for her, well, mahinhin looks, gentle demeanor, and low-key presence, but as soft and dainty as she might appear on the outside, Tricia is built like one tough cookie with a mental and emotional reserve like solid cast iron.
She did give birth in the middle of a health crisis, after all—all alone, and with no assurance that she, or her baby boy Leo, would make it through without contracting COVID-19 or suffering from other birth-related complications.
"I think I've been the bravest I've ever been during this pregnancy. While I would allow myself to feel fear, sadness, and anxiety, I kept a 'Fight, fight, fight!' kind of attitude and never gave in to negative self-talk," she begins.
We have to give it up for moms who have given birth in the last few weeks; it takes bravery to bring a child into this world, but to be able to do so—and happily, at that—while a pandemic wreaks havoc on life as we know it, requires a whole new league of courage.
She confides, "As a first time mom, I didn't really know what to expect, but I knew I had to be strong for my baby... I suddenly had to have an emergency C-section alone (without my husband or family by my side). I knew the only thing I could do was trust the process. I put 100 percent faith into the healthcare workers who helped me deliver my baby. If we're scared, I'm sure they are too. Seeing how they still went on with their jobs gave me all the strength that I needed."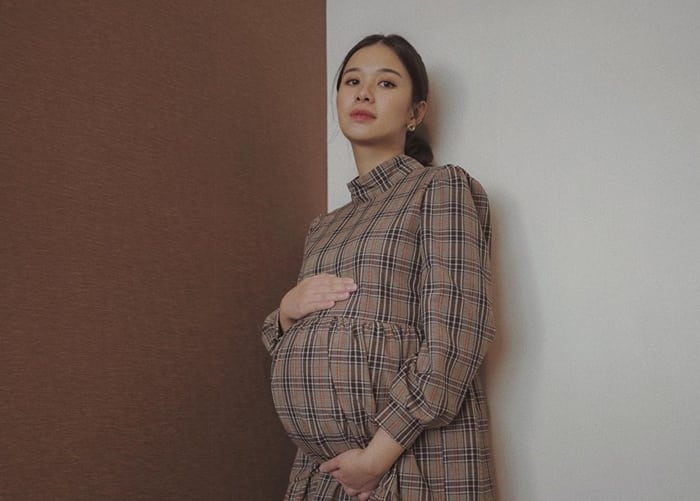 Tricia Gosingtian's Maternity Looks
Tricia Gosingtian's Maternity Looks
Tricia has been a mom for almost a month now. Leo was born on April 11, two weeks before he was due to make his big entrance. And while Tricia remains as the same doll-like lass who posts beautiful OOTDs, makeup looks, hairstyles, and lifestyle photos during this time, she's not entirely the same, either.
"I realized how important it is to deal with things as they come, not as I fear, one day at a time," she shares.
"This has been a mental exercise I've been doing for a while now, and it is very effective in battling the anxiety surrounding giving birth during a pandemic," she adds.
Her first weeks of motherhood have taught her much, paving the way for her metamorphosis into someone more attuned to and aware of the life lessons that matter most. In fact, this calmness is something she hasn't only applied to herself, but a reminder she has also given to other moms-to-be, who have sought her advice.
"I'm always reassuring them that it's not as scary as people say it is," Tricia tells us. According to her, moms are to ignore the warnings that sleeping will never be possible ever again once the baby arrives, or that me-time will be impossible, or that your freedom will evaporate when you've become a parent!
Motherhood is all about perspective, and when the worst is on your mind, the worst will surely come to you. However, see it the other way and treat the experience as a time to bond with your baby, your partner, and even yourself, and you'll find other things to describe motherhood. In Tricia's case, "magical" is the word she chooses.
It's not that she hasn't hit snags in the road; her days are basically defined by breastfeeding, non-existent rest, and overcoming mental and physical fatigue, but the stress is secondary to the joy behind it all.
"Seeing my baby grow (and smile!) makes all the sleepless nights worth it," she shares.
Without a doubt, these first 30 days with Leo have been precious.
A special time in Tricia's life, this is indeed full of love and celebration, but is also not without a tinge of longing and sadness. For one thing, Tricia and her husband, businessman RG Gabunada, have been away from their families for weeks. Her and RG's parents haven't met Leo yet, and with COVID-19 still in full swing, there's no telling how long they have to wait until a family reunion can take place.
It's a necessary sacrifice, but one that will surely be worth it in the end. (Imagine all the cheek-pinching and gigil building up from Leo's lolas, lolos, titas, and titos while they all patiently wait!).
In the meantime, Tricia is more than happy taking breaks on her gaming console between feedings and Leo time. She hasn't gotten enough of
Animal Crossing
and
Final Fantasy 7,
and if she's being totally honest, she can't wait until Leo grows up so that she'll have a worthy adversary to play against her in her favorite games.
Tricia, all in all, is in a lovely place these days.
Things can only get better from here.
As Tricia gives her full attention to Leo while RG embraces his new role of fatherhood alongside her, life is beautiful for this family, but this mom knows that the future holds so much promise. She's choosing to stay hopeful for the days to come.
Even before Leo has learned his first words or made his first steps, she already imagines the day he meets other children and makes friends, when a trip to the pediatrician results in worry-free results, and when the Gabunada-Gosingtian brood can be whole again.
Tricia already pictures what she might tell Leo about his big "hello" to the world when he's big enough to understand.
"I'd tell him his origin story—how he broke my water prematurely because he was so excited to experience the world. His umbilical cord was wrapped around both his neck and arms, so he punched, jabbed, and kicked as hard as he could inside even if my body wasn't ready yet. He fought his way out, and I know he can use this strength to achieve anything he sets his heart on. No virus can stop him," she says.
"He did it once before, and he can always do it again," Tricia ends.
Confidence, self-assuredness, and level-headedness are things Tricia Gosingtian always had in her, but are now all the more made powerful by motherhood that she so tightly embraces.
Photos from @tgosingtian