An Aesthetic Guide To Jaipur's Most IG-Worthy Places
Let wanderlust take you to some of the world's most Instagrammable places. We kick off the month of July with India's colorful and vibrant Jaipur—plus, OOTD ideas for each spot!
Publishing phenomenon and author of Eat, Pray, Love, Elizabeth Gilbert, devoted a whole section about the transformative qualities of India in her book. Being one of the oldest civilizations, it has gifted us with immeasurable things: The numeral zero, yoga, and some of the world's most breathtaking sights.
While there are many more recognizable places to feature such as the white-marbled Taj Mahal or the legendary parties in Goa, we at Metro.Style like to be bold and suggest a different kind of destination: Rajasthan, one of the largest states in India, an hour away from Delhi by plane. We are honing in on one of its grandest cities—the photogenic UNESCO World Heritage Site of Jaipur.
If you're like us and are still reeling from the temporary demise of travel, let's not waste any more time sulking. We should make the most out of 21st century technology, and enjoy the visual feast of Jaipur's stunning locations through our screens. Hopefully, the lockdown won't last much longer, and we can all plan our trip to India, stat.
The Dresscode
Before we set off to this exotic destination, here are some tips to get your OOTD A-game ready for India.
Let your imagination run free.
India's spectacularly diverse architecture and kaleidoscopic interiors serve as the perfect backdrop for both outfit extremes: From your most fabulous Gul Hurgel day dresses to one of your old minimalist Celine frocks. There is really only one fashion faux pas in India, and it's being boring.
Keep your outfits light, effortless and PG-13.
India has been influenced by Western culture, like the rest of the world, but let's keep the risk of offending more conservative locals at a minimum, being as we're guests in their lovely home.
Dress as the locals do.
Mooch around the stimulating multisensory bazaars and give in to the temptation of retail therapy. Adopt traditional Indian attire—add a silk sari or a cropped linen choli top to your modern day wardrobe. India produces some of the most beautiful textiles and embroideries in the world of fashion—their clientele lists some of the biggest European powerhouses like Chanel, Balmain, and Dries van Noten.
Ready for a visual tour of Jaipur's stunning spots? Hit our gallery below: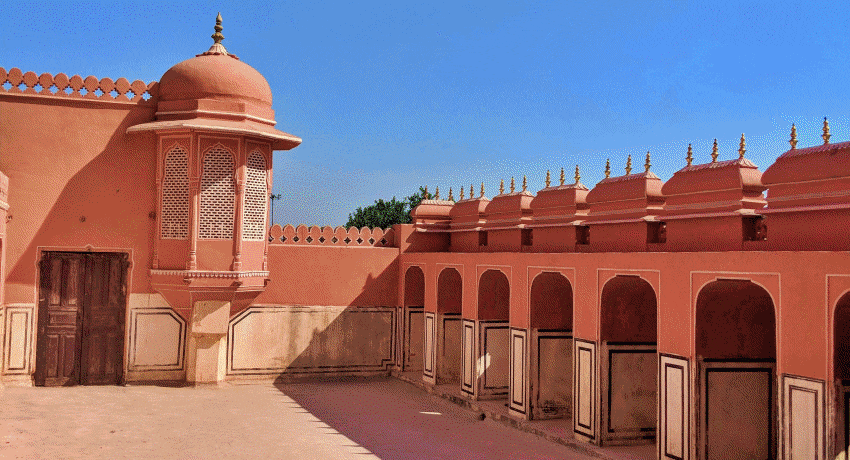 7 Dramatic Spots In Jaipur
7 Dramatic Spots In Jaipur