IN PHOTOS: 16 K-Dramas That Will Make You Want To Travel To Their Stunning Locations
Take this virtual tour of the most beautiful K-drama filming locations abroad—oh, wanderlust!
While the world is on pause due to the coronavirus (COVID-19) pandemic, we've seen virtual tours having a surge in popularity as travel bans and restrictions are currently in place. Understandably, it's for no other reason than them providing a welcome escape during these challenging times.
In Luzon, Philippines, as we're about to hit our second month under enhanced community quarantine (ECQ), more and more people are yearning to travel, especially with our supposed standard April-May summer vacation plans now scrapped (we know you miss the beach, too!).
Social media feeds are overflowing with throwback travel photos. Netizens are also taking notes of some destinations to be included in their travel bucket list—Switzerland, for instance, because of how it was introduced and explored beautifully in the extremely successful K-Drama Crash Landing on You.
When traveling for leisure can be a thing again, no one can say for sure. But as U.S. Travel Association president and CEO Roger Dow predicts, "Over the long term we will return and come back to business as usual. People have short memories and there will be a pent up desire to travel."
So, have you thought about where you want to go when we finally hear the proverbial message that the new normal has become back to normal pre-COVID days?
If the ECQ has turned you into a K-Drama addict or if you've become even more obsessed with them now, then you'd be delighted to check out some of these K-Dramas that give a hefty dose of travel inspiration, too!
As if the beautiful sceneries and tourist spots in South Korea aren't enough to satisfy our wanderlust, K-Dramas have also treated viewers to a visual feast of stunning locations in different parts of the world.
From Lovers in Paris in 2004 and Lovers in Prague in 2005, we've seen many K-Dramas that explore a good mix of local and foreign sets throughout the years. A lot has happened since—there are now "more funding and increased foreign investment" in the production of K-Dramas, as Forbes has pointed out, making it possible to execute grander visions in terms of filming locations.
More international tourism organizations are now recognizing the impact and influence of Hallyu in the world as well, and are seeing the opportunity to promote their country via a K-Drama.
Typically, these foreign sets are only used minimally to add a layer of gloss (e.g. CLOY) or grit (e.g. Vagabond) to the storytelling. It's just the right amount that doesn't steal the spotlight away from South Korea and its culture and, ultimately, keeps the essence of a K-Drama intact.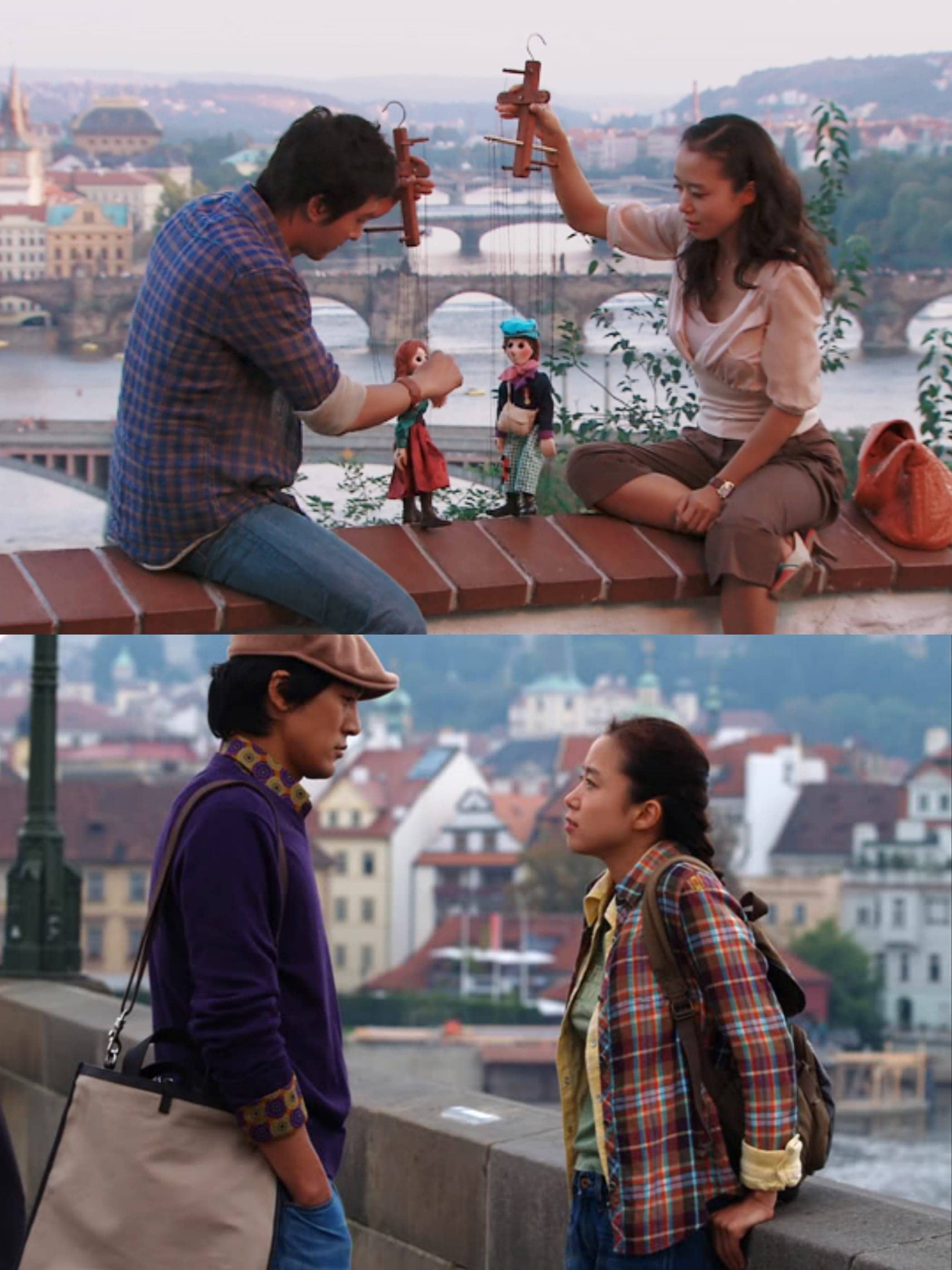 "Lovers in Prague" | Soompi
Swipe through the gallery below to see the K-Dramas that had scenes filmed outside of Korea: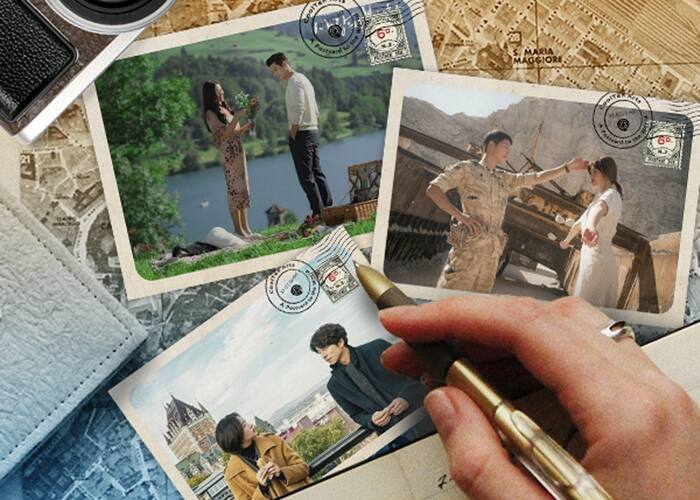 Korean Dramas Filmed Abroad
SWIPE LEFT OR RIGHT
TO NAVIGATE BETWEEN PAGES
Forest (2020) in the Philippines
Photo Credit: Chris Clemente for ANCx
Photo Credit: Wikimedia Commons
Photo Credit: Okada Manila
Crash Landing on You (2019) in Switzerland and Mongolia
Photo Credit: tvN
Photo Credit: interlaken.ch
Photo Credit: interlaken.ch
Photo Credit: @interlaken
Photo Credit: interlaken.ch
Photo Credit: switzerland-tours.ch
Vagabond (2019) in Morocco and Portugal
Photo Credit: Cinema Escapist
Photo Credit: Bangkok Post
Photo Credit: Lonely Planet
Photo Credit: Weather Atlas
Chocolate (2019) in Greece
Photo Credit: JTBC
Photo Credit: visitgreece.gr
Photo Credit: Korean Dramaland
Photo Credit: greece-is.com
Memories of the Alhambra (2018) in Spain, Hungary, and Slovenia
Photo Credit: tvN
Photo Credit: Korean Dramaland
Photo Credit: The Straits Times
Photo Credit: gironahomes.com
Photo Credit: Wikimedia Commons
Photo Credit: Korean Dramaland
Photo Credit: Korean Dramaland
Photo Credit: travelslovenia.org
Encounter (2018) in Cuba
Photo Credit: tvN
Photo Credit: Korean Dramaland
Photo Credit: Korean Dramaland
Photo Credit: Korean Dramaland
Photo Credit: Korean Dramaland
Photo Credit: Korean Dramaland
Photo Credit: Korean Dramaland
Photo Credit: hotelnacionaldecuba.com
Photo Credit: Korean Dramaland
Photo Credit: Cuba Custom Tours
My Secret Terrius (2018) in Poland
Photo Credit: hype.my
Photo Credit: my.castko.com
Photo Credit: lazienki-krolewskie.pl
Photo Credit: Korean Dramaland
Photo Credit: Korean Dramaland
Photo Credit: Wikimedia Commons
Are You Human Too? (2018) in Czech Republic
Photo Credit: Korean Dramaland
Photo Credit: Korean Dramaland
Photo Credit: Wikimedia Commons
Photo Credit: Korean Dramaland
Photo Credit: spa-hotel-imperial.cz
Photo Credit: Korean Dramaland
Photo Credit: karlovy-vary.cz
Photo Credit: Korean Dramaland
Photo Credit: staraplynarna.cz
Photo Credit: Korean Dramaland
Photo Credit: Korean Dramaland
Man x Man (2017) in Hungary
Photo Credit: Screenshot from Mountain Movement
Photo Credit: Screenshot from Mountain Movement
Photo Credit: Screenshot from Mountain Movement
Photo Credit: Wikimedia Commons
Photo Credit: Benjamin Wiessner on Flickr
Photo Credit: Screenshot from Mountain Movement
Photo Credit: Screenshot from Mountain Movement
Photo Credit: Screenshot from Mountain Movement
Photo Credit: Taste Hungary
The Package (2017) in France
Photo Credit: Korean Dramaland
Photo Credit: Wikimedia Commons
Photo Credit: Korean Dramaland
Photo Credit: Tours & Travel
Photo Credit: Korean Dramaland
Black Knight: The Man Who Guards Me (2017) in Slovenia
Photo Credit: Korean Dramaland
Photo Credit: Travel Slovenia
Photo Credit: Korean Dramaland
Photo Credit: Think Slovenia
Legend of the Blue Sea (2016) in Spain
Photo Credit: The Straits Times
Photo Credit: Korean Dramaland
Photo Credit: Korean Dramaland
Photo Credit: Korean Dramaland
Photo Credit: Korean Dramaland
Photo Credit: Korean Dramaland
Photo Credit: The World of Castles
The K2 (2016) in Spain
Photo Credit: Korean Dramaland
Photo Credit: Wikimedia Commons
Photo Credit: istockphoto
Guardian: The Lonely and Great God (2016) in Canada
Photo Credit: South China Morning Post
Photo Credit: Korean Dramaland
Photo Credit: Korean Dramaland
Photo Credit: Korean Dramaland
Photo Credit: Korean Dramaland
Photo Credit: Korean Dramaland
Photo Credit: Korean Dramaland
Descendants of the Sun (2016) in Greece
Photo Credit: The Straits Times
Photo Credit: Wikimedia Commons
Photo Credit: Adventurous Travels
Photo Credit: Korean Dramaland
Photo Credit: voyage-virtuel.co.uk
Banner artwork by Raff Colmenar. Photos from tvN, South China Morning Post, and AsiaOne