When In Paris, Sample Classic French Bites At Café du Marché
"The Crawl France" brings viewers to this quintessential Parisian cafe
Whenever we travel, one way to get to know a place better is through food—an exploration of flavors and taste that's homegrown and exclusive to the destination. So it's a must to try out local restaurants, quaint cafes, and even street delicacies that can capture the city's vibe and culture!
In Metro Channel's The Crawl France, hosts luxury furniture expert Stephanie Kienle-Gonzalez and award-winning Filipino sommelier Jhonel Faelnar went on a traveling-through-the-tastebuds kind of experience. As they went around the European country to sample the best delights it has to offer, viewers got a glimpse of French fare, learning from television or mobile screens.
As Stephanie says, in one of its episodes, "Food is definitely the window to the heart and soul of a place. So eat what the locals eat." And so, the designer herself brings her co-host to her old haunt from her student days in Paris—Café du Marché.
A bright, lively Parisian cafe sitting in popular market-street Rue Cler, Stephanie and Jhonel visited this well-loved hangout to—what else but—eat what the locals eat!
The pair recommends a couple each of appetizers and mains. For Stephanie, the warm and comforting Soupe A L'Oignon hits the right spot and a serving of Salad de Chevre is a filling choice. Meanwhile, Jhonel chooses the buttery and tasty Escargots de Bourgogne and popular item on the menu: Confit de Canard.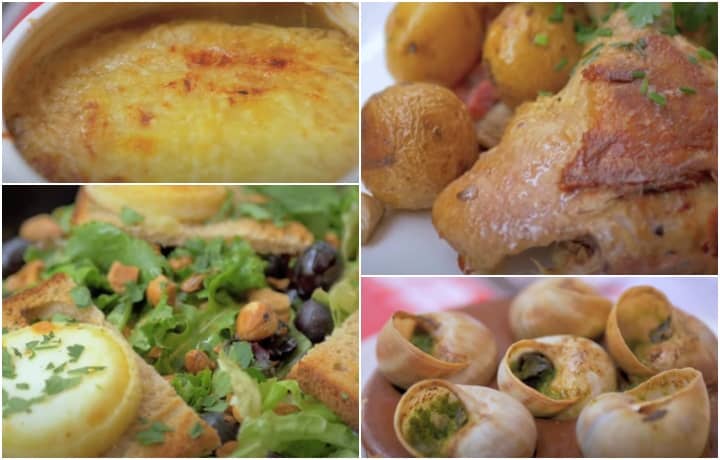 Classic French Bites At Café du Marché
Classic French Bites At Café du Marché
Watch the Metro Channel hosts enjoy classic French bites at Café du Marché here: